Food Processor Attachment
Food Processor Attachment is rated out of 5 by 184.
Slice, shred and julienne your favorite fruits, vegetables and hard cheeses. Simply attach to the hub of your stand mixer and get processing. The exclusive ExactSlice™ System allows you to slice from thick to thin with one slide of the lever. This attachment even works great to quickly and easily make cauliflower rice, a low carbfavorite and alternative to traditional rice.
Other - KSM1FPA
Features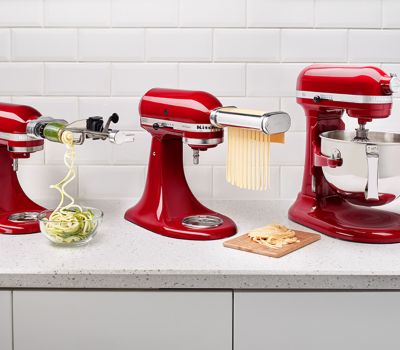 Attaches to Power Hub
Of your stand mixer and uses the power of the motor to run the attachment. Fits all Household KitchenAid® Stand Mixers.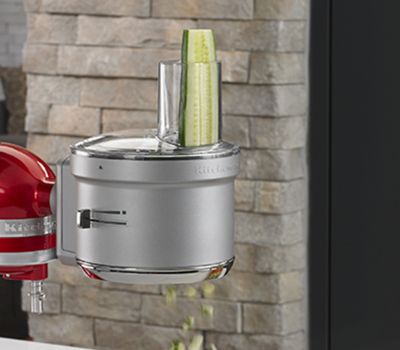 Wide Feed Tube
Accommodates various sizes of food for less prep work.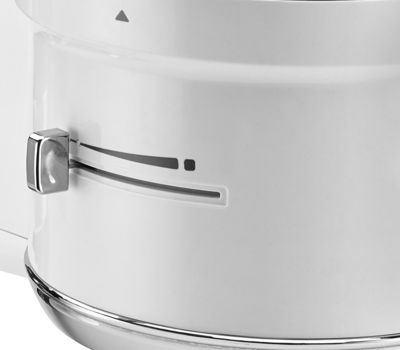 Exclusive ExactSlice™ System
Features an external adjustable slicing lever to go from thick to thin with one slide of the lever.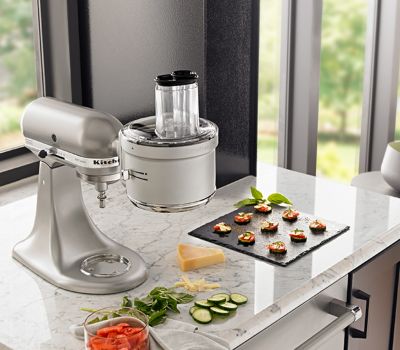 Slice, Shred or Julienne
Thick to thin, fine to coarse or long thin strips of a variety of fresh fruits, vegetables or cheeses.

Model KSM1FPA includes
(1) Slicing Disc, (1) Shredding Disc, (1) Julienne Disc
Reviews
Rated 4 out of 5
by
JDBD
from
Great product
I about this a few days ago and It is definitely worth it.
Date published: 2018-01-18
Rated 1 out of 5
by
Anonymous
from
Disappointed!
I love my kitchenaid mixer and I have most of the attachments. I bought the expensive food processor attachment and it worked great!!! So Happy! Well, I wanted to use it again recently and it wouldn't work. I tried everything! I love all the blades and the storage box, but the processor doesn't work. Kitchenaid, help!
Date published: 2018-01-08
Rated 2 out of 5
by
Disappointed 757
from
Not a food processor
I'm disappointed that I bought this to replace my food processor and turns out this is merely a slicer. It does not have the same functional ability as a food processor. i have already discarded my food processor and now I have to go out and purchase one to make sauces and purées.
Date published: 2018-01-06
Rated 1 out of 5
by
Brina
from
Worst Kitchen Aid Product I have bought
I bought this product once, and used it. Then the next time I got it out to use it I could not get it to work. Product was expensive, and would expect it to hold up for a lot longer than one use.
Date published: 2018-01-04
Rated 4 out of 5
by
Ann59
from
Food processor
Received as a Christmas gift. One of many attachments I have now. Used the slicer to cut cooked prime rib for french dip sandwiches worked great.
Date published: 2018-01-02
Rated 5 out of 5
by
Kev-o
from
Awesome standalone food processor replacement.
I received this as a Christmas present and it has already become a permanent fixture on my counter top. I have limited counter space and this allowed me to retire the stand alone food processor and reclaim that space. My stand mixer already had a place on the counter so using it as a multi-tasker and replacing the processor was a perfect fit and it does everything that the stand alone procesor did. Now I just need to purchase the dicing add-on next.
Date published: 2017-12-30
Rated 2 out of 5
by
Chefcliff1
from
Highly disapointed!
I was planning on using this KithenAid attachment instead of my bulky food processor and save cupboard space. I didn't realize that there is no blade and bowl. Disappointed. Now I have an appliance that does the same as the processor that I threw away already and now I have to purchase a new processor for the ability to puree and blending.
Date published: 2017-12-26
Rated 4 out of 5
by
Bksmith
from
Great features
I bought this a month ago and am really pleased. It's easy to use and I love the way it mixes.
Date published: 2017-12-25
Rated 5 out of 5
by
Mr Putput
from
Works great
We bought it to make salsa and it worked great. We've got lots of other things to try. It's a great attachment for the mixer.
Date published: 2017-12-24
Rated 1 out of 5
by
pointlessproduct
from
Do not buy
Not a real food processor. You will only be able to slice, dice, or grate vegetables.
Date published: 2017-12-19