Gourmet Pasta Press
Gourmet Pasta Press is rated out of 5 by 51.
Fresh spaghetti, bucatini, rigatoni, fusilli, large macaroni or small macaroni with one attachment. Simply attach to the hub of your stand mixer, choose one of the 6 interchangeable pasta plates and enjoy fresh pasta in minutes.
White - KPEXTA
Features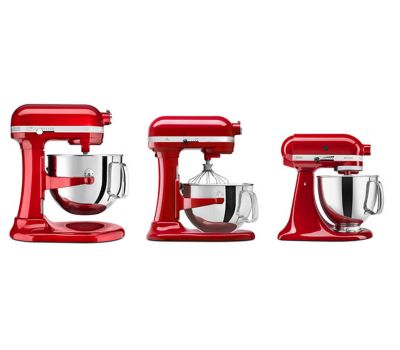 Compatible with Any KitchenAid® Stand Mixer
Transform your stand mixer into a versatile kitchen appliance that can help you tackle even more culinary tasks.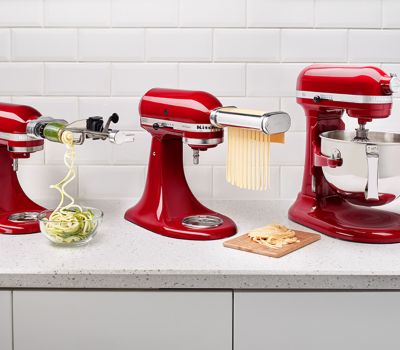 Attaches to Power Hub
Of your stand mixer and uses the power of the motor to run the attachment. Fits all Household KitchenAid® Stand Mixers.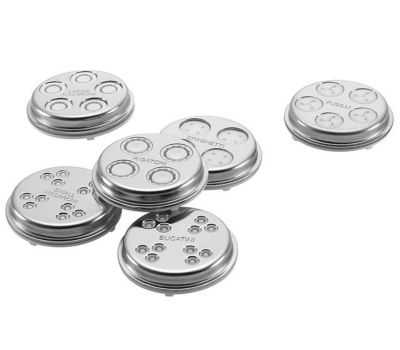 Six Interchangeable Pasta Plates
Offers great versatility, allowing you to make batches of spaghetti, bucatini, rigatoni, fusilli, large macaroni or small macaroni. The plates are simple to change at any time.

Storage Case
Helps you keep all of the pasta plates and accessories neat and organized when not in use.
Reviews
Rated 5 out of 5
by
1 Jim G
from
Amazingly easy to use
Amazingly easy to use this pasta maker is wonderful the way you can create different types of pastas much healthier than purchasing from A grocery store and much tastier an excellent tool for any kitchen
Date published: 2017-11-23
Rated 3 out of 5
by
DAJ
from
not sure but wanting to give it a thorough testing
The process is slower than I thought it would be, a lot slower, but I think that with my usual pasta recipe I might have better results as the KA recipe appeared to be excessively dry. What makes it more trying is the loudness of the mixer as it is processing. It is hard to listen to for an extended period of time. What I like, the pasta can be made in advance and dried and appropriately stored. I would wish for a choice of an angel hair pasta plate and fettuccini plate since I feel there is a certain redundancy to the plates already offered.
Date published: 2017-02-17
Rated 5 out of 5
by
Anonymous
from
Love it
Bought this cause we love pasta and just wanted to make my own pasta, mostly just as a hobby thing. Love it, it's fun and easy to use.
Date published: 2017-01-20
Rated 5 out of 5
by
Grandma Russo's Pasta Place
from
Pasta Fun
This "gadget" was so much fun to use. I made several different shapes of pasta. We ate some that day. DELICIOUS! I also froze some for later. When my grandchildren come for "Grandma Camp" this summer, making pasta will be on the definite to do list & on the menu!
Date published: 2017-01-13
Rated 5 out of 5
by
Pat
from
Great features and fun to use
I have never made homemade pasta before and this was so simple and fun. My Granddaughter enjoyed making the pasta and they whole family loved it. Very easy to use.
Date published: 2017-01-07
Rated 5 out of 5
by
Terry
from
Awesome
I got it as a Christmas present. It works great
Date published: 2017-01-06
Rated 4 out of 5
by
Junie
from
Great results
I love the ease and results of using this product.
Date published: 2016-12-03
Rated 4 out of 5
by
Falcon72a
from
Much improved from previous design
I really like the new design. With the integrated slicer and the downward angle, I didn't have an issue with pasta sticking together like in the old design. The only issue I had was I didn't get the pasta plate seated properly and so it didn't extrude as well as it should. Now that I know the issue and what to look for, I don't expect this to be an issue next time. A more positive tab for plate seating would be handy...maybe not as much as was on the old plates that married to the grinder, but certainly something that shows you're engaged before you screw on the bezel. I would like to see more plates for purchase (fettuccine, lasagna, and linguine...the first two were available in the old design) but I am pleased with what is available when you get this and look forward to trying other styles.
Date published: 2016-10-21
Rated 5 out of 5
by
Jujubee
from
Fun and very easy!
I love this attachment. It's very versatile and I am so happy that I can now make pasta to my own specifications without paying through the ear to get "specialty" grain blends. Can't wait to try some New recipes!
Date published: 2016-08-13
Rated 5 out of 5
by
kenny
from
Gourmet Pasta Press
This is an excellent attachment. It takes pasta making to the next level. I've use this for Ziti and small macaroni in soups and Mac & Cheese. Very easy to set-up and use. My family was very impressed with the results and the flavor is so much more then the store box pasta.
Date published: 2016-07-12
Demos & Guides
guides
Use & Care Guide
Comprehensive information about your new appliance - from getting started to cleaning and maintenance.