Ice Cream Maker
Ice Cream Maker is rated out of 5 by 375.
Make up to 2 quarts of fresh ice cream, sorbet and a variety of other frozen desserts quickly and easily. (Fits all Household Stand Mixers 4.5 Quart and larger).
White - KICA0WH
Features
Ice cream, gelato or sorbet
Makes up to 2.0 quarts of our your favorite frozen treat in 20-30 minutes. Allow your ice cream bowl to freeze at least 24 hours prior to use.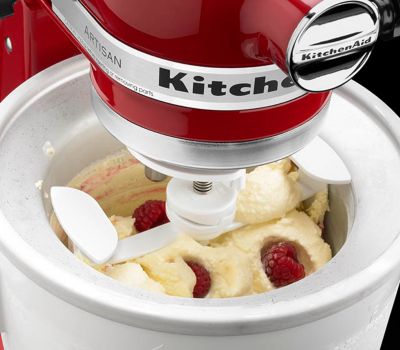 Thorough ingredient incorporation
With the dasher which rotates inside the bowl to spread, scrape and mix.

Easy to Clean
With warm soapy water.
Reviews
Rated 5 out of 5
by
Erika083
from
Love it
Always enjoy new assessories for my KitchenAid! Great ice cream and easy to use. Just make sure it's frozen!
Date published: 2018-02-05
Rated 4 out of 5
by
Anonymous
from
Fun to use
My husband was excited about this product. We made ice cream with it and it was a fairly easy process.
Date published: 2018-01-29
Rated 5 out of 5
by
Notjenneric
from
Homemade froyo anyone?
This was a gift from my family - who I think secretly just want more ice cream in the house. So far we have made ice cream, sorbet, and my personal favorite...coffee chip frozen yogurt-from Greek yogurt. This thing is amazing. In 30 minutes you have home made ice cream! What could be better? Make sure to read the directions carefully though - start the mixer and THEN add the ingredients. It seems a little hard to pour the liquid in while it is running but don't worry, it's worth it.
Date published: 2018-01-29
Rated 1 out of 5
by
Sad in Colorado
from
Great 1st Time; Horrible the 2nd
Received as a Christmas present and it worked great the first time. However, now can't get the assembly drive to stay in the mixer. The drive does not look anything like the one pictured online and doesn't appear that I can buy the drive separately..
Date published: 2018-01-05
Rated 5 out of 5
by
Cory
from
Easy to use
I got the kitchen aid Ice cream mixer for a christmas gift it was so easy to use
Date published: 2018-01-03
Rated 1 out of 5
by
Jsos
from
Disappointed
I'm so Disappointed this is not compatible with the mini artisan model for the kitchen aid. I received both for Christmas and I can't use them together. And of course i don't have any of the boxes. I called And a rep said they are very aware they don't work together . So why haven't you made a compatible version yet?? So upsetting!!
Date published: 2018-01-02
Rated 5 out of 5
by
Kim48
from
like ice cream
I bought this for my husband his family grew up making homemade ice cream
Date published: 2018-01-01
Rated 4 out of 5
by
KatieF
from
Great While it Lasted
I really liked it and used it several times for the first year or so, but since I've moved it's been in storage (about 2 years). I tried to use it again last week, but it leaked blue liquid all over my freezer. Pretty bummed, don't know what happened, but based on the other reviews on here, it appears to be a common problem.
Date published: 2017-12-29
Rated 5 out of 5
by
gigix16
from
Ice Cream Maker
I got this as a Christmas gift and couldn't be more excited!!! Fresh, homemade ice cream whenever we want it. I love that I control what goes in it!!
Date published: 2017-12-28
Rated 1 out of 5
by
Anonymous
from
Missing attachment
My wife and I got this ice cream maker as a wedding gift from my best friend, one of my groomsman. The box did not contain the attachment for the motor head of our mixer. I realized this after I mixed up the base for ice cream, then saw that I didn't have the proper attachment. My wife and I both went through the box and all of our other KitchenAid accessories. It's not there. Kind of tough to make ice cream without the proper attachment. Any way we can get it sent to us?
Date published: 2017-12-27