Food Grinder
Food Grinder is rated out of 5 by 147.
Get grinding. Transform your KitchenAid® Stand Mixer into a versatile food grinder that uses the power of the motor to help you tackle a variety of tasks. The coarse grinding plate is great for grinding raw meats for burgers or meatloaf and combining ingredients for homemade salsa, while the fine grinding plate quickly grates hard cheeses and helps you make bread crumbs.
Other - FGA
Features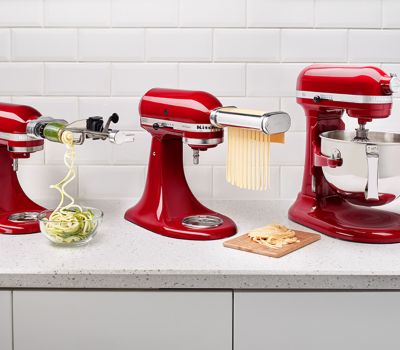 Attaches to Power Hub
Of your stand mixer and uses the power of the motor to run the attachment. Fits all Household KitchenAid® Stand Mixers.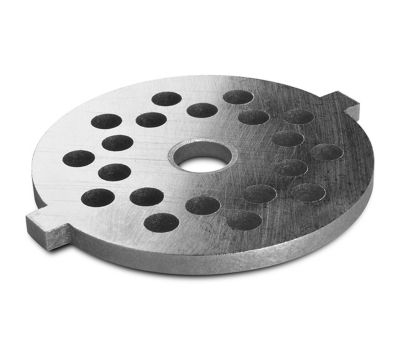 Fine Plate
To grind meats and dried breads.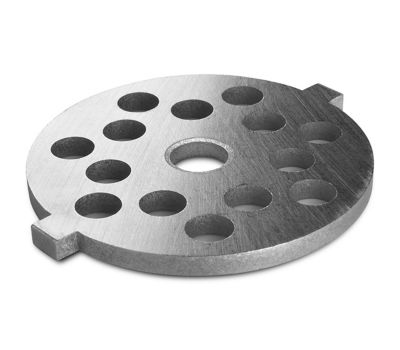 Coarse Plate
To grind firm fruits, vegetables and cheeses.
Reviews
Rated 1 out of 5
by
Churchlady35
from
Wish it were sturdier
I have had this grinder for quite a while but early on developed a small crack in the housing. I have continued to use this and each time the crack increases in size or another one develops to the point that presently what I am grinding comes out through the cracks- unusable at this point so will have to trash it.
Date published: 2017-11-22
Rated 4 out of 5
by
GrandmaNita
from
Worked great!
First time I used the grinder attachment and made cranberry orange relish. Worked like a charm with no splashing or mess. Parts clean up easily with hand-washing. Used the finer blade for the relish. Did use frozen cranberries but think I'll use fresh next time for even faster grindiing. No longer will I use the old grinder which has to be attached to a flat surface and makes a mess!
Date published: 2017-11-20
Rated 1 out of 5
by
sdsd1900
from
Plastic Ring Broke
I've used my grinding attachment quite a few times already. Today, when I tried to grind some beef flank, the ring busted. I had to throw away all the ground meat, and not to mention the mess that had to be cleaned up. I can't understand how the plastic ring would just break like that, I was just trying to grind a thing (but long) piece of meat. I'm kind of disappointed with the quality, because I really like the mixer and the grinding attachment. How do I go about getting a replacement part for this ring?
Date published: 2017-11-18
Rated 3 out of 5
by
BrianB65
from
Mine cracked
After 3 or 4 uses, the housing cracked. I have multiple KitchenAid attachments that I like, and was hoping the quality of this one would match the others.
Date published: 2017-11-11
Rated 5 out of 5
by
Sundee 50
from
So easy and simple
Got this about 4 weeks ago. We made ground Turkey, so easy to use. Ground turkey taste so much better than the store.
Date published: 2017-11-05
Rated 1 out of 5
by
CaveRan
from
Plastic is too weak for this unit
I use it often, but the area that houses the worm shaft is cracked. This should be lifetime and and never break this way. I fear the unit is on borrowed time.
Date published: 2017-11-01
Rated 2 out of 5
by
Christinep
from
Very disappointing product!
I bought thie grinder specifically to grind figs and dates for a special stuffing traditional Italian cookie. I had my dough made, icing made, and daughters gathered to teach them how to carry on this tradition. Right in the middle of grinding the figs POW the fitting burst! Not only was this a mess but the biggest disappointment was not being able to finish the cookie with the grinder. this product should be metal. Not cheap plastic. Very disappointed, I feel this product should be replaced.
Date published: 2017-10-24
Rated 3 out of 5
by
Ewake
from
Good Grinder but you have to be careful
I've had mine for a few years but its been cracked just like everyone else's for a while. I recently brought it out to make some sausage and the crack is getting much worse. Looking to see if I can purchase a new housing for it.
Date published: 2017-10-24
Rated 1 out of 5
by
agneta_ion
from
Built out of weak plastic
Pretty useful and overall not a bad add-on to have around. The problem is with its build quality. My mom doesn't use this for anything very demanding but maybe some imperfection in the plastic material caused the collar that secures the plate to crack as you see in the picture. Tried to glue it but it's impossible to hold it in place long enough for the glue to set in. Really disappointing as otherwise this is as i said a pretty good idea for a tool.
Date published: 2017-10-15
Rated 2 out of 5
by
Gatorgal
from
Disappointed
I have several attachements for my Kitchenaid stand mixer, but I've been very disappointed with this item. The quality is less than what I expect of the Kitchenaid brand. After only five or six uses in a two year period, the grinder blade fails to turn and the warranty has expired.
Date published: 2017-10-13
Demos & Guides
guides
Use & Care Guide
Comprehensive information about your new appliance - from getting started to cleaning and maintenance.