Pro Line® Series 5-Speed Cordless Hand Blender
Pro Line Series 5-Speed Cordless Hand Blender is rated out of 5 by 11.
The options are endless for blending, chopping, whipping, shredding, frothing or pureeing. The Pro Line® Series Cordless Hand Blender, with 5 speeds, comes equipped with all of the tools you need and offers the flexibility to use it whereever you need it in the kitchen.
Candy Apple Red - KHB3581CA
Features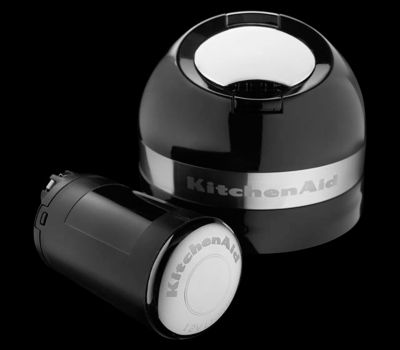 12V Rechargeable Lithium-Ion Battery
Delivers optimal runtime, performance and durability. Consistent power to the end of battery life.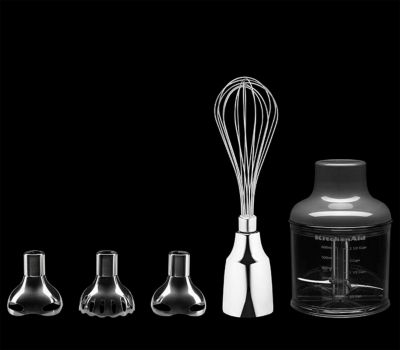 5 Attachments
To easily blend smoothies, chop graham crackers, froth cappuccinos, chop vegetables or whisk egg whites.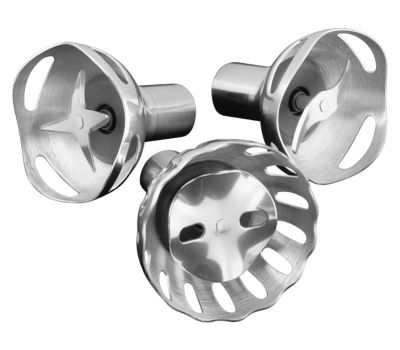 Industry's First Interchangeable Bell Blade Assemblies
To quickly and easily crush ice, puree soup, froth milk and so much more. Simply twist off and on to switch from one bell blade assembly to another; no tools required.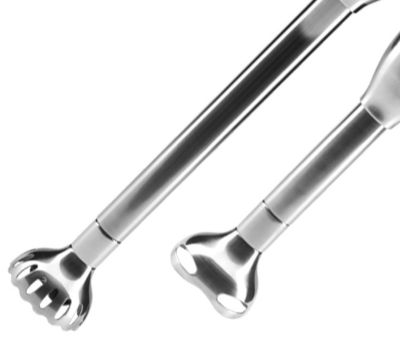 Removable 8" & 13" Blending Arms
Lock into the motor body for easy operation, to blend in any deeper pot, bowl or pitcher.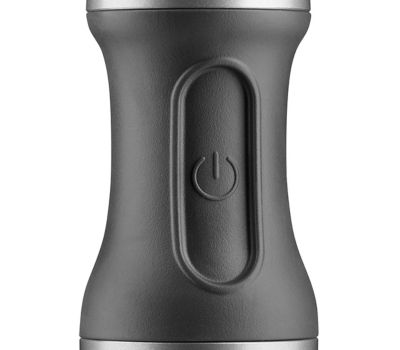 Soft Grip Handle
Offers a non-slip and comfortable grip when continuously blending ingredients.

Model KHB3581 includes
(1) 8" blending arm, (1) 13" blending arm, (1) pan guard, (1) s bell blade, (1) multi-purpose bell blade, (1) froth bell blade, (1) whisk attachment, (1) chopper attachment, (1) 1 L pitcher, (3) bell blade covers, (1) battery & charger, (1) storage case
Reviews
Rated 1 out of 5
by
Genevieve1473
from
Sad Customer
I lost my battery charging base in a cross country move and I was told there isn't a replacement. Now my hand blender is totally useless. I searched EVERY website for a replacement but no luck. $$$$$ down the drain.
Date published: 2018-01-02
Rated 5 out of 5
by
Amanda
from
Love it!
I've now had it for two years. I have had zero problems with it. The case it comes in is great for storage and keeping everything safe. The little piece that protects your pots from getting scratched is also fantastic! Would definitely recommend it to anyone!
Date published: 2017-01-13
Rated 2 out of 5
by
Toni
from
wimpy
This is an overpriced item. It has very little power while it's big and heavy. For making whipped cream it is pathetic compared to a wired mixer. All hype, no performance.
Date published: 2017-01-08
Rated 5 out of 5
by
Rob
from
I love it!
Are use it almost every day it works perfectly very powerful with so many options.
Date published: 2017-01-06
Rated 5 out of 5
by
Robsdeb
from
I love this!!
I received this last year for Christmas from my husband and he wont get coal this year! I have used this from making milkshakes for our grandbabies to making soup and so much in between! It is great for making our home made salsa as well as a single batch of my meringue cookies (more than that and I get out my Stand Mixer)! The clean up is so easy as well! I love not being tied down to a cord!
Date published: 2016-11-02
Rated 5 out of 5
by
Granby
from
pro quality
Lots of attachments and features plus two wand lengths for all size pots/bowls. Pro quality and easy to use. Does anything you'd want it to do re mixing in your kitchen.
Date published: 2016-07-20
Rated 5 out of 5
by
Amanda
from
Love it!
Great product! Absolutely love it!! Use it all the time.
Date published: 2016-02-05
Rated 5 out of 5
by
JABintheQC
from
Amazing kitchen appliance
I bought this product to a year ago. I use it for everything for mixing cakes, blending smoothies, to even mashing my refried beans. This is an industrial strength very well-made kitchen appliance. I love the ability to be able to wirelessly move around the kitchen and not be tied to one plug. I recommend this to anyone that is looking for a blender. The stainless steel also looks good in any kitchen.
Date published: 2015-09-23
Rated 5 out of 5
by
Barry
from
Mobile has never been easier
My wife said I was crazy after spending this amount on a "cordless blender" when we already had a blender working just fine albeit one with a cord. As the cook in the house I wanted something more "mobile". I chose the KitchenAid. Best decision I ever made (besides marrying my wife) This thing does everything, almost everything. And I got what I wanted....A mobile blender....PERFECT. Now if KitchenAid will be so kind as to make a cool looking stand for something that deserves a cooling stand. I will be first in line.
Date published: 2015-08-03
Rated 5 out of 5
by
Gloria
from
Great product with many Features
I purchased this a month ago and I'm enjoying it to the fullest. It's easy and fast to use as well as easy to clean. I'm so happy I purchased it. I have the candy apple red one and it's just beautiful!!!
Date published: 2015-07-16