4-Quart Multi-Cooker
4-Quart Multi-Cooker is rated out of 5 by 167.
Make great cooking simple with this all -in -one cooking system. Over 10 cooking settings for everyday dishes, one pot wonders, gourmet masterpieces and more. Risotto, rice, sear, sauté, simmer, soup, yogurt , boil/steam, slow cook high and low, keep warm (up to 24 hours).
Stainless Steel - KMC4241SS
Features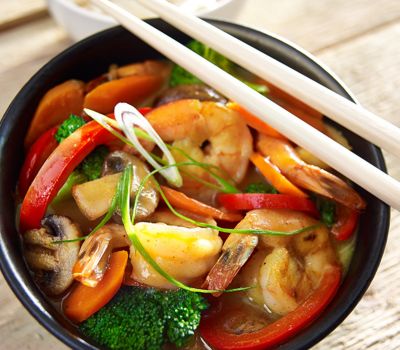 For Cooks of all Levels
With over 10 easy to use settings (4 step-by-step): risotto, rice, sear, sauté, simmer, soup, yogurt , boil/steam, slow cook high and low, keep warm (up to 24 hours).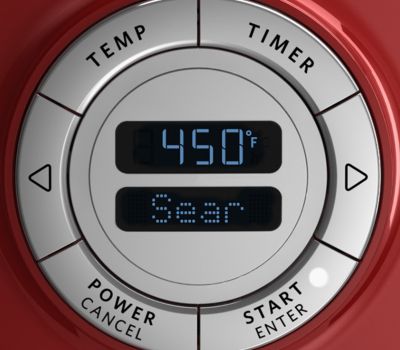 Perfect Results, Every Time
With the precise temperature control and settings, ensuring consistent results for every recipe.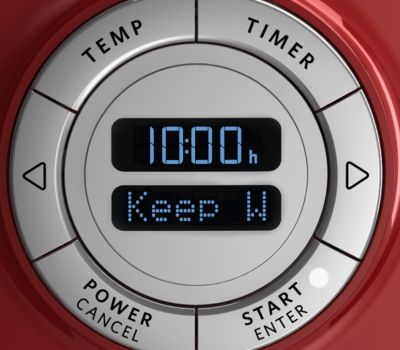 Guided Digital Display
With simple step-by-step instructions for a variety of settings.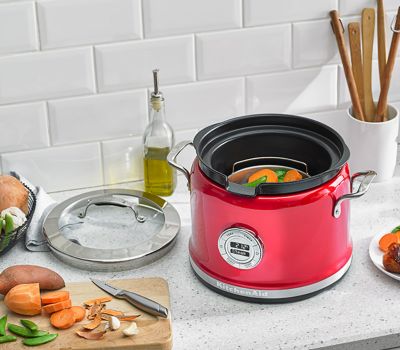 12 Hour Programming
And 24 Hour Keep Warm mode so your recipe is hot and ready just when you need it.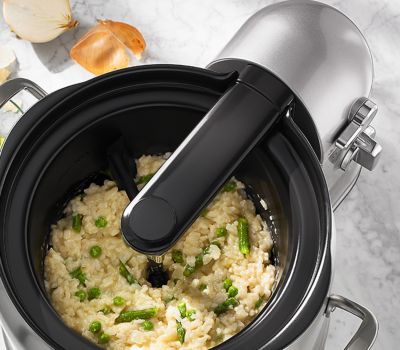 Mix, Flip, Stir and Scrape
Ingredients in your KitchenAid® Multi-Cooker with the optional Stir Tower Accessory (model KST4054, sold separately) for even and thorough cooking.

Model KMC4241 includes
(1) 4-Quart non-stick, ceramic cooking vessel, (1) Glass lid with pour spout, (1) Dual purpose steam basket/roasting rack
Specifications
Features
Lid
Glass with 3 Positions;Closed, Open, or Strainer
Number of Temperature Settings
10
Electronic Temperature Sensor
Yes
Handle
Metal with Soft Touch Grip
Show More Specifications
Reviews
Rated 1 out of 5
by
ChefFromMuppets
from
Waste of money, deceptive timer
For all the things this cooker can do, it lacks the capability to simply turn off the cooker when the timer reaches zero. Unbelievable! This alone makes the cooker totally useless for me and I had to send it back. I do like the wide range of other options, but this missing option is a deal breaker. I wish it was communicated more clearly before buying such an expense cooker, like in a red bold blinking font on the website.
Date published: 2018-01-18
Rated 1 out of 5
by
Vcq1
from
Complete Disappointment
I am so very disappointed with this product! Cooking more than 3 cups of white rice is a globby, undercooked mess; the rice at the bottom of the pot is overcooked while the top is practically uncooked! The slow cook works well if I remember to stir it every hour or so! I have only used soft plastic or bamboo utensils yet the inside black finish has started peeling... have we eaten it or did it just wash away? The bottom of the inside pot has burn marks although we have only used it about 10 times since purchasing 4 months ago. Need I go on? The only thing going for this product is that it looks pretty on the counter... I expected much more from this brand and Williams-Somoma.
Date published: 2018-01-13
Rated 4 out of 5
by
CShabby
from
Does what it says
I have only used this for 2 things so far - making a pot roast and a breakfast casserole. Was great to sear the roast and cook as a slow cooker all in one. The only reason I did not give 5 stars, the rack is too small for a decent sized roast so I didn't use it and the settings could be better. If you want to change setting - say to lower temperature, once it reaches that setting, you have to enter start again.
Date published: 2017-12-28
Rated 5 out of 5
by
Tochi73
from
Great
I bought this one year ago and I'm so happy. It's Practical and easy to use
Date published: 2017-10-21
Rated 5 out of 5
by
Charles the runner
from
Great looking and great results!
I bought this recently and have been using it weekly to make meals prior to Shabbat (Jewish holy day every Friday evening through Saturday evening). The multi-cooker cooks stews, soups and other meals to perfection and keeps them warm for us to eat for our Shabbat meals. Love that. During the rest of the week, we're able to use it to make nutritious dinners that are as tasty as they are economical. It's the best appliance purchase we've made since the Kitchen-Aid Stand Mixer!
Date published: 2017-08-19
Rated 5 out of 5
by
Christopher Mehelic
from
Great machine
I bought a month ago and just used it recently it truly is a great invention slow cooker and high temperature cooker all in one
Date published: 2017-08-17
Rated 4 out of 5
by
Love my kitchen
from
Looking good
I love kitchen stuff but I was promised recipes if I registered. I'm still waiting. Looks like a great machine but I want more than just a slow cooker, so please send me something good to try.
Date published: 2017-05-26
Rated 5 out of 5
by
Mangopickle
from
Solved all my slow cooker problems
I have been stymied for years with inconsistant roasts in my slow cookers. All too often the meat was overcooked with no flavor due to the low setting still being too high and essentiall boiling the meat. This slow cooker has solved that problem. I can set it at 200 degrees and 4-6 hours later have a fabulous succulent pot roast. I do not use the sear feature. I have no interest in that as I always sear my meat in a cast iron skillet. My best recipe is beef bourginon.
Date published: 2017-03-29
Rated 3 out of 5
by
John Z
from
Simmer function not adjustable for high altitude
I bought this last year. Works well enough but problem is I live at high altitude 5000ft. The preset simmer function is a rolling boil at 210F. Wish I could adjust down 5 deg or so but customer service says sorry not able to do it. Need to avoid using any preprogrammed modes using simmer.
Date published: 2017-03-26
Rated 5 out of 5
by
Shelby
from
Sleek and functional
I love to cook and when a highly functional tool can make it that much easier count me in
Date published: 2017-03-19