Food Processor Attachment
Food Processor Attachment is rated out of 5 by 202.
Slice, shred and julienne your favorite fruits, vegetables and hard cheeses. Simply attach to the hub of your stand mixer and get processing. The exclusive ExactSlice™ System allows you to slice from thick to thin with one slide of the lever. This attachment even works great to quickly and easily make cauliflower rice, a low carb favorite and alternative to traditional rice.
Other - KSM1FPA
Features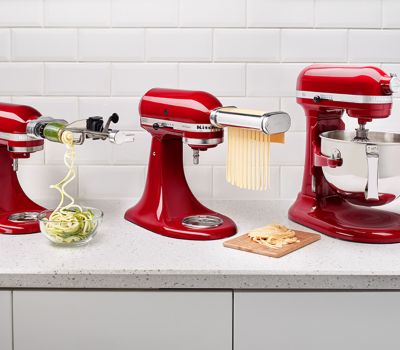 Attaches to Power Hub
Of your stand mixer and uses the power of the motor to run the attachment. Fits all Household KitchenAid® Stand Mixers.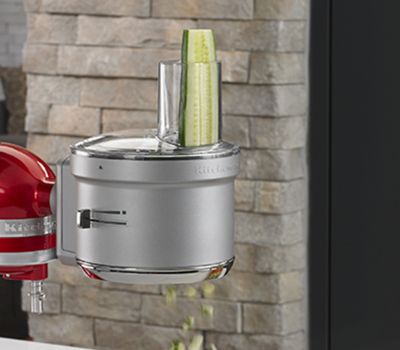 Wide Feed Tube
Accommodates various sizes of food for less prep work.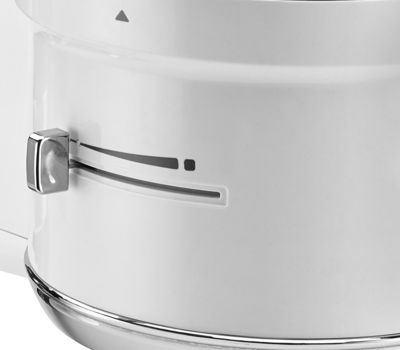 Exclusive ExactSlice™ System
Features an external adjustable slicing lever to go from thick to thin with one slide of the lever.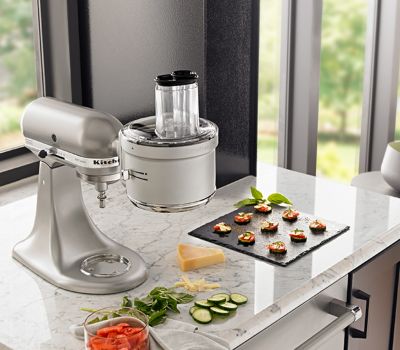 Slice, Shred or Julienne
Thick to thin, fine to coarse or long thin strips of a variety of fresh fruits, vegetables or cheeses.

Model KSM1FPA includes
(1) Slicing Disc, (1) Shredding Disc, (1) Julienne Disc
Reviews
Rated 5 out of 5
by
Ginac1969
from
So Easy!
Makes cutting and dicing fun! No more almost cutting myself.
Date published: 2018-03-20
Rated 5 out of 5
by
Lyn B
from
Love the ease of how it works
Great item for my kitchen aid. Love how it works and the operation.
Date published: 2018-03-14
Rated 3 out of 5
by
More or Less
from
It's okay
I just got it and started using it. Unless I am doing something wrong, it does not perform as well as I think it should.
Date published: 2018-03-13
Rated 4 out of 5
by
Mlong8
from
Slice and dice
Since I bought it, I have only used it to slice potatoes but it cut very fast and was easy to use.
Date published: 2018-03-13
Rated 5 out of 5
by
Kitchen Cook
from
Food Processor Attachement
I'm very happy with this purchase - only note is that I would have appreciated better directions. It's seems a bit more complicated than it needs to be to figure it out.
Date published: 2018-03-03
Rated 5 out of 5
by
ConnieL
from
Works great!!
Love this it let me get rid of another appliance!!
Date published: 2018-03-02
Rated 3 out of 5
by
LadyGray
from
An average slicer that works well
I agree with some of the other reviewers in that this is should labeled as a "food slicer." I always thought a food processor slices & dices. That 's what makes a food processor. If serves it purpose well for slicing even though some slices were a little uneven. I will keep the unit and purchase the extra dicer with safety container. So Maybe I should the F2. I hope this unit lasts me a while. Oh and one more thing. I think for the cost of this item, some kind of safety storage for the blades at least should have been included. I am really surprised at that. I would only recommend this if it is on very good sale.
Date published: 2018-02-17
Rated 5 out of 5
by
Denise76
from
Great
Used it a few times since purchasing and I am happy with it. Used it to slice up carrots and julienned carrots,sliced cucumber. Shredded mozzarella perfectly and quickly. No complaints from me. Having lupus it makes life a little easier and who doesn't like easy. I would recommend this product.
Date published: 2018-02-16
Rated 1 out of 5
by
Want my money back
from
Faster and better by hand
I bought this around Christmas thinking I could consolidate my equipment since this is called a FOOD PROCESSOR... however, I was wrong. Nothing about this processor works as advertised. They're "smart slicing technology", whatever it's called, does not chop consistently and whatever you are slicing be prepared for the last 3" to either be wasted or something you will chop yourself. Long story short, if you have decent knife skills or want an ACTUAL food processor save your money, this is not the product for you.
Date published: 2018-02-13
Rated 1 out of 5
by
Kcleland
from
Not a Food Processor
This is a glorified food chopper, not a food processor. Can not put liquids into to make sauces or crumbles. You put food in the top and literally chops and falls through... I feel like I should have just bought a slap chop.
Date published: 2018-02-08