1.7 L Electric Kettle
1.7 L Electric Kettle is rated out of 5 by 151.
Quickly and quietly boil water in minutes with this electric kettle. And the variable temperature control allows you to select the exact temperature you desire to help you achieve optimal results.
Brushed Stainless Steel - KEK1722SX
Features
1.7 L Capacity
With the option to heat a minimum of 250ml of water.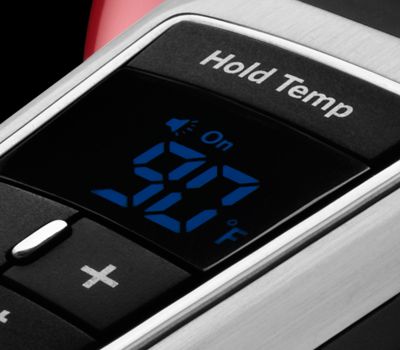 Variable Temperature Settings
To easily adjust from 122° F to 212° F for the temperature you desire.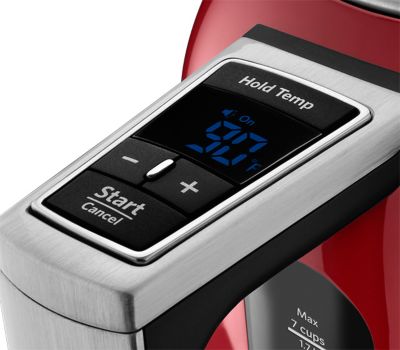 Digital Temperature Display
Located on the top of the handle, displays selected settings.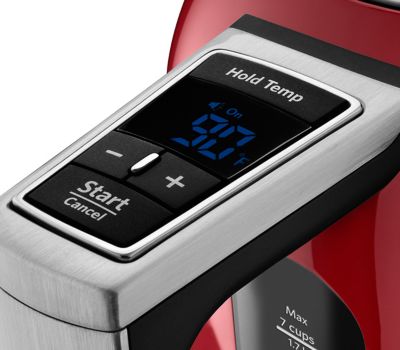 30 Minute Hold Temp Function
Maintains the temperature while on the base.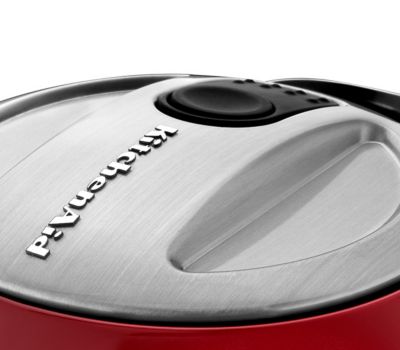 Lid Release Button
To easily fill the kettle with just the right amount of water.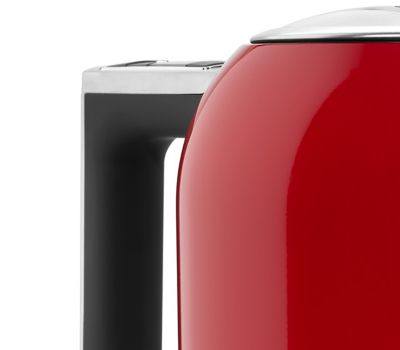 Soft Grip Handle
Designed for comfort and secure handling.
Specifications
Show More Specifications
Reviews
Rated 5 out of 5
by
geardie94542
from
Worked very well for three years - recalled
We have been using this kettle every day for nearly three years, never any problems. Unfortunately it has been recalled and I don't know what it will be replaced with.
Date published: 2018-02-22
Rated 5 out of 5
by
Andre1966
from
Great kettle
We just got our new kettle as a warranty replacement. Our old one (the same model) developed rust spots inside on the bottom. Short and productive email exchange with KitchenAid service department resulted in a kettle replacement that was shipped to us promptly. It is a very good appliance, great design and useful features (temperature sensor, etc.). Does the job and boils water very quickly. Recommended.
Date published: 2018-02-07
Rated 4 out of 5
by
Logan and Leyla
from
Easy Kettle
Though this kettle was a bit bigger and bulkier in design than I like or expected, it is a wonderful edition to Our electric appliances. It has different temperature settings and is in increments of 10. However you have to read the instructions to understand which temperature you need for what tea. If the buttons were preset for certain beverages it might be even easier to use. But I love it just the same. Especially the hold warm button. Great for Turkish teas.
Date published: 2018-02-06
Rated 4 out of 5
by
HappyCamper355
from
Fast and pretty!
I received this kettle as as gift 2 weeks ago and absolutely love it. It heats quickly and quietly and beeps when it reaches temp. It has a nice big spout and pours quickly. It has a hold temp button on it that is supposed to maintain the temperature but I can't get this set, other than that I highly recommend!
Date published: 2017-12-11
Rated 1 out of 5
by
Stark
from
Not reliable
I received this tea kettle in January of 2017 and I have had two die since then. The first one last less than 6 months and just stopped working. It was replaced at Bed, Bath and Beyond and I received a new one this summer. It stopped working today (11/28/2017). Not the best track record. I am extremely disappointed in the quality of this product and will be getting it replaced again. For the cost, I expected a better product.
Date published: 2017-11-28
Rated 1 out of 5
by
RN75
from
Died after 1 year
I expected more from a kettle that costed so much. We thoroughly enjoyed it while it lasted, but we had hoped it would have lasted longer given the price.
Date published: 2017-11-27
Rated 4 out of 5
by
Mamusia09
from
Best electric kettle so far!
This kettle is amazing! I love the ability to set different temperature for different types of tea in °F and °C. It looks amazing on the countertop. The only thing I hope Kitchen Aid will fix is the issue with a lid. After few months it stops opening and I have to exchange it. It has happened with 3 of the kettles I got.
Date published: 2017-11-26
Rated 5 out of 5
by
Keez
from
Great Purchase! Great Product!
Very happy with kettle, very easy to use, very handy! Looks great and Kitchen-Aud is living up to its reputation!
Date published: 2017-11-12
Rated 5 out of 5
by
Laineybop
from
Great Electric Kettle
I've been using electric kettles in the UK for years but this is my 1st American and 1st Kitchenaid kettle, and I love it. I decided to spend a bit more and go for quality and so glad I did. It is quiet, quick to boil, has a water level window with a minimum of 1 cup which is perfect for one person. It has a nice big comfortable handle, good pouring spout and looks great too.
Date published: 2017-11-08
Rated 4 out of 5
by
Maddie
from
Electric kettle
This is my second kettle, the lid broke off of the first one I had, it was still under the 1year warranty so I got it replaced. I really like this kettle, hope it lasts....
Date published: 2017-09-06