1.5 L Glass Tea Kettle
1.5 L Glass Tea Kettle is rated out of 5 by 34.
Brew your perfect cup of tea or simply boil water, with the streamlined glass and stainless steel design glass tea kettle. This kettle simplifies the process of making tea with five preset temperatures and offers fast all-in-one brewing.
Stainless Steel - KEK1322SS
Features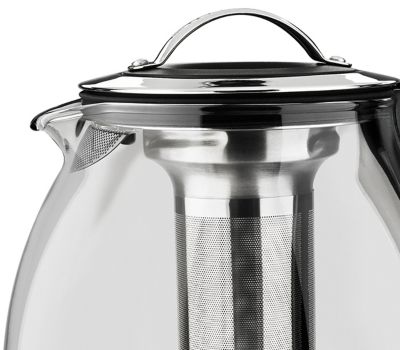 Premium Schott DURAN® Glass and Stainless Steel Construction
Ideal for making your perfect cup of tea.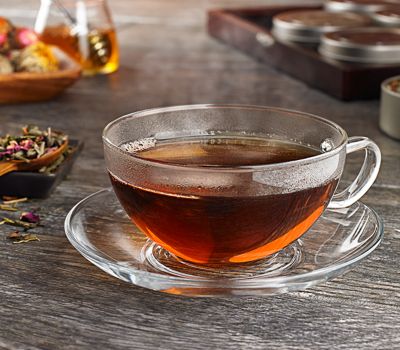 5 Specialty Tea Settings
Designed to preserve each tea's unique flavors and aromas (Green, White, Oolong, Black and Herbal).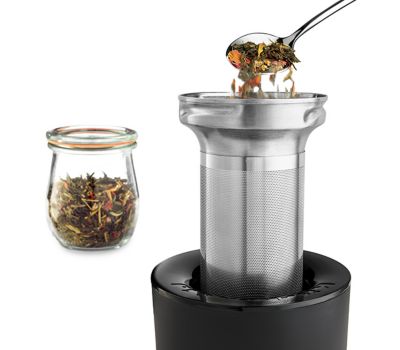 Stainless Steel Tea Steeper with Holder
To easily brew tea right in your glass kettle. After steeping, keep your counter clean from water and tea drips, using the steeper holder.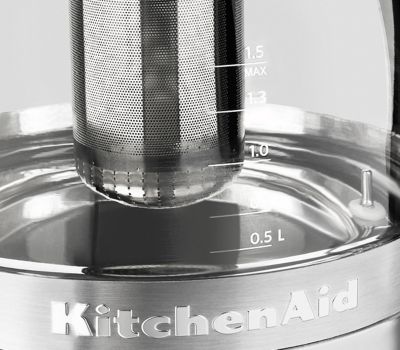 Easy to Use Features
Convenient water level markings on glass, removable stainless steel tea steeper and tea temperature selector on base with five temperature settings.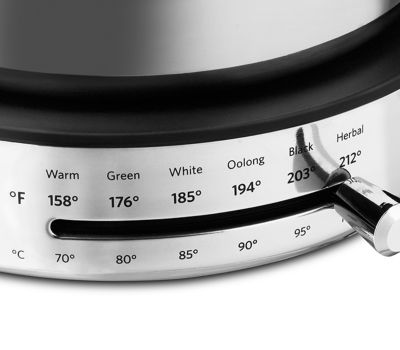 Keep Warm Mode
To keep water or tea warm, at 158 F, for up to 30 minutes. This low temperature setting can also be used for delicate teas.

Quick Boil
Built for speed, it quietly boils water in minutes.
Reviews
Rated 5 out of 5
by
SAldridge
from
Perfect every time!
I bought this and love it!! The temperature levels are handy and the size is enough for several servings. I use it to only boil water and leave out the tea filter. It's perfect!! Thanks!
Date published: 2017-11-28
Rated 5 out of 5
by
praising ann
from
excellent features
I bought this kettle for the way it sets specific temps for different tea. It does not disappoint at all. It brews perfectly/ Solidly made, and is easy to clean, this kettle will give you great tea every time.
Date published: 2017-11-11
Rated 5 out of 5
by
D.J.
from
Excellent heat
I'm so happy this product has correct temperatures for different teas. I also appreciate that I can make a pot of tea or heat water to steep the teabag in my mug. KitchenAid created a product I've been waiting for for years.
Date published: 2017-10-15
Rated 5 out of 5
by
TopoTony
from
Very Nice
It makes great tea and keeps it warm. The other nice features are that the tea holder cleans very nice and you can not forget to turn it off since it turns itself off.
Date published: 2017-10-05
Rated 5 out of 5
by
Zan
from
By me best friend in the kitchen!
I love my new tea kettle! It does everything I need and more! It heats water quickly then holds it at the right temp for brewing tea. It makes a lovely little ding sound when the water reaches the desired temp. In addition, it's just a beautiful appliance and looks great in our beverage center. I would highly recommend this glass kettle to everyone!
Date published: 2017-08-06
Rated 5 out of 5
by
Chris W
from
Excellent / elegant design and performance
Major tea drinker wife, all manner of "exotic" specialty blends. White, green, black, red and probably others. H2O temp is key factor, that part I know. This was a thoroughly appreciated surprise addition to our kitchen. Plus, I can use it to just boil water for my manual coffee maker. Simply elegant design and very functional. Only thing; expect to make at least ~2 cups minimum / use. (A practical limitation of heating element proximity to bottom of tea strainer basket, needs some distance, therefore more H2O. See no way to design around this, as a practical matter). All The Best, Chris
Date published: 2017-05-28
Rated 4 out of 5
by
Rukhsana
from
Just bought
My kettle yesterday after waiting for it to go on sale for so long, love the design, the quality. Having problem with setting up the two lids with loose tea in the steeper and the stand it smells like so rubbery. Can't brew two cup in it, steeper doesn't reach the bottom.
Date published: 2017-04-18
Rated 5 out of 5
by
Adam
from
Using with Chemex
Great temperature options and able to pour slow enough for Chemex coffee maker without much effort. Great for tea as well.
Date published: 2017-02-18
Rated 5 out of 5
by
Meg
from
Great for the avid tea drinker
I have been using for a week every morning. It makes it more convenient to have tea on busy week days.
Date published: 2017-02-10
Rated 4 out of 5
by
Chris
from
Easy Tea
You might think that making tea is an easy process, but KitchenAid has made it truly easy and convenient. AND, because your particular tea is brewed at the correct temperature, it tastes better. I have one minor complaint: the heating element is in the bottom of the glass pot and therefore it cannot be immersed in water for cleaning.
Date published: 2017-01-17