1.25 L Electric Kettle
1.25 L Electric Kettle is rated out of 5 by 75.
Easy to Use, Compact and Stylish. This electric kettle has it all, and is available in a variety of colors, for just your style.
Onyx Black - KEK1222OB
Features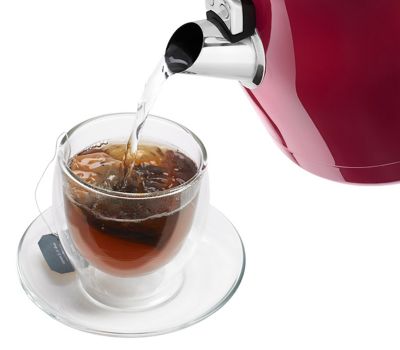 Removable Lid
To easily fill kettle with just the right amount of water.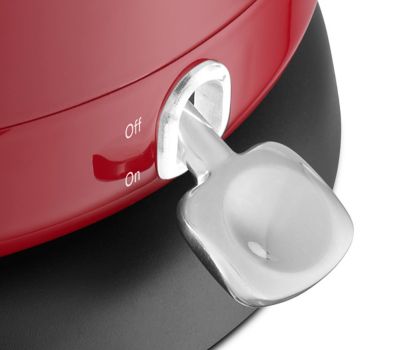 Simple Controls
With an LED On/off switch and 'On' indicator light.
Removable Base
With 360 degree rotation for easy transfer your kettle where you need it.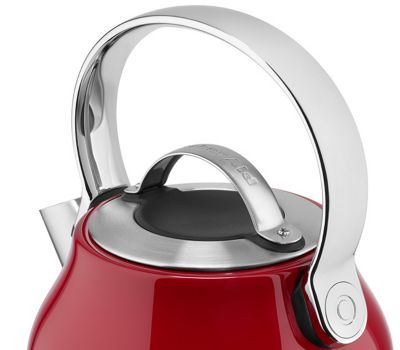 Stainless Steel Body
With smooth, aluminum handle.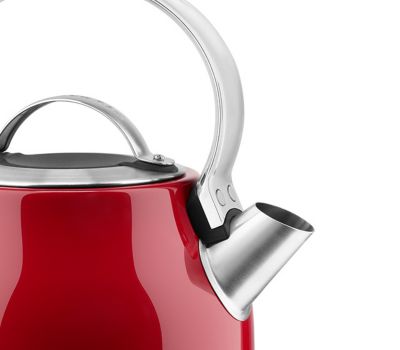 Pouring Spout
With removable lime scale filter.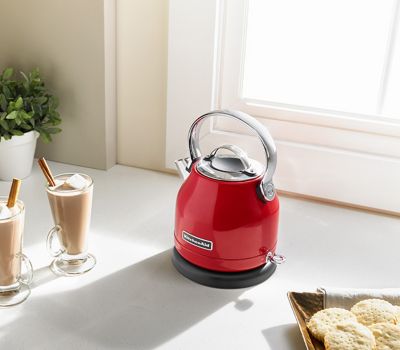 Stylish, Compact Design
Has a small footprint and worthy of displaying on your counter at all times.
Specifications
Show More Specifications
Reviews
Rated 4 out of 5
by
Vengeancenick
from
Super fast boiling point!
I got this as a gift. I love how fast I can make a pot of tea!
Date published: 2018-02-15
Rated 5 out of 5
by
Tea Drinker
from
Nice design
This was a gift. It is so cute! I use it all the time to make tea and I drink a lot of tea. The only challenge is that the water level gauge is difficult to see when putting water in. But all the solutions I can think of would not be good so I think it is the best it can be.
Date published: 2018-02-07
Rated 5 out of 5
by
dawnie
from
great product
received as Christmas gift and I love it! The color, style, light up button when on then turns out when water is ready! Great design.
Date published: 2018-01-31
Rated 5 out of 5
by
Hogman
from
Great aesthetics and works very well
Bought this for my Daughter-in-Law and she likes it.
Date published: 2018-01-29
Rated 5 out of 5
by
Me&Tea
from
Great product
I bought this kettle one month ago, so happy that I did. It heats water faster than anything else I have ever used. The tempeture of water is perfect for a cup of coffee, tea, soups. I like the easy pour spout, no dripping messes. The quality of this kettle exceeds the price. The design and color is perfect on my beverage buffet.
Date published: 2018-01-29
Rated 5 out of 5
by
AndyMac
from
Quick heating
I bought this item a month ago and I am so happy with it.
Date published: 2018-01-29
Rated 1 out of 5
by
MerrieMerrie
from
Buyer Beware of Invalidating Warranty
A LARGE electrical safety tag was glued less than 3 inches of the working end of the plug, leaving a very sticky glue (resistant to removal methods)mega-gumming the working end of the cord. Customer service instructed me to stuff the tagged portion of the cord under the kettle base (impossible when plugged), warning the warranty could be invalided if I removed the tag. This flies in the face of the ad photo which shows no such tags and claims "a small footprint worthy of display". So buy this and live with a over-sized, unsightly, ill-placed tag or risk invalidating your warranty. (I am fine with safety tags, but not huge, ugly, ill-placed tags.)
Date published: 2018-01-17
Rated 5 out of 5
by
jkm932
from
Like the look and the convenience.
Heats up quickly, and looks great in my kitchen. I am drinking more tea now that I have this. Water stays hot very long after turning off.
Date published: 2018-01-12
Rated 5 out of 5
by
Trisha45331
from
Quick and Pretty!
This kettle speeds up water heating and looks great setting on the counter! Love the screen over the kettle spout to catch impurities! Easy to see fill line.
Date published: 2018-01-01
Rated 5 out of 5
by
Minda
from
My kitchenaid
I bought it last month and i like its color. After using it I found how convenient it is.
Date published: 2017-12-11