1.25 L Electric Kettle
1.25 L Electric Kettle is rated out of 5 by 64.
Easy to Use, Compact and Stylish. This electric kettle has it all, and is available in a variety of colors, for just your style.
Empire Red - KEK1222ER
Features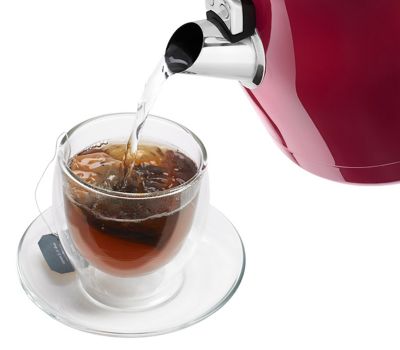 Removable Lid
To easily fill kettle with just the right amount of water.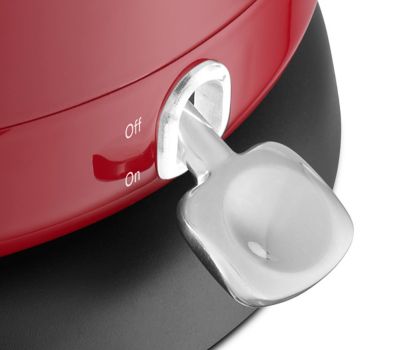 Simple Controls
With an LED On/off switch and 'On' indicator light.
Removable Base
With 360 degree rotation for easy transfer your kettle where you need it.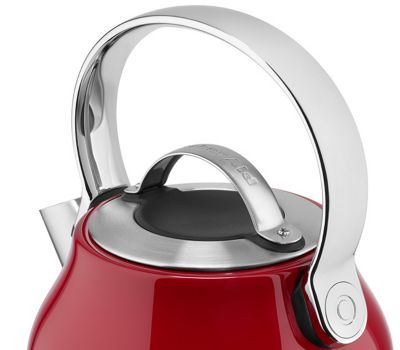 Stainless Steel Body
With smooth, aluminum handle.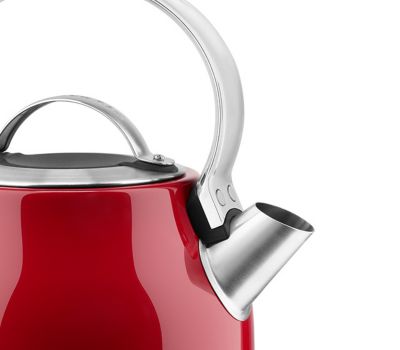 Pouring Spout
With removable lime scale filter.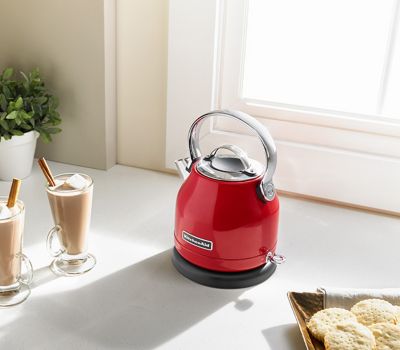 Stylish, Compact Design
Has a small footprint and worthy of displaying on your counter at all times.
Specifications
Show More Specifications
Reviews
Rated 4 out of 5
by
Mary5050
from
re: MrsKC
I just washed scrubbed mine out with white vinegar and also took a toothrush with vinegar to the lil' filter inside and rinsed well and it seems ok now. I;m hoping it lasts at least a week. I wouldn't mind having to that weekly but not daily. give it a try. i phoned them and they said if it doesn't work they will replace it. The waranty is 1 yr. Good luck to you and anyone else having this same odor problem.
Date published: 2017-11-29
Rated 1 out of 5
by
MD722
from
I really wanted to love this kettle
We registered for this kettle and received it as a wedding gift. My husband and I drink A LOT of tea (4-8 cups a day). I have stopped using the electric kettle because it leaves a very strong plastic and metallic taste. I am not sure if we got a defective kettle or if this is the norm with this product. I want to return it to the store I bought it from but am not sure they will take it. Does anyone know whether kitcheaid would replace it for us?
Date published: 2017-11-22
Rated 1 out of 5
by
Llusk
from
Great little kettle but....
This kettle works great and has a small footprint on kitchen countertop. BUT after only a few months use, has started to rust on the top, both on the body rim and the lid. Not the performance I expect from a KitchenAid product. Spend a little more on this product, maybe rustproof ring around the top of the body, how much more could that cost you. Id pay a little more to have it last more than a few months.
Date published: 2017-11-05
Rated 3 out of 5
by
Na
from
So sad
I bought this kettle about one year ago. I love my kettle. I'm English and I drink about 6 - 10 cups of tea, a day. It heats up quickly which I like, but, during the heating process it makes a loud popping sound! This past weekend it died on me! Just quit working, for absolutely no reason. I am very saddened by this. I was looking forward to a long lasting relationship with my Kitchen Aid Kettle. I paid more money for this particular kettle than any other kettle I've ever bought. Over the years I've bought a lot of kettles, non of which were the caliber of Kitchen Aid! I'm so sad.
Date published: 2017-09-25
Rated 1 out of 5
by
wanda
from
Disappointed
I bought this kettle a couple of week ago. I liked the design and was happy to receive the kettle. I first boiled water, as instructed, and emptied it. The I boiled water for tea. I drank the tea and could taste the plastic. The I became dizzy and my head had a numbing sensation. I opened the lid on the kettle, and could smell the plastic. So I left the lid open to let the plastic air out. The next day I boiled some more water for tea, and I could taste and smell the plastic. Also, had the same reaction--dizziness and numbness to the head. With regret I had to return the kettle. My health comes first.
Date published: 2017-09-01
Rated 5 out of 5
by
Giagots
from
Tea in no time
I am very pleased with the kettle. I can adjust the temp precisely to what I am preparing. A must have for the discerning individual.
Date published: 2017-08-23
Rated 4 out of 5
by
Marie
from
Used every day
I love this tea kettle, the look fits well into my primitive colonial kitchen, it heats up fast, and it's a sturdy kennel. My only complaint about this appliance is that I wish it were larger. Since we use this every day for tea, cocoa, and our use it while canning, it would be nice if I didn't have to fill it so many times a day.
Date published: 2017-08-16
Rated 5 out of 5
by
Sil
from
Great Kettle
Very happy with the performance of this product!
Date published: 2017-08-16
Rated 4 out of 5
by
Teatime
from
Boils quickly
Could be a bit bigger. I dry it out each time to avoid build up as per other reviews
Date published: 2017-08-02
Rated 5 out of 5
by
Deac
from
Must have
This is a must have when you travel and dont want to uae the hotel coffee maker for hot water.
Date published: 2017-07-24