12" Convection Digital Countertop Oven
12" Convection Digital Countertop Oven is rated out of 5 by 169.
Enjoy full-size oven performance on your kitchen counter with the KitchenAid® 12" Convection Countertop Oven. Nine memory settings for exceptional cooking results, including Asado Roast that adjusts temperature for superior roasting performance and Pizza to deliver optimal crisping of crust.
Stainless Steel - KCO273SS
Features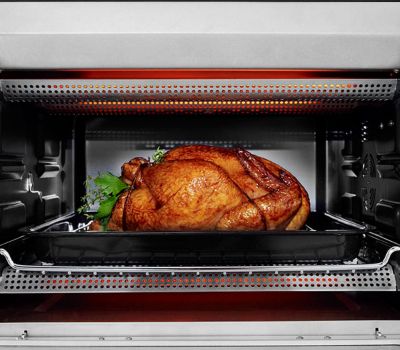 Full-Size Oven Performance
Use your countertop oven to bake pizza, broil a side dish, keep an already cooked dish warm or toast bread.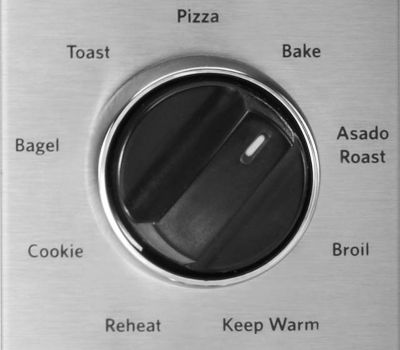 Bake, Pizza, Asado Roast, Toast, Broil, Cookie, Bagel, Keep Warm and Reheat Memory Settings
Serve the perfect Beef Roast, perfectly cooked from the inside out. Enjoy crispy pizza and more with great results, broil the top of baked pasta until it's perfectly browned, keep cooked food warm or toast up to six slices of bread at once.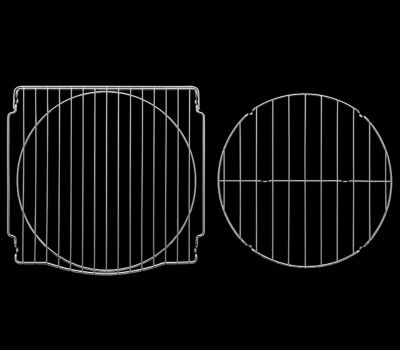 Model KCO273SS Includes
One 12" non-stick multipurpose pan, (1) 12" broiling rack, (1) cooling rack, (1) non-stick drip tray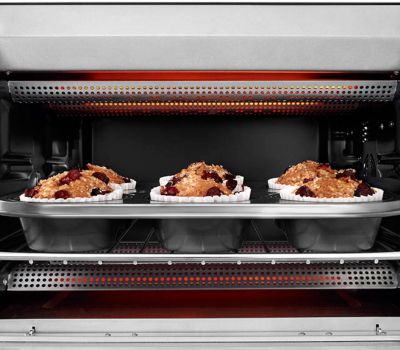 12" Capacity
Offers enough room to cook 2-12" pizzas, or cornish hens. The oven cavity also features a non-stick coating for easy cleaning.

120-Minute Timer
Can be set to remind you when a dish is finished and offers plenty of time for the requirements of most recipes.

Non-Stick interior
Specifications
Configuration and Overview
Features
Coating
Non Stick Interior
Power On Indicator Light
Yes
Show More Specifications
Reviews
Rated 5 out of 5
by
trishmontyrn
from
Great for two people.
I bought this to save on energy by not having to heat up the full-size oven. This countertop oven does so much, broil, toast, bake, and it's convection. The clean-up is easy. Great for steaks, baking pizza, almost anything you bake in a big oven, except your 20 pound turkey. I love this oven.
Date published: 2018-02-11
Rated 5 out of 5
by
donna3
from
Love the size!
I purchased this in January and love all the features. The oven is easy to use, fast and efficient!
Date published: 2018-02-09
Rated 5 out of 5
by
Bluebell
from
Exceptional !
I am very happy with my Convection Countertop Oven, it is just what I have been looking for.
Date published: 2018-01-30
Rated 1 out of 5
by
6119tigger61192
from
Junk
You have to reset to timer to cook and wait for it to heat back up and start cooking again it took 40 minutes to cook fish ..So this unit will be going out in the donation bin.
Date published: 2018-01-05
Rated 5 out of 5
by
haze
from
Easy to use
It's simple to use and clean. Love it! Cooks our food well and turns off.
Date published: 2017-11-25
Rated 3 out of 5
by
Tinks
from
It would be great if it worked!!
We really were excited to use this over the main oven; however, the first few times that we used it, the food wasn't done as we expected in the time we set. It took at least 3 times to cook. We finally realized that the timer counts down much faster than normal seconds. Unfortunately, this is how it was performing ever since we brought it home. I'll be happy to write an updated review after I see how the service is to fix this. I can't wait to finally have one that works!
Date published: 2017-11-12
Rated 5 out of 5
by
champcole
from
Fast preheat. Very solid design.
So far so good. I couldn't be happier with my toaster oven. It preheats quickly & I love the digital display. This is my 3rd Kitchenaid appliance. I will continue to stick with their brand.
Date published: 2017-11-04
Rated 5 out of 5
by
Terry
from
This is the greatest counter oven!
I have a total of three countertop ovens. I have a very small one that is perfect for only 4 biscuits. I needed one that would fit a Bundt pan so I bought a larger one (and it's a namebrand one). It has never really heated quickly or even baked correctly. So, I bit the bullet and purchased this KitchenAid. Im so glad I did. It preheats in an instant and the baking is spot on. Love love love this KitchenAid. I have had the KitchenAid stand mixer for quite a few years and it is a perfect asset to any kitchen.
Date published: 2017-08-18
Rated 4 out of 5
by
Mary likes to cook
from
CONVECTION DIGITAL COUNTERTOP OVEN
This is the best thing since slice bread. Really!! I had a toaster oven and didn't know what I was missing until I brought this convection oven. I baked lots of food in this oven and have not experience hot spots, no burning, just golden delicious food. Cooks very well. The smart digital interface is very easy to use and I like the look and style (stainless). Thanks guys for developing a great appliance. I love this and all my other kitchenAid things I have in my kitchen. # 1 fan!
Date published: 2017-08-10
Rated 5 out of 5
by
Ketevan
from
Great oven, easy to use & clean
Great oven, love the convection feature, the preheat function and the look - very modern looking. Easy to use & clean
Date published: 2017-07-12