Compact Oven
Compact Oven is rated out of 5 by 211.
Enjoy fast, fresh dishes with full-size oven performance on your countertop. The KitchenAid Compact Oven boasts convection cooking and 4 pre-set functions, ensuring outstanding results on anything from roasted meats, fish and vegetables, to quiche, pizza, muffins and more.
Black Diamond - KCO253BM
Features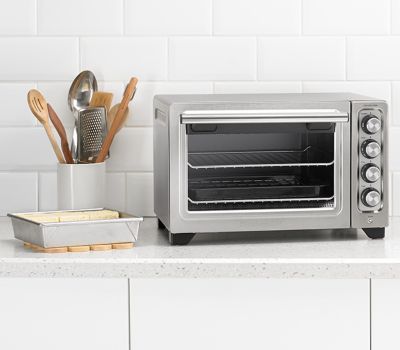 Save Time and Energy
Compact footprint preheats faster and uses less energy than a full-size oven.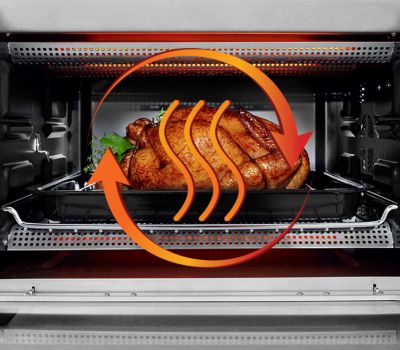 Outstanding Results
Convection cooking produces circulating heat for outstanding results on everything from roasted meats, fish and vegetables, to quiche, pizza, brownies and more.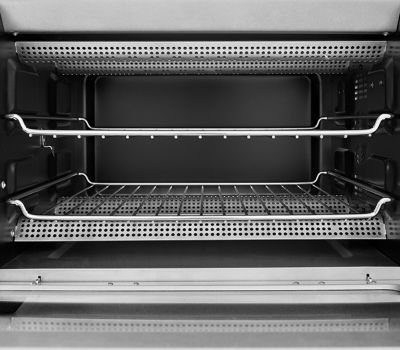 Versatile Cooking Space
2 reversible racks offer the flexibility of 6 height options, so you can cook anything from a whole chicken to multiple sheets of brownies, or two 12" pizzas at once.

4 Hour 'Stay On' Option
4 hour 'stay on' option for warming or slow roasting - automatically shuts off when cycle ends.
Easy to Clean
Easy to clean, non-stick interior.

Even Baking
Bake setting features convection cooking for consistent results.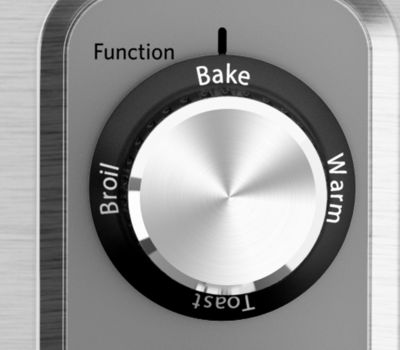 Pre-Set Functions
Bake, Broil, Toast and Keep-Warm settings allow you to cook a variety of dishes, and toast up to 4 slices of bread.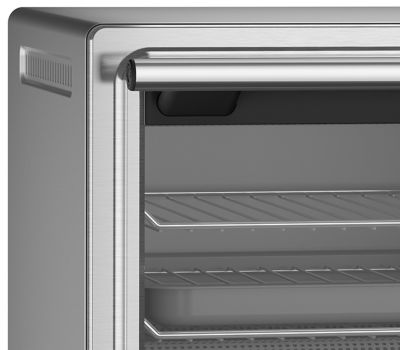 Enduring Design
Robust metal handle, large viewing window to easily check cooking progress. Door opens and closes with sturdy "full-size" feel.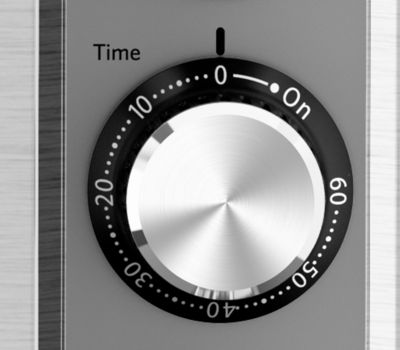 60 Minute Timer
Select the time and temperature, up to 60 minutes, and the oven automatically turns off when the timer is complete.

Model KCO253 Includes
Broil pan with grill rack, removable metal drip and crumb tray for easy clean-up. Two reversible steel racks.
Specifications
Features
Power On Indicator Light
Yes
Show More Specifications
Reviews
Rated 5 out of 5
by
EddieY
from
Works Great
Works as promised, easy to use. It's great not to heat up the kitchen with the oven.
Date published: 2018-02-19
Rated 5 out of 5
by
thejul7
from
Better than I imagined
I have never had a better piece of toast in my life. This oven does it all. I've cooked toast, banana bread, bacon, home-made French fries, and a burger. I can bake, broil, or toast. It doesn't heat up the whole house. Easy to follow instructions. I would buy again and recommend to friends and family.
Date published: 2018-02-19
Rated 1 out of 5
by
Former Kitchen aid user
from
When the new wears off
So sorry Kitchenaid. I should have taken note that when attempting to online register my new (at the time) countertop convection oven, your software didin't save the info. Even today opening your site it blipped out-with an air message saying my session "Timed out". What session? Regardless, this product Model KCO223CU is failing. The fan made noises and quit periodically. Now, it's longer periods and louder noise.The warranty is no longer. I will not buy or recommend kitchenaid at all! You'd expect an appliance that cost $129 would last longer than 2 years. I have cheap toasters that last 10-15 years!
Date published: 2018-02-19
Rated 4 out of 5
by
thomL
from
I like it.. I hope it doesn't break.
The KitchenAid oven I replaced this with was GREAT, except for the weak plastic knobs, which broke. I hope this one will work as well as the other. I wish you would have made replacement knobs available for my first oven. If the knobs on this one break, I won't consider another from KitchenAid product.
Date published: 2018-02-18
Rated 4 out of 5
by
Simple mealer
from
2 in 1
I wanted to replace a combination toaster/small oven that was getting less reliable and chose this. Most reviews will say to get the best results, but an oven and a toaster. This is good for the oven part, especially for small meals that don't require a regular, large oven, but it does seem to take a bit longer to cook things than a regular oven. The toaster had taken some getting used to and does take longer than a regular toaster or even than our old unit, but it does work. I am happy with it.
Date published: 2018-02-15
Rated 4 out of 5
by
DC Chic
from
12" Table top oven!
Highly recommend, excellent baking performance and value.
Date published: 2018-02-14
Rated 5 out of 5
by
Sharon99
from
Toaster oven
This was a Christmas present. It looks great and so far has performed great too. H e only used it about six times. Had to replace the first one due to the oven door was crooked.
Date published: 2018-02-13
Rated 5 out of 5
by
Hooycabatus
from
Flexible with many adjustments
Used several weeks with pleasure and satisfaction. Obvious high quality.
Date published: 2018-02-13
Rated 3 out of 5
by
goldenrulers
from
Great convection, but handle fell off.
I have loved everything about this oven that we have had for about a month, but the handle simply fell off - both sides. My husband replaced the original screws with ones twice the length and so far, so good. We will see. Other than that, it's great. I would recommend this oven to a friend that has a nack for fixing minor issues.
Date published: 2018-02-09
Rated 4 out of 5
by
Kbear2018
from
Too powerful
Looks great but I keep burning my food. Plus every time I cook it has a weird smell. Like it but don't love it. Still working out the kinks.
Date published: 2018-02-07