12" Countertop Oven
12" Countertop Oven is rated out of 5 by 512.
Enjoy full-size oven performance on your kitchen counter with the KitchenAid® 12" Countertop Oven. It features a large oven cavity for baking a 12" frozen pizza or cornish hens. Toast up to six slices of bread at once to your desired shade of browning. The non-stick interior is easy to wipe clean.
Onyx Black - KCO222OB
Features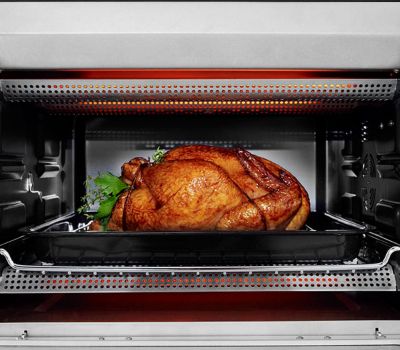 Full-Size Oven Performance
Use your countertop oven to bake pizza, broil a side dish, keep an already cooked dish warm or toast bread.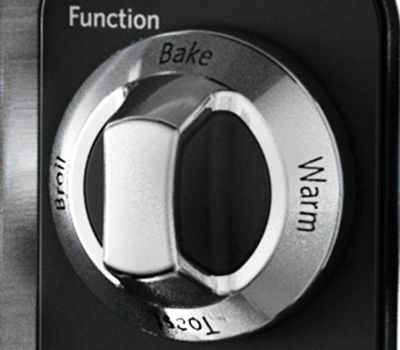 Bake, Broil, & Toast Functions
Bake a pie, side dish and more with great results, broil the top of baked pasta until it's perfectly browned, keep cooked food warm or toast up to four slices of bread at once.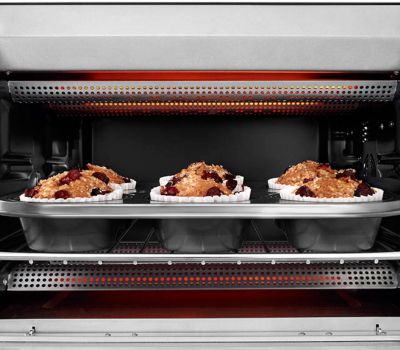 12" Capacity
Offers enough room to cook 2-12" pizzas, or cornish hens. The oven cavity also features a non-stick coating for easy cleaning.

120-Minute Timer
Can be set to remind you when a dish is finished and offers plenty of time for the requirements of most recipes.

Non-Stick interior

Model KCO222 Includes
Two stainless steel racks, an easy-to-clean stainless steel broil pan with grill that's great for baking, broiling and warming and a stainless steel crumb tray that removes for easy cleaning.
Specifications
Configuration and Overview
Features
Power On Indicator Light
Yes
Show More Specifications
Reviews
Rated 2 out of 5
by
mv123
from
Worked great for almost 3 years
I bought this in May 2015 and it worked great until just recently - at first it started to not turn on unless I switched the dial around a bit and now when it turns on after a few minutes the blue light goes off and it loses power. I do think it was a great oven for the time that I had it and we used it almost daily. The size is really convenient and the double racks are very usefully - especially when using to keep food warm. I am disappointed that this lasted such a short time period - I think our old one was almost 10 years old and still working when we gave it away to "upgrade" to this toaster oven.
Date published: 2018-02-12
Rated 2 out of 5
by
SKnight
from
Stopped Working
We have had this appliance for 3 years now and loved it! It works amazingly for cooking and heating up foods. Unfortunately from some of the other reviews I noticed that our toaster has experienced some of the same complaints from other customers as well. Sounds like KitchenAid has a fault in their products and really needs to investigate how to solve this problem. Too many unhappy customers. Funny thing is I have a smaller convection oven that I've had now for over 9 years and that little thing still heats like a champ. Hopefully KitchenAid will fix this problem and try to improve on this mistake.
Date published: 2018-01-22
Rated 1 out of 5
by
Goodman
from
Very disappointing!
We bought this exact model exactly 15 months ago. We loved it. It was perfect for cooking the odd small meal. Last week, that was the end of it, no blue light, no heat, completely defunct. My husband and I take pride with maintaining our appliances in clean working order. Using our appliances according to the manufacture guidelines. In fact we have several KitchenAid small appliances that are superb. I'm enclosing a picture of it to show how well it was maintained. They're is nothing in the KitchAid manual to assist you with trouble shooting. KitchenAide for the way it's made? Total disappointment and would not recommend this product to anyone.
Date published: 2018-01-21
Rated 1 out of 5
by
Izzy913
from
Dissappinted
Have always bought KitchenAid products and have typically been very pleased so when my office/workplace toaster oven "died", we donated the one from our home to replace! We are excited to buy a new one for our home and chose the KCO234CCU. Office was happy and so were we....until it just stopped working. No light, no heat from elements, nothing. Called the # on the back of unit and was simply told there was no warranty as serial number eluded the unit was likely bought more then a year prior (honestly I can't recall). Just dissappinted. I didn't keep the receipt...it's not an overly expensive appliance and our "old" one worked for 10+ years and is still keeping the office happy! I guess I should have registered the product but figured with such great product history and how well I take care of my things, surely it wasn't needed. Looks like I should have read the reviews because I'm not the only one.
Date published: 2018-01-15
Rated 1 out of 5
by
Deb9393
from
No longer works!!
We bought this oven in June of 2016. Over the last month or so in order to get it to heat up you have to turn it off and on, off and on. This was a Dependable product at first but it should last well over a year considering the number of times we have actually used it. I would not recommend this as a good deal for anyone. It would be a great product if it continued to work longer then 16 months.
Date published: 2017-10-22
Rated 1 out of 5
by
Slucas1
from
Takes Forever To Cook A Mini Pizza
I bought this toaster oven a year ago at Macys. I use it occasionally just to heat up a personal size frozen pizza. It needs to bake at 400 degrees per the package. I can't ever seem to get it up to temperature. I just keep adding more and more time. I would like to bake a casserole or cookies but worry it won't get hot enough.I also have their Professional 600 stand mixer. You have to jiggle the knob to get it to start mixing. It has done that forever so I just live with it. I thought Kitchen Aid was better than the others out there. Maybe I just got the two that were defective.
Date published: 2017-10-19
Rated 1 out of 5
by
Aaron75
from
Not happy at all!
I have had this Counter Top Oven for about 5 years (give or take) and it stopped working on me a few days ago. The blue light goes on, but the heating elements stay cold for the oven and the toaster. This is about the 4th one that was sent to me by KitchenAid because the previous ones were defective. If the company thinks I'm making this up, I can give you my name & address where you can find me in the system and you will see that I'm telling the truth. I had to make several trips to FedEx to mail the defective ones back to KitchenAid and now this one died. I also took care of it and complied with all the do's and don't's. I don't know what else to say other than I hope someone in the management can take notice on the problem I've had. KitchenAid has one of the greatest products on the market and I truly mean that! However, there is a problem with the counter top ovens. At least from what I experienced. Sorry!
Date published: 2017-10-10
Rated 2 out of 5
by
Unhappy
from
Broke after 10 months
I got this oven last October because my mom has one that has lasted years. Unfortunately mine broke this past July and I hadn't even had it for a year yet. Not only that, it short circuited our outlet and we had to pay to have an electrician fix our electric board on that wall. I am now not allowed to buy kitchenaid toaster ovens anymore because of this incident. :(
Date published: 2017-09-19
Rated 1 out of 5
by
Ted
from
Disappointed
Enjoyed for about 2 years, then it just quit. No light, no heat, no nothing. Had taken good care of and had used average of two or three times a week. Then looked in owner's manual for help. Extent of help was "check fuse to outlet, unplug oven and plug back in." Wow. Read other reviews annotating same problem, and yet nothing from KitchenAide. I expected more from KitchenAide.
Date published: 2017-09-18
Rated 5 out of 5
by
jojomom
from
Love it.
WE have had this for years. We use it almost daily as an oven for heating or cooking. We moved into our new house which has two large ovens and a microwave but we use this in our pantry.
Date published: 2017-08-28
Demos & Guides
guides
Specifications Sheet
A detailed list describing the specifications of your new appliance
Use & Care Guide
Comprehensive information about your new appliance - from getting started to cleaning and maintenance.
Warranty Information
A complete description of your warranty coverage, and contact information for service and support.