12 Cup Coffee Maker with One Touch Brewing
12 Cup Coffee Maker with One Touch Brewing is rated out of 5 by 88.
The simplest part of your day. One touch selections and simple 24-hour programming make it easy to brew your coffee just the way you like it with this 12-cup glass carafe drip coffee maker. SALE OFFER: Limited time offer. Excludes Parts & Accessories. Not valid with any other offers or mail-in rebates.
Onyx Black - KCM1204OB
Features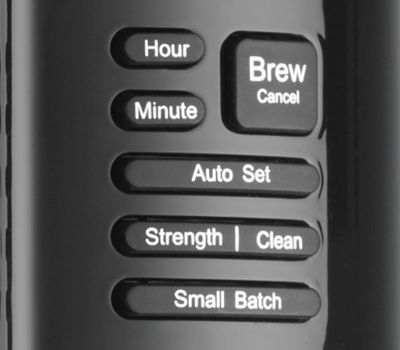 Simple Operation and 24 Hour Programmability
One touch selections for brew strength, small batch and brewing. Intuitive, 24 hour programmability so your coffee can be ready at a precise time, day or night.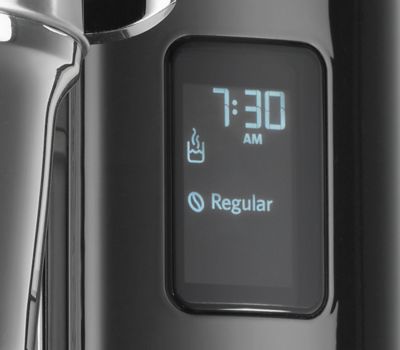 Variable Brew Strength Selector
To choose between regular and bold strengths while giving you a full-bodied cup every time.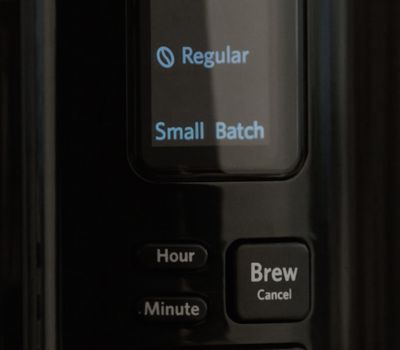 Small Batch Brew Mode
Automatically adjusts to optimize heating and saturation time for the best flavor in small batches (2-4 cups).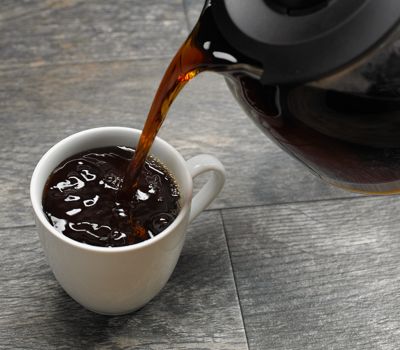 Pause and Pour
Stops the brew cycle, allowing you to pour a cup of coffee before brewing is complete.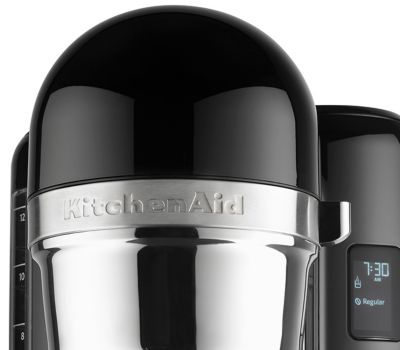 Timeless Design
Inspired by the design of our iconic Stand Mixer, the 12-Cup Coffee Maker with One Touch Brewing will make a statement on any countertop.

Model KCM1204 includes
(1) 12 Cup Glass Carafe, (1) Brew Basket, (1) Gold Tone Filter
Specifications
Features
Brew System Control
Electronic
Clean Touch Control Pad
Yes
Cleaning Indicator Light
Yes
End of Brew/Max Fill Tone
Yes
Full Dispersion Shower Head
Yes
Pause and Pour Feature
Yes
Programmable Brew Timer
Yes
Time Since Brew Display
Yes
Show More Specifications
Reviews
Rated 5 out of 5
by
Rodica
from
Amazing coffee!
I bought it 2 weeks ago and love it. Chic, easy to clean, making hold and regular coffee.
Date published: 2017-12-09
Rated 1 out of 5
by
magnolia59
from
Stops working suddenly
I received this coffee maker as a Christmas gift. It was great until 4 months into using, it beeps suddenly and stops brewing. I followed all the troubleshooting with no luck. I received a replacement and I was happy. 5 months later, it stops brewing and will not work. I love my coffee pot but do not want to keep receiving replacements. Sunday morning without coffee is tough!
Date published: 2017-11-22
Rated 5 out of 5
by
Coffeetalk
from
Guaranteed to make your life easier
I purchased my coffee maker 3 weeks ago. I Absolutely LOVE it. It's very easy to use and works like a champ. Thank you Kitchen Aid for making my life easier
Date published: 2017-11-21
Rated 5 out of 5
by
Anonymous
from
Very nice coffee maker!
We are very pleased with this coffee maker. The digital lighting is nice and bright and easy to see. Very easy to use!
Date published: 2017-11-19
Rated 1 out of 5
by
Anonymous
from
We thought it was a good coffee maker...
We bought this three months ago. It worked just fine until two days ago. It started leaking water from the reservoir out of the bottom of the machine instead of using it to brew the coffee. For the price, it should last longer than 3 months. I would NOT recommend this coffee maker.
Date published: 2017-11-14
Rated 5 out of 5
by
Lisa01
from
Very easy to use
I bought this coffee maker after my coffee machine's motor gave out. I reviewed online until I decided on this one. One feature I love is that you can change the strength setting. I use the bold and it comes out perfect and you use less coffee. It also has a small batch setting and a clean feature. You can also program it so you wake up to fresh coffee. It also has its permanent filter. What I like is that it's not cheaply made. It's really the Cadillac of coffee machines. My husband agrees.
Date published: 2017-11-03
Rated 5 out of 5
by
Lesandre
from
I LOVE it!
I received this as a gift and I would not change it. This coffee pot is so cute, and it has great features.
Date published: 2017-10-28
Rated 3 out of 5
by
SoCal Dave.
from
Nice looking coffee maker.
We thought we would spring for an expensive big name brand this time. This one was pricey, but looks great. It works well, with a few exceptions, and the coffee tastes fine. The biggest issue I have, is when I pull out the carafe to pour a cup while it's still brewing, it spills on the warming plate, drips without stopping. Sort of an inconvenience, but nothing major. The controls are VERY hard to read in the kitchen under normal overhead lighting, because they are very small, and the printing is hard to see. I tend to use the flashlight on my phone to see the buttons. The brew basket opens nicely, making it quick and simple to remove the filter, and setup a new pot for brewing. One very nice thing is when the coffee sits in the pot until the machine times out and turns itself off, the coffee still tastes fine, and has no burnt, or old flavor. Frankly, a much cheaper name brand from the mega store works just as well, with the same features and options, and we get about 2 years from them until they stop working, or all the writing on the controls is rubbed away. As of this date, I would recommend this coffee maker. Time will be the true test of this machine.
Date published: 2017-10-21
Rated 5 out of 5
by
marde
from
great style
I bought this 2 weeks ago I love the style and how easy it is to use.
Date published: 2017-10-19
Rated 4 out of 5
by
Katherinec
from
Great features
I bouth this about 2 months ago and I enjoy it daily
Date published: 2017-10-18