12 Cup Coffee Maker with One Touch Brewing
12 Cup Coffee Maker with One Touch Brewing is rated out of 5 by 103.
The simplest part of your day. One touch selections and simple 24-hour programming make it easy to brew your coffee just the way you like it with this 12-cup glass carafe drip coffee maker.
Onyx Black - KCM1204OB
Features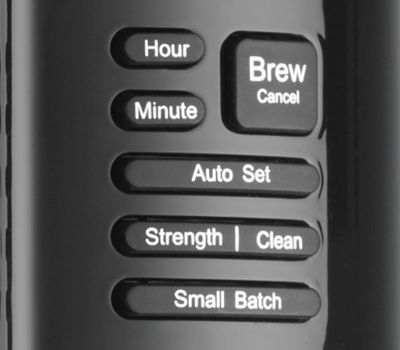 Simple Operation and 24 Hour Programmability
One touch selections for brew strength, small batch and brewing. Intuitive, 24 hour programmability so your coffee can be ready at a precise time, day or night.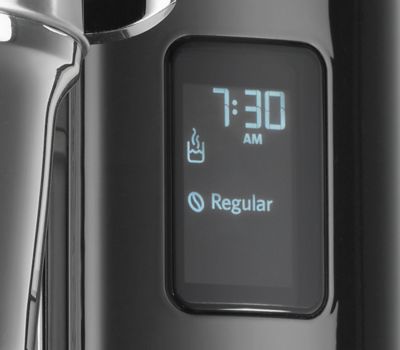 Variable Brew Strength Selector
To choose between regular and bold strengths while giving you a full-bodied cup every time.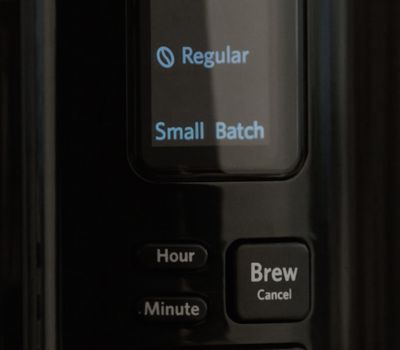 Small Batch Brew Mode
Automatically adjusts to optimize heating and saturation time for the best flavor in small batches (2-4 cups).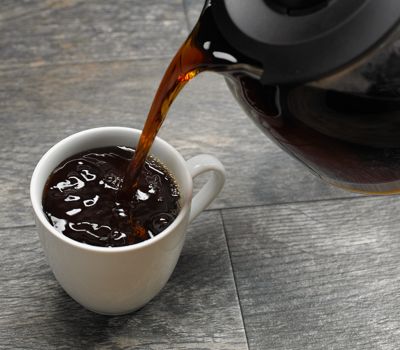 Pause and Pour
Stops the brew cycle, allowing you to pour a cup of coffee before brewing is complete.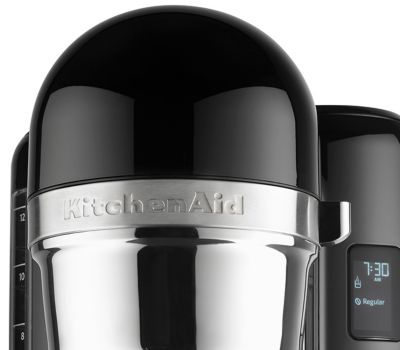 Timeless Design
Inspired by the design of our iconic Stand Mixer, the 12-Cup Coffee Maker with One Touch Brewing will make a statement on any countertop.

Model KCM1204 includes
(1) 12 Cup Glass Carafe, (1) Brew Basket, (1) Gold Tone Filter
Specifications
Features
Brew System Control
Electronic
Clean Touch Control Pad
Yes
Cleaning Indicator Light
Yes
End of Brew/Max Fill Tone
Yes
Full Dispersion Shower Head
Yes
Pause and Pour Feature
Yes
Programmable Brew Timer
Yes
Time Since Brew Display
Yes
Show More Specifications
Reviews
Rated 3 out of 5
by
Sharla
from
Great coffee maker
Would be ALOT better if the warming time could be extended or if you could just turn it back on to keep warming. The only way you can do it is if you add more water.
Date published: 2018-02-15
Rated 5 out of 5
by
Baebee
from
Sleek look
I bought 2 of these for our church's coffee bar. They look great. Very sleek and professional looking.
Date published: 2018-02-15
Rated 4 out of 5
by
Labakes
from
Great coffee maker
I do really like this coffee maker. There are a couple of things I would change. The basket for the coffee opens to the left. I find this a little awkward, the first few times I made coffee, I spilled the ground coffee when putting in the basket. Also I would like a 3 hour timer instead of 2. But the coffee is great!
Date published: 2018-02-14
Rated 5 out of 5
by
SLKL
from
Love It!!
Received this as a gift...... love everything about it!
Date published: 2018-02-13
Rated 4 out of 5
by
Wayneo
from
Makes Great Coffee
I think this is the best coffee maker we have ever had. It makes great coffee! The only thing I don't like about it is I brew 10 to 12 cups every morning, and after 2 hours it cuts off, which is fine, but there's no way or feature to cut the hot plate back on to keep the coffee hot. We drink coffee all morning but there's only a 2 hour limit on keeping the coffee hot, without brewing another pot. I've had much cheaper makers that had this feature. This cost triple the amount and one would certainly think you could cut warmer back on to keep what's in the pot hot.
Date published: 2018-02-08
Rated 5 out of 5
by
GigiX4
from
Love this coffee maker and the coffee
I bought this coffee maker and couldn't be happier! I will always buy kitchenaid.
Date published: 2018-02-01
Rated 4 out of 5
by
CynMM
from
Sleek and Modern
Bought this about three months ago, great countertop coffee maker.
Date published: 2018-01-29
Rated 5 out of 5
by
Naej
from
Timer and strength buttons are great!
I received this as a Christmas present and I'm thoroughly impressed with it. I like my coffee strong and with the bold setting I can use less coffee and of course it's ready for me when I get up
Date published: 2018-01-29
Rated 2 out of 5
by
Amanda10
from
Sipping Coffee Grinds
Cannot make a full pot (12 cups) of coffee not the normal setting without the grounds overflowing the filter and ending up in the pot. The only way to get a ground free pot of coffee is to brew on the Bold setting. I like everything else about it though. We just got use to drinking stronger coffee.
Date published: 2018-01-22
Rated 5 out of 5
by
SuiGeneris1854
from
Better than a $300 Drip Coffeemaker
Now the key player in my coffeemaker arsenal--including drip; French press; and manual pourover), this Kitchenaid KCM 1204OB makes the richest, most consistent drip coffee I have ever tasted. And I have owned more than a dozen good-quality drip coffeemakers, some costing as much as $300.00. This KitchenAid out-performs them all. It produces coffee equivalent to the best pourover coffee and yet offers all the convenience of automatic drip. I do not know how KitchenAid did it, but they scored a winner with this machine.
Date published: 2018-01-19