Siphon Coffee Brewer
Siphon Coffee Brewer is rated out of 5 by 74.
The KitchenAid® Siphon Coffee Brewer delivers the theatrical beauty and precision of traditional full immersion vacuum brewing, yet simplified for the home through automated technology. Easily brew 2-8 cups of a complex and velvety cup of coffee.
Onyx Black - KCM0812OB
The KitchenAid® Siphon Coffee Brewer
The simple science of complex flavor. The KitchenAid® Siphon Brewer automates the manual vacuum brewing process for a complex and velvety cup of coffee.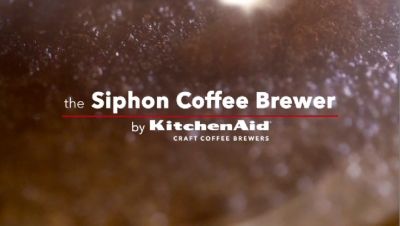 Features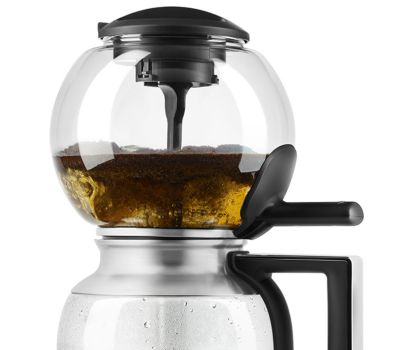 Automated Full Immersion Siphon Brewing
Delivered through precise temperature and vacuum technology for a complex and velvety cup of coffee.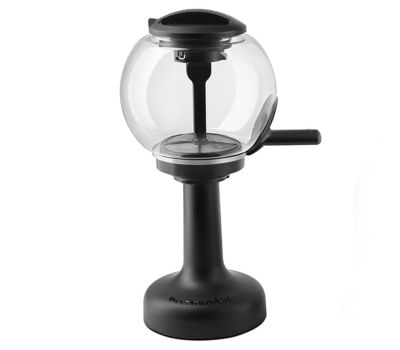 Brew Unit Stand
Securely holds brew unit once brewing is complete.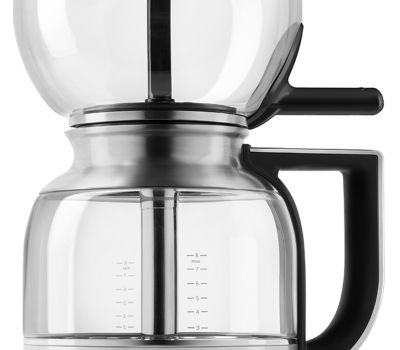 Premium Glass Construction
With stainless steel accents.
Magnetic Locking Seal
Securely fastens the brew unit and carafe together.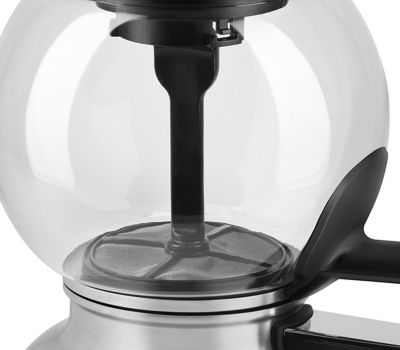 Easy to Clean
With a reusable stainless steel filter and wider carafe neck.

Model KCM0812 includes
(1) Brew unit stand, (1) Removable base, (1) Cleaning brush/coffee scoop, (1) Reusable stainless steel filter, (1) Cloth filter pack
Specifications
Features
Clean Touch Control Pad
No
Cleaning Indicator Light
No
End of Brew/Max Fill Tone
No
Full Dispersion Shower Head
No
Pause and Pour Feature
No
Programmable Brew Timer
No
Time Since Brew Display
No
Show More Specifications
Reviews
Rated 4 out of 5
by
ABbyL
from
Could use a little tweeking
The Siphon Coffee Brewer makes an excellent cup of coffee, it is simple to use, does not need to be carefully babysat and it works very well. It is nice the the siphon tube is stainless steel, my old one was glass and broke all the time and I ended up spending the same as what this cost to keep replacing the top carafe. BUT I do have 4 things that could be improved: 1) I have noticed that the grounds always get to the bottom carafe with or with out the extra filter. 2) I wish it had multiple brewing times or a warming only function because I like strong coffee and have to send the coffee up to be brewed again. 3) It is really hard to get the last few drops out of the bottom carafe because of the shape of the bowl vs the spout. 4) Sometimes the lid lets coffee water spit out the top because you can not close the spout part of the lid and it can make a HUGE mess. I hope this is helpful to anyone looking at their options in buying a coffee siphon brewer. I am really happy over all with my purchase, just a few things that could be improved. Thanks
Date published: 2018-03-06
Rated 1 out of 5
by
BeccaS
from
Only made great coffee for a few months
Just to give you an idea, I am a coffee snob. I have tried so many different coffee makers and espresso machines in the past thirty years, always looking for the very best. I grind my own beans and strive for the best cup every day. That being said, I was over the moon when I first got this coffee maker as it made the very best coffee I've ever had at home. I realize it's hard to clean and you have to pour the coffee in a thermal carafe immediately after brewing to keep it hot, but it was so worth it to me for that delicious brew. Then after about 2 months, the coffee started tasting burned and bitter. I de-calcified the carafe even though I've always washed it thoroughly after every use, and I put in a new cloth filter. I always remove the carafe the second the coffee siphons back down into the carafe to make sure it doesn't boil. Everything I've done, the coffee still tastes horrible. I think the vacuum seal is not as strong as it used to be because the coffee used to have a thick head of crema when siphoning back into the carafe, and now there is none. I believe the crema was what made the coffee taste so amazing, but now without getting that crema, the coffee is just awful. Seriously so bad that I have to pour the whole pot down the sink. When you spend $250 on a coffee maker you expect it to last a long time, not just a few months. It's now just sitting in my cupboard collecting dust and reminding me what a foolish purchase I made. Sigh. I wish I could return it as I have the original box and everything, but I'm sure I tossed the receipt after the first month when I was in love with it. If you do purchase this, hold on to your receipt for several months for when this eventually starts happening to your coffee maker.
Date published: 2018-02-18
Rated 5 out of 5
by
Tyron
from
Old ain't bad, in fact it is very very good
Turns out your grandmother forgot more than you ever learned about brewing coffee at home. Vacuum coffee brewing is a gift from the coffee brewing gods that KitchenAid has taken and brought to a state of euphoric perfection. Ignore all those who would suggest that you bypass the cloth filter and use it as directed. What you will get for you minimal pains is a cup of coffee that actually tastes like the beans you used. This coffee maker is built very well and is easy to use and clean. Buy good beans and enjoy. A word to the wise; a lighter roast is where this extraction method shines.
Date published: 2018-02-06
Rated 1 out of 5
by
Wdd2
from
Garbage
The brewer is made of very cheap materials. The plastic handle continues to disintegrate.
Date published: 2018-01-28
Rated 5 out of 5
by
obrsbr6
from
est cup of coffee available
I own one and love it, it is not really fragile for a glass coffee machine
Date published: 2018-01-02
Rated 1 out of 5
by
blackhillsmale
from
Fine quality German glass??
I had this product for less than a month and it was on it's stand and fell off the counter landing on its stand. The glass is barely 1/8" thick
Date published: 2017-12-26
Rated 3 out of 5
by
quietrockfarm
from
Great coffee, fun to watch, but very fragile
First we broke the top part. Kitchenaide replaced it for free! Yay! But then we broke the bottom part. I give up. If anyone wants a spare top part and stand, look on FreeCycle in Frederick MD. Cleaning is not very easy. Be sure to use the stand.
Date published: 2017-12-23
Rated 5 out of 5
by
Ponderosapooh
from
Coolest Coffee Brewer EVER!
Love, love, love this product. I used it first for brewing my loose leaf tea...PERRRRFECT brew!
Date published: 2017-12-14
Rated 5 out of 5
by
Anonymous
from
Fabulous coffee!
Set it up this morning, sans instructions, and had the finest coffee I have ever tasted. That unavoidable tinge of bitterness is gone. Like smoking a Cuban Cigar. Pure silk. And very easy to clean. Thank you.
Date published: 2017-12-07
Rated 2 out of 5
by
wukas3
from
Needs new handle design - second carafe in 4 weeks
I dont know how to rate this product- the coffee is great but the workmanship needs to be improved. We have had 4 weeks- so far 2 pots have had the handle come apart. Leaving you to hold a metal brace- it is also made for small hands. KA I want to keep enjoying my cofee- please redesign the handle.
Date published: 2017-11-29
Demos & Guides
guides
Warranty Information
A complete description of your warranty coverage, and contact information for service and support.
Use & Care Guide
Comprehensive information about your new appliance - from getting started to cleaning and maintenance.
Instruction Sheet
Instruction Sheet