Personal Coffee Maker with 18 oz Thermal Mug
Personal Coffee Maker with 18 oz Thermal Mug is rated out of 5 by 222.
A coffee maker just for you. Brew your favorite coffee quick and easy with one-touch operation directly into the included 18 oz. thermal mug or a mug of your choice. Convenient features such as a removable water tank and reusable gold tone filter come standard.
Empire Red - KCM0402ER
Features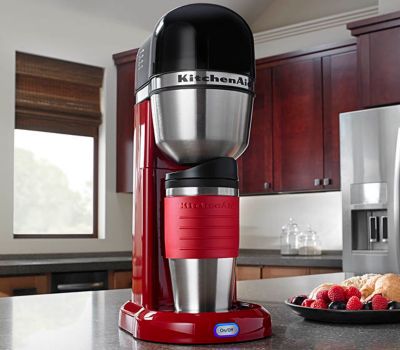 Sleek, Compact Design
Makes this the ideal coffee maker to keep on your countertop, whether in the kitchen, office or any space you choose.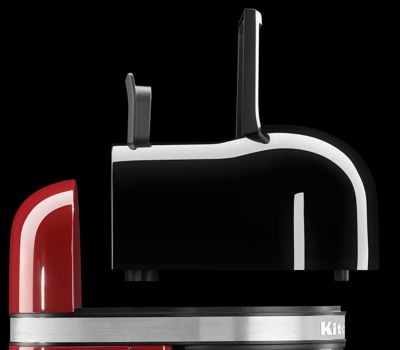 Removable Water Tank with Handle
To quickly and easily fill with fresh water.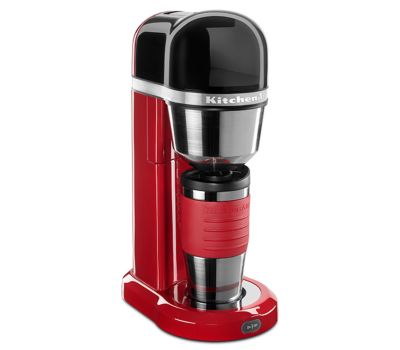 One-Touch Brewing
Simply add water and your favorite coffee grinds, press the ON button and begin brewing in the included thermal mug or cup of your choice.

Model KCM0402 includes
(1) 18 oz. Themal Mug with Lid, (1) Gold Tone Filter
Specifications
Features
Clean Touch Control Pad
No
Cleaning Indicator Light
No
End of Brew/Max Fill Tone
Yes
Full Dispersion Shower Head
Yes
Pause and Pour Feature
No
Programmable Brew Timer
No
Time Since Brew Display
No
General
Power Cord Length (ft.)
2.8
Show More Specifications
Reviews
Rated 3 out of 5
by
Pastry Chef
from
Convenient
Convenient and simple to use design. However, the flavor of the coffee seems off in some way.
Date published: 2017-12-04
Rated 5 out of 5
by
OhioSue
from
Simple Function-Perfect for One!
I'm not a lifelong avid coffee drinker, but have gotten in the habit of stopping at the local convenience store on my way to work for a coffee on my commute to work over the last year. I decided to invest in either a small coffee pot or travel mug machine. I love that I can use my own ground coffee to adjust to my preference and don't have to buy K-cups or even paper filters! Perfect for my needs!
Date published: 2017-12-02
Rated 1 out of 5
by
Judy M
from
Yet another one died!
I have had several of these coffeemakers. The first two didn't work, third one ??, 4th one died in less than 2 years. Now the 5th one (why do I keep purchasing these? I love the looks of them and they fit exactly right between cupboard and sink area), died. I have had this one for 16 months and use it during the cold weather months, so not every day. Day before yesterday, the water would not disperse into the basket. I cleaned the unit. It worked fine throughout the cleaning. Yesterday morning, it would not turn on! Moved it to another outlet and still nothing! Love KitchenAid, but something is wrong with this product!!
Date published: 2017-11-26
Rated 4 out of 5
by
Ironeus
from
Simple
Threw out my cup single serve type brewer and bought this and I an happy with it. Could be a larger opening for the water port though.
Date published: 2017-11-16
Rated 5 out of 5
by
rakozan1
from
LOVE THIS!! Best coffee maker ever!
I Love this personal coffee maker. Brews the coffee fast and it tastes great!
Date published: 2017-10-20
Rated 5 out of 5
by
Mike
from
PERFECT
This coffee maker is terrific
Date published: 2017-08-30
Rated 5 out of 5
by
Stephanie
from
Marital coffee mug tension!
I bought this for me, & my husband had no interest in it, and I had no interest in his breville. Now, everyday he not only uses my Kitchen Aid; he takes the travel cup. Needless to say, we both really like this coffee maker. We do need another travel cup though.
Date published: 2017-08-24
Rated 5 out of 5
by
Hope
from
Piping Hot Coffee
I was looking for a single serve coffee maker that did not require pods. I am very particular about the brand of coffee that I drink. This coffee maker makes 18 oz. at a time. The coffee is dispersed in the thermal cup which keeps it piping hot. Easy to clean. In addition to its outstanding performance it matches my full size Kitchenaid coffee maker. Well worth the money!
Date published: 2017-08-23
Rated 3 out of 5
by
Rsev
from
Brews 22oz or less. Ian on my third unit. First two leaked.
First two units leaked or quit working. The first unit was out of warranty but wasn't used for a year. I purchased a second unit and it leaked after 3mos. Replacement unit took2 mos to get. Unit working fine to date. Make two mugs a day.
Date published: 2017-08-16
Rated 3 out of 5
by
Zulu9
from
Filter Basket
This model is well built and the travel mug does keep your coffee hit for long periods of time. When I first got the unit the rubber sleeve on the mug did not fit the mug. Now after about 2 years of use the basket filter is now fraying in three different areas. I have on occasion (about 4 times now) had the coffee (water) back up in the filter and it made a heck of a mess - there is no warning that that would occur, you come back to find liquid and grinds all over the place. Other than the issue with the mug sleeve and the filter I find this product works pretty well.
Date published: 2017-08-05