Burr Grinder
Burr Grinder is rated out of 5 by 73.
Grind your coffee beans just how you like with the KitchenAid® Burr Grinder. This grinder features 15 grind levels for French Press, Pour Over, Drip Coffee, Espresso and anything in between. And the glass bean hopper holds up to 7 ounces of beans.
Empire Red - KCG0702ER
Features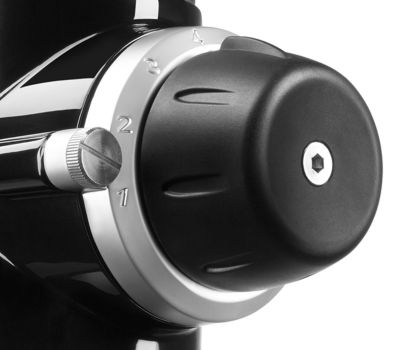 15 Grind Settings
For excellent grind consistency and lower grinding temperatures. Available in half-step increments from 1 to 8, from a very fine espresso grind to a coarse French press grind.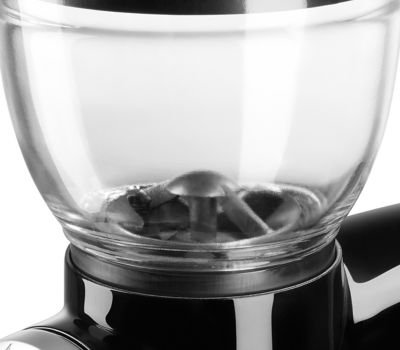 Stainless Steel Cutting Burrs
Offer durability, powerful performance and a superb grind consistency.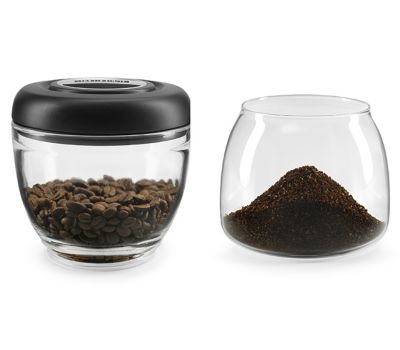 7 oz. Glass Bean Hopper and Grind Jar
Minimizes the static "cling" of coffee grinds. Hopper unscrews from housing for simple cleaning and features a press-fit lid for quick filling.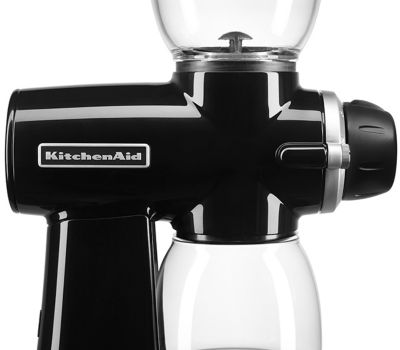 Die-Cast Metal Design
The sleek, streamlined design fits easily under cabinets or anywhere on your countertop. Durable and easy to wipe clean.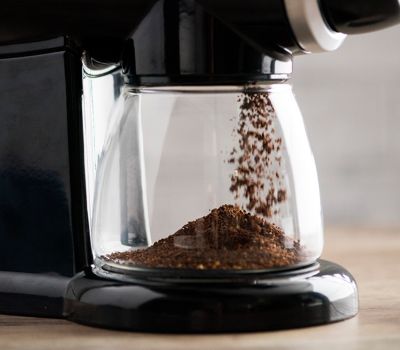 Low RPM Operation
Burrs turn at 450 rpm, minimizing frictional heat build-up and preserving flavor.

Model KCG0702 includes
(1) Burr grinder, (1) Handheld scoop, (1) Burr cleaning brush
Reviews
Rated 4 out of 5
by
DrScott
from
Great quality coffee grinder but messy
I've had this grinder for a few days, and my initial impression is that the burr grinder produces an excellent coarse grind for use with a Keurig reusable pod. It's also much quieter than the grinders in coffee stores. The only disadvantage is that it's very messy to use. Coffee grinds wind up all over the kitchen counter, even when I very carefully keep the collection container aligned with the grinder casing.
Date published: 2018-01-02
Rated 4 out of 5
by
RTHH
from
Grinds great coffee.
Excellent grinder - the only issue is spilled coffee when the receiving cup is removed. Otherwise grinds to just the right consistency for an excellent cuppa.
Date published: 2017-12-19
Rated 2 out of 5
by
Anonymous
from
Poorly designed parts and no part replacements.
My first grinder's shaft broke. A machine should never be designed to break any of its parts. I got a replacement under warranty, and 2 years later the spring loaded plate you see above the glass catch cup broke where there is a collar that holds the cup place. I called KitchenAid customer support and was told that this is not a repairable item and there are no parts available. This grinder costs almost as much as a mixer and is not repairable.
Date published: 2017-11-15
Rated 5 out of 5
by
PaDave
from
A bean grind'en beast
I bought this grinder 7 years ago last month and it worked as good this morning as it did 7 years ago! I grind on average 5 lbs. of beans every 3 months so over the course of that seven years that's about 140 pounds. I can't see any ware on the burrs and it still gives a consistent grind for my drip coffee maker. Easy to clean and maintain. Built like a tank too,
Date published: 2017-11-05
Rated 5 out of 5
by
wisconsinavis
from
Control your beans!
I use it daily, love the smell of fresh ground beans, almost as good as the excellent brew of really fresh coffee. Expensive? Yes. Worth it? Absolutely!
Date published: 2017-10-12
Rated 5 out of 5
by
Randy
from
Fantastic grinder
We have had this for4 or 5 years. It is well built and grinds very consistently. If the Beans are extremely oily you may have to tap the side of the bean bowl to keep the beans from sticking together and not dropping down to the grinding burrs, but that doesn't rise to the level of an irritant! We love this machine and have recommended it to many of our friends.
Date published: 2017-09-29
Rated 5 out of 5
by
Mike
from
Great product works really well
I bought my coffee grinder about one month ago and it's the best grinder I ever had it's super completely recommend it!!
Date published: 2017-08-30
Rated 5 out of 5
by
Jameso
from
Seems like it does what it is supposed to do
The burr grinder is, first of all, lovely to look at and a delight to use; it is heavy duty, and, it would appear, durable. This is the second burr grinder of this sort from KA that we have owned. The other lasted well over 15 years. And is still working, though it needs new burrs.
Date published: 2017-08-15
Rated 3 out of 5
by
BJ
from
Great grinder, but......
The grinder is of superior quality, however the glass receiving container is very fragile. That should be replaced with something substantial to all of us that purchased this VERY expensive grinder. Mine has already broken.
Date published: 2017-07-21
Rated 4 out of 5
by
Nick loves coffee
from
Beautiful design and grind
This grinder has great variability when it comes to grind size. It is really pretty to look at! And it cleans so easily; the glass jar really makes a difference. Only con that I can think of is it is loud, but all burr grinders I have ever had were loud.
Date published: 2017-07-19