Blade Coffee Grinder
Blade Coffee Grinder is rated out of 5 by 80.
Grind coffee beans for up to 12 cups of coffee. One-touch operation, measurement markings on the bowl inside and a clear top cover for quick and easy grinding.
Empire Red - BCG111ER
Features
One-Touch Control
Simply push down on the cover to begin grinding and release to stop. The clear cover allows you to easily see the consistency of grinds.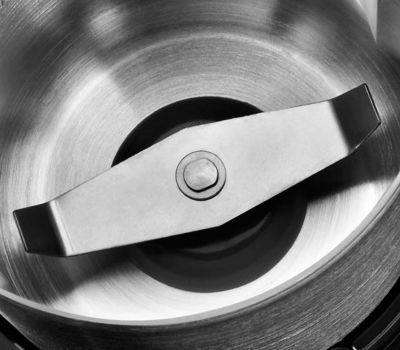 Stainless Steel Blade
Offers durability and powerful performance, quickly grinding enough whole coffee beans to make up to 12 cups of coffee.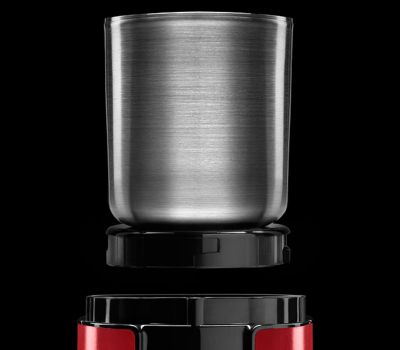 Removable 4-Oz. Stainless Steel Bowl
Features measurement markings on the inside, to grind beans for 4, 8, 10 or 12 cups of coffee. The bowl is removable, to easily transfer grinds to your coffee maker.
Specifications
Show More Specifications
Reviews
Rated 5 out of 5
by
Love Coffee
from
Great Coffee Grinder
I bought this to replace an old grinder and am very happy with the purchase.
Date published: 2017-12-10
Rated 5 out of 5
by
Tacit
from
Should be 'KitchenAid - Wonder Blade Coffee Grinde
I purchased this item two weeks ago & have used it every day. It grinds the coffee to the perfect size and evenly. The removal feature of the cup container is very handy and makes clean-up easy. I would highly recommend this item to any coffee drinker!
Date published: 2017-11-28
Rated 3 out of 5
by
1BZB
from
Good grind, average noise, rmvble cup a plus
Great grind. Noisier than expected, so don't grind if you're the first one up. The salesman told my husband that it would grind more quickly than the one it was replacing. It really didn't, but I became fine with it's timely grind. Love that it was available in red. Love the removable cup; my old one I use for cinnamon, cardamon and cloves doesn't. Three years later, I'm here looking at reviews to see if anyone else has had the plastic on the grinding bowl break. Two years ago it first broke and the hubby glued it. It twisted in place just fine but now it's broken in a second place. I've the original box I store it away in; I see it was a BB&B purchase for 29.99 plus tax. I'd like it replaced, however the warranty expired and the price has almost doubled!
Date published: 2017-10-23
Rated 5 out of 5
by
Phil
from
I ran it for more than ten years and it was great!
When I first went looking to find a good coffee grinder I was disappointed as most were almost toy like. Then I found this KitchenAid in the basement of a Sears store. It was big as a Buick starter motor and looked like it would grind anything one put in it. I used it to grind coffee every day for over ten years and was deeply saddened when a minor part in the cup broke. I tried to repair it, but couldn't get it apart. So I bought a new one and it is a good day today!
Date published: 2017-09-14
Rated 5 out of 5
by
SassyBear
from
Love it!!!
Easy to use, fast, doesn't take up a lot of counter space and the red is so pretty!
Date published: 2017-03-01
Rated 5 out of 5
by
TrickyRicky64
from
Great Grinder!
I don't drink coffee, I got this to grind herbs and spices. It makes short work of pepper, mustard, etc. If you want the freshest flavor, you need one of these. Make just what you need for dinner or grind a week or two's worth of your most used spices.
Date published: 2017-01-27
Rated 5 out of 5
by
Christine
from
I love this grinder!
I have had one of these grinders for coffee for years and finally got a second one just for spices. I have tried a couple of others, but they are just not as easy to use. They might cost a bit more, but they are worth it. You can see into the cup to grind to your desired amount. It's easy to clean and small when storing.
Date published: 2017-01-21
Rated 4 out of 5
by
Newuser49
from
Beware the per cup markings
Just got a BCG1110B a few days ago. We replaced the coffee pot at the same time. It took me a few days to check the fill lines and compare them to what it says in the user manual. I found that the 12 cup mark is 18 tablespoons, not 14 as it says in the manual. In fact all of the lines are for a number of tablespoons equal to 1.5 x number of cups. (I checked with several measuring device) Also note that the 8 to 10 distance and 10 to 12 distance are both one cm so it is unlikely the volume differences would be 3 and 2 tbsp. Anyway, it is easy to adjust, and I like being able to pour the coffee into grinder rather than count coffee scoops. Just beware, and perhaps the user manual can be updated or the markings on the grinder corrected in the next redesign.
Date published: 2017-01-19
Rated 5 out of 5
by
TrickyRicky64
from
Don't let the name fool ya!
I suppose that you could use this to grind a fresh batch of coffee everyday, but this device's ability to grind hard herbs and spices is what I use it for. Everyone knows that herbs and spices last MUCH longer in a natural, unground state. This grinder is perfect for preparing a few weeks worth of FRESH flavor. I absolutely love it!
Date published: 2017-01-13
Rated 5 out of 5
by
Cassie
from
Fresh Coffee Just How You Like It
I received this as a Christmas gift this year and I love it! The best thing about this grinder is that you completely control the size of your ground coffee. With other coffee grinders I've used, you put a specific setting before putting in the beans and then if it's not perfect you can't re-grind. With the clear lid you can easily watch the grinding process and start and stop when it reaches your desired thickness. I personally prefer super fine grounds (Turkish coffee level which is finer than espresso) which typically isn't an option on most other grinders. With this grinder I just for an additional 10 seconds and it is perfect. Not to mention, coffee that was ground 5 minutes before you brew it is just delicious. This appliance grinds quickly and evenly :)
Date published: 2017-01-11