Blade Coffee Grinder
Blade Coffee Grinder is rated out of 5 by 88.
Grind coffee beans for up to 12 cups of coffee. One-touch operation, measurement markings on the bowl inside and a clear top cover for quick and easy grinding.
Empire Red - BCG111ER
Features
One-Touch Control
Simply push down on the cover to begin grinding and release to stop. The clear cover allows you to easily see the consistency of grinds.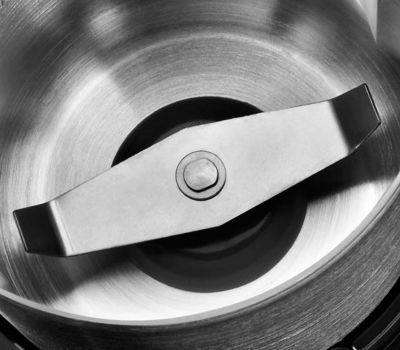 Stainless Steel Blade
Offers durability and powerful performance, quickly grinding enough whole coffee beans to make up to 12 cups of coffee.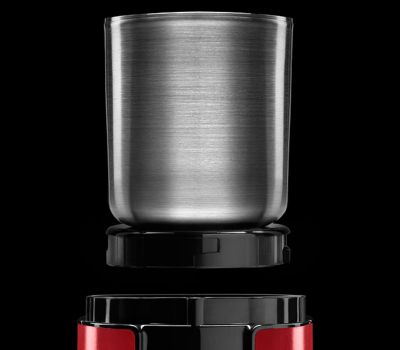 Removable 4-Oz. Stainless Steel Bowl
Features measurement markings on the inside, to grind beans for 4, 8, 10 or 12 cups of coffee. The bowl is removable, to easily transfer grinds to your coffee maker.
Specifications
Show More Specifications
Reviews
Rated 1 out of 5
by
rachelNYC
from
Grinds are EVERYWHERE - whaa?
No idea how this thing gets high reviews. There is NO lid for the inside cylinder that does the grinding. So, grinds are airborne, spill over onto the outside lip which the cap fits on, you take it off, and poof! Grinds ALL OVER YOUR COUNTER - EVERY TIME. Plus it it requires pretty hard pressure to grind...like my arm vs fingers, making pulsing as KitchenAid suggests, quite impossible. It IS quieter than most small grinders, the reason I got it. Avoid this grinder.
Date published: 2018-03-07
Rated 5 out of 5
by
AleighB8
from
Easy to Use!
Received this as a gift from our wedding. This has been great to use to grind beans for the french press--it's easy to take the top off to weigh the beans and clean the system. Definitely recommend!
Date published: 2018-02-19
Rated 5 out of 5
by
Harley dude
from
Great job.
It just plain does a fantastic job!!!!XXXXXXXXXXXXXXXX
Date published: 2018-02-06
Rated 5 out of 5
by
Golden Bevy
from
I love the looks of it and it works great
Sleek, grinds perfectly. Love the color and the way it grinds the coffee.
Date published: 2018-02-06
Rated 3 out of 5
by
LW in idaho
from
Grains coffe beans quick and easy.
not to sure about seal around top of outer cover when grinding will see with more use
Date published: 2018-02-05
Rated 5 out of 5
by
SandiB
from
Mighty Little Powerhouse
I received this for a birthday present and I LOVE IT. I put it thru some paces from coffee to spice grinding. And I even make my own powdered sugar with this little gem. It is so powerful and Quick! Best grinder I have ever owned.
Date published: 2017-12-31
Rated 4 out of 5
by
Mary32587
from
Works well
Pros: easy to use, and I like the removable grinder bowl Con: the lid doesn't snugly fit onto the bowl when the bowl is not attached to the housing
Date published: 2017-12-28
Rated 5 out of 5
by
Kat3062
from
Never know it could be this easy
Love the easy of use to grind my favorite coffee. Great
Date published: 2017-12-16
Rated 5 out of 5
by
Love Coffee
from
Great Coffee Grinder
I bought this to replace an old grinder and am very happy with the purchase.
Date published: 2017-12-10
Rated 5 out of 5
by
Tacit
from
Should be 'KitchenAid - Wonder Blade Coffee Grinde
I purchased this item two weeks ago & have used it every day. It grinds the coffee to the perfect size and evenly. The removal feature of the cup container is very handy and makes clean-up easy. I would highly recommend this item to any coffee drinker!
Date published: 2017-11-28