Pro Line® Series Blender with Thermal Control Jar
Pro Line Series Blender with Thermal Control Jar is rated out of 5 by 50.
Meet the most powerful blender and the ultimate tool for making healthy, nutritious eating easy. *When testing the actual blender power output at the blade using a dynamometer, a machine laboratories use to measure mechanical power, this KitchenAid blender with its heavy duty motor and advanced motor control board, produces more power than the leading competitors.
Imperial Black - KSB8270BK
Features
Thermal Control Jar
Blend and heat soups and sauces in only five minutes with the thermal control jar and Adapti-Blend™ Soup recipe setting, while the outer jar remains cool.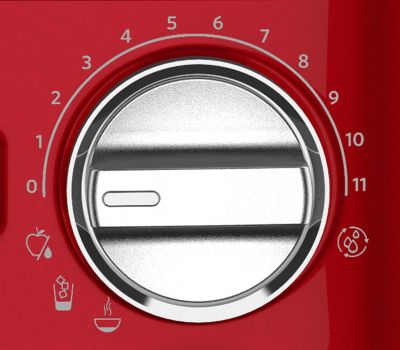 3 Pre-Set Adapti-Blend™ Programs
For Soup, Smoothies and Juice. The Soup setting, when used with the Thermal Control Jar, heats soup and keeps it hot.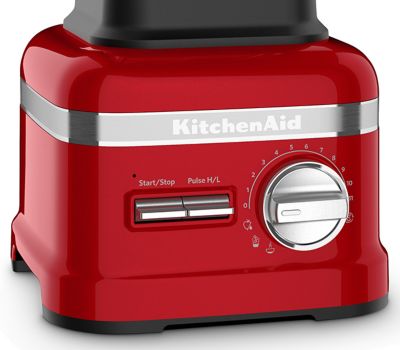 Powerful 3.5 Peak HP Motor**
Our blender's 3.5 peak HP motor** quickly and easily blends everything from fruit and vegetable smoothies to silky, smooth soups, juices, nut butters, dressings and more. **Please see the Use and Care Guide for more details regarding blender use and performance.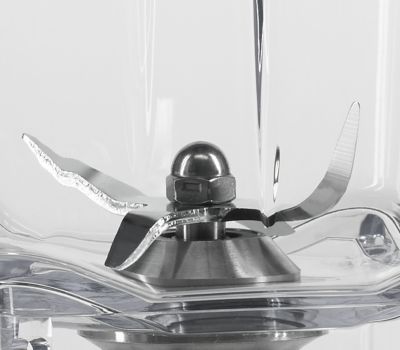 Patented Asymmetric Stainless Steel Blade
Blends on four different planes, creating a dynamic vortex for smooth, consistent results.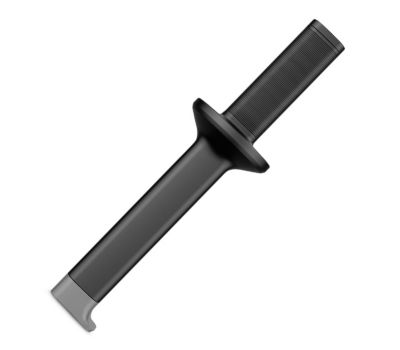 Patented Flex Edge Tamper
Helps push ingredients into the blending vortex, and scrapes the sides of the jar so everything is blended evenly.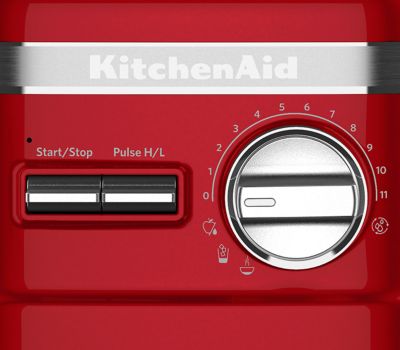 Premium Die-Cast Metal Base, Dial and Switches
Easy to clean and offers extra stability on the counter. Backed with a 10 year warranty.

Model KSB8270 includes
(1) Thermal Control blender jar with 56 oz rated volume, and 87 oz total volume, (1) Jar lid, (1) Ingredient measuring cap, (1) Flex Edge tamper
Specifications
Configuration and Overview
Design
Blade Design
Stainless Steel
Features
Jar Style
Square, Thermal Control Jar
Blade Design
Stainless Steel
Intelli-Speed® Motor Control
Yes
Show More Specifications
Reviews
Rated 5 out of 5
by
JenMH
from
Perfect
I have been using everyday for about 1 1/2 months. I love it. Great on ice, spinach, kale! Dates it leaves a few pieces but I am OKAY with that. Awesome self clean cycle and keeps soup got while blending.
Date published: 2018-02-15
Rated 5 out of 5
by
Daniel Miami
from
Amazing product
Amazing product with outstanding looking shape...design impressive...motor powerfull
Date published: 2018-02-05
Rated 5 out of 5
by
theww228
from
Beautiful Powerhouse!
I have had this blender for about a month and it is amazing. There is no comparison of a standard blender and a commercial quality one. We have used it nearly everyday (hot soups, cocktails, smoothies,
Date published: 2018-01-29
Rated 4 out of 5
by
JenP in KC
from
Almost perfect
I've owned Vitamix and Blendtec and this rivals them both. I LOVE the tamper and it is extremely helpful to keep thicker mixes blending. The machine is very powerful and creates a very smooth blend even of large pieces. The presets for juice, smoothies, self-clean, etc. work very well and are helpful time savers for me on busy mornings. My only hesitation to give 5 stars is that it is not very good with smaller batches. I love making homemade mayo but this blender doesn't seem to emulsify well because of the small batch. Same with smaller batches of whole fruit sorbet. The tamper doesn't reach far enough down to keep the mix in the blades. (Which I assume is to keep the tamper out of the blades, but if the blender jar were more narrow at the bottom I think this issue would not be as bad.). I would love to see a smaller jar accessory as an additional purchase option, then we'd have perfection. Overall though, definitely worth the investment. And it is a beautiful appliance on my countertop.
Date published: 2017-07-29
Rated 5 out of 5
by
Frances
from
Love my blender!!
My son gave me this as a gift! It's amazing - so powerful & easy to use - even cleans itself! I'm anxious to make soup in it.
Date published: 2017-06-26
Rated 5 out of 5
by
Anonymous
from
A blender that does it all
I love my Kitchen Aid blender. I make smoothies, soups and dressings daily and am amazed how easy it is to use this blender. It can pulverize even the hardest ingredients and the soup setting really makes the liquid steaming hot. I enjoy the auto-cleaning function as well - you just turn it on and the machine will clean itself. The noise level is not bad comparing to some other blenders out there. It is my favorite appliance in my kitchen!
Date published: 2017-06-21
Rated 5 out of 5
by
Klingonguy
from
Beyond Powerful!
My wife and I acquired this device to aid us as we moved into a Pescatarian lifestyle and it has made a world of difference. The ease with which it performs tasks that other, lesser blenders could not even begin to accomplish is a daily delight!
Date published: 2017-05-15
Rated 5 out of 5
by
Ranch Gal
from
Great blender
Very powerful blender. Make sure you follow instructions for order of items (liquid first, hardest items last) to ensure everything processes smoothly. Very happy with purchase. And color selections make it more interesting than just a plain blender.
Date published: 2017-05-11
Rated 5 out of 5
by
Bash
from
Powerful Professional Grade Blender
We've only had this blender for about a month, but we're very impressed so far. The smoothies are smooth as silk and are very easy with the preset speed and timed smoothie setting. Comparable to what you get at a Jamaba Juice, but you decide exactly what's going into it. Can't wait to make Gazpacho and hot soups in this blender. This blender is big, so don't expect to slide it under a normal height upper cabinet. The other issue is that the blender is loud, but not sure there's anything that can be done about the noise level when the blender is generating so much power. This blender isn't cheap, but when you look at the 3.5 horsepower, double wall jar, heavy duty construction and ascetically pleasing design, this was the only choice versus the other high end blenders.
Date published: 2017-05-09
Rated 5 out of 5
by
Donna, Realtor
from
PRO LINE SERIES BLENDER WITH THERMAL CONTROL JAR
I've had this blender over a month now and it is beyond what I ever expected, it's amazing and although pricey, worth it. It even cleans itself! The auto controls for juicing vegetables or blending fruit smoothies is over the top. I was a "juicer" and had a Brevel Juicer which took all the fiber out of the vegetables/fruits, the Pro Line Series by Kitchenaide uses the entire vegetable/fruit so nothing is wasted. Not to mention the clean-up is incredibly quick and easy whereas the Brevel Juicer took forever, cleaning each component. If your waffling about purchasing this Blender go for it, you won't be disappointed. I love it!
Date published: 2017-04-13