5-Speed Classic Blender
5-Speed Classic Blender is rated out of 5 by 211.
The KitchenAid® Classic Blender provides the ultimate blending performance, with 5 speeds, a pulse mode and crush ice mode. A robust motor, one-piece, 56-oz. BPA-Free pitcher, stainless steel blades and electronic controls combine for exceptional blending results.
Silver - KSB1570SL
Features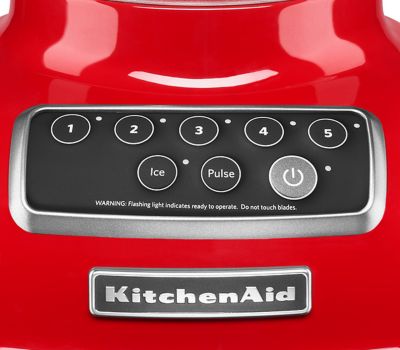 5 Speeds,Crush Ice and Pulse Modes
Stir, chop, mix, puree or liquify. Pulse and crush ice modes feature pulses at precise intervals for optimal results.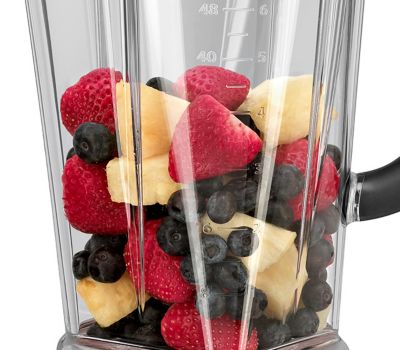 Intelli-Speed® Motor Control
Senses contents and maintains optimal speed to power through all ingredients.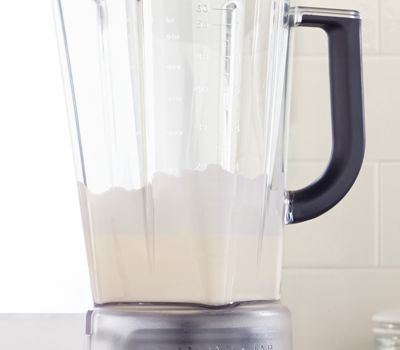 Soft Start® Feature
Starts the motor at a slower speed to pull food into the blade then quickly increases to the selected speed setting.

Model KSB1570 includes
(1) 56-oz BPA-Free Pitcher with ingredient cap
Specifications
Features
Blade Design
Stainless Steel
Intelli-Speed® Motor Control
Yes
Clean Touch Control Pad
Yes
Show More Specifications
Reviews
Rated 4 out of 5
by
Lashanad
from
Looks Good & Does A good job
Good Blender for the price. My fiancé & I use it everyday to make 8cup frozen kale shakes & it's holding up well.
Date published: 2018-02-22
Rated 4 out of 5
by
KathyE
from
Smoothie Perfection
I purchased my blender as part of my New Year's resolution to help me prepare healthy food options.I could not be happier with its appearance and functionality. Easy to clean and maintain.
Date published: 2018-02-20
Rated 5 out of 5
by
Beagles
from
Awesome all around
This is a replacement. Could be happier with the customer service. Thank you for making it so easy
Date published: 2018-01-29
Rated 5 out of 5
by
linh236
from
Easy to use
I received this off my wedding registry. I'm a cooking newbie but this is super easy to use and effective. Love it so far!
Date published: 2018-01-29
Rated 1 out of 5
by
NancyVanDusen
from
Broke after 7 uses
I liked this product initially. But after only 7 uses it stopped working. All the lights came on and flashed and it would not work again - no matter what I did to it. I consulted the user manual but unfortunately the suggestions did not help. I would very much like to get it fixed - but I purchased it from a store in Bermuda, and now I have no way of getting it serviced without it costing me more than the unit costs initially.
Date published: 2017-12-28
Rated 5 out of 5
by
Anonymous
from
Great Blender
We got this blender for our wedding and love it so far.
Date published: 2017-11-30
Rated 1 out of 5
by
laura d
from
Badly leaking after a year!
The piece that connects the jar to the motor has developed a large gap which causes the blender to leak badly. After chatting online and in person with the customer service reps, I was given the option of ordering a new jar for $39.99 or a new blender (on sale for $99.99!). When I tried to order the jar the part number had been replaced and now they want $56.59 for a new jar. This machine only got occasional use at best. Very disappointed in Kitchen Aid.
Date published: 2017-11-26
Rated 5 out of 5
by
Kc123
from
Great blender!
Good and heavy duty. You get what you pay for! Will have years of use.
Date published: 2017-11-12
Rated 5 out of 5
by
SUPERPOLLO5
from
Easy, fast, perfect end result.
After many years acostumated to my old blender, I was amazed how easy, fast and what a good job. It's very big but very easy to clean, it's not necessary to disassemble the pieces. The cup with a good plastic quality is also a must. Glass cups are easily broken.
Date published: 2017-10-31
Rated 5 out of 5
by
Homemaker
from
Quiet
Love it. Bought a red one. I upgraded from a three speed Kitchen Aid Blender that was decades old. The power of the 5 speed is fabulous and it is so much more quiet.
Date published: 2017-08-20