Burr Grinder
Burr Grinder is rated out of 5 by 89.
Grind your coffee beans just how you like with the KitchenAid® Burr Grinder. This grinder features 15 grind levels for French Press, Pour Over, Drip Coffee, Espresso and anything in between. And the glass bean hopper holds up to 7 ounces of beans.
Onyx Black - KCG0702OB
Features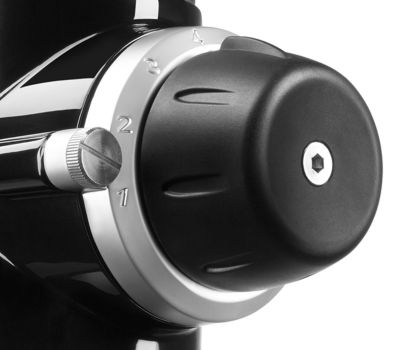 15 Grind Settings
For excellent grind consistency and lower grinding temperatures. Available in half-step increments from 1 to 8, from a very fine espresso grind to a coarse French press grind.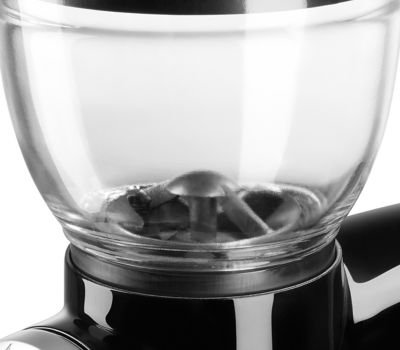 Stainless Steel Cutting Burrs
Offer durability, powerful performance and a superb grind consistency.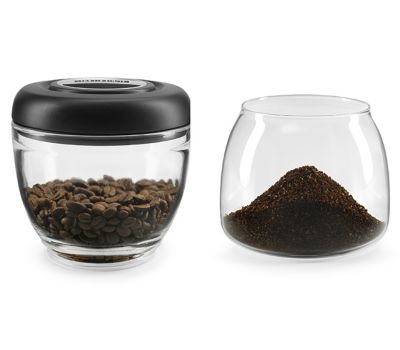 7 oz. Glass Bean Hopper and Grind Jar
Minimizes the static "cling" of coffee grinds. Hopper unscrews from housing for simple cleaning and features a press-fit lid for quick filling.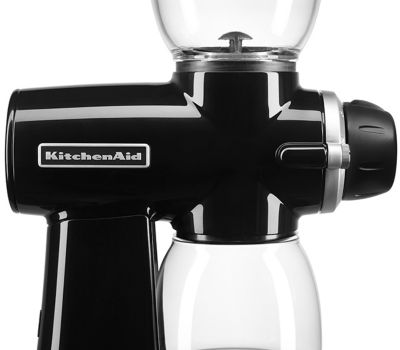 Die-Cast Metal Design
The sleek, streamlined design fits easily under cabinets or anywhere on your countertop. Durable and easy to wipe clean.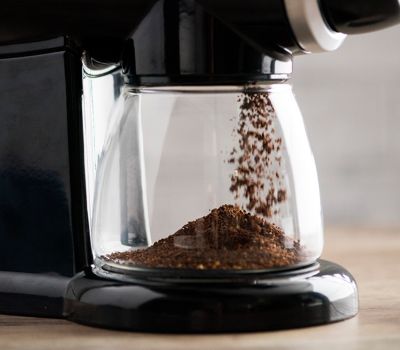 Low RPM Operation
Burrs turn at 450 rpm, minimizing frictional heat build-up and preserving flavor.

Model KCG0702 includes
(1) Burr grinder, (1) Handheld scoop, (1) Burr cleaning brush
Reviews
Rated 5 out of 5
by
lyn2
from
Great grinder
My husband loves to grind his own coffee beans. This is the best grinder we have had. Great feature to select grind to your preference.
Date published: 2018-02-23
Rated 4 out of 5
by
allaboutdajava
from
Sturdy, classic and sexy!
Just a beautiful KitchenAid addition. After other reviews decided to purchase the KitchenAid stainless scale accessory. Really pleased.
Date published: 2018-02-17
Rated 5 out of 5
by
NH Ron
from
12+ years and still going strong!
We recently bought one of these as a gift for my daughter, but other than a quick "smoke" test, she hasn't used it, so this is a review of mine, which I've owned for more than 12 years. I bought this model when it part of KitchenAid's ProLine. It replaced a Braun burr grinder. The Braun had a small motor that had to run at high speed in order to have enough power to grind. It popped the beans around like a popcorn maker. I picked the KitchenAid for several reasons: 1) It's made primarily of metal and glass (including the receptacle for the grounds), very little plastic. 2) It's got a nice big motor, with enough torque to grind at low speeds. 3) It uses an auger to feed the beans to the burrs. In addition to not having the beans bounce around like they're in a pinball machine, it allows me to add EXACTLY the amount of coffee I need for a pot/partial pot/cup, and it will positively feed all of the beans to the burrs without having to wait for the last couple of "jumping beans" (like in the Braun) to finally drop in and get caught in the burrs. This in turn let's me change coffee from one pot to the next without having residual beans from the previous batch still in the grinder. 4) It looks cool, in a big industrial way (it IS big). It reminds me of those big Hobart mixers you find in commercial bakeries. I have to admit, I don't take care of it nearly as well as I should. I haven't cleaned it in a while. And yet it has never given me any trouble whatsoever. It grinds very consistently, since it is not using speed to pulverize the beans. There's really not much else to say. It works well and it works every time with no fuss. It works so well I take it for granted, which is the highest compliment I can pay it. The only caveat I can offer is that it doesn't do what I would call an espresso grind. I don't make espresso, so this is conjecture on my part, but I'm guessing if you make espresso, you'll want a different grinder.
Date published: 2018-02-10
Rated 5 out of 5
by
Bellhop
from
Machine wonder...
I usually don't write reviews, but this grinder has bought caffeine goodness into my life every morning since I purchased it and I wish to share its qualities with all of you. When I was researching burr grinders I was astonished at the difference in the price and size of these grinders. I wanted a quality grinder at a reasonable price and something that would fit in my kitchen without having to tear down a wall or two in order for it to fit. And how about a grinder that is simple to operate? Lets put the beans in the grinder, hit on and let the grinding begin! And the end product...a well ground, delicious, caffeinated good morning to you! So this Kitchen Aid Burr Grinder has met all of those expectations. It is well made, extremely durable, excellent quality and it is very easy to operate and clean. It is only approximately 14 inches in height and takes up very little room on your counter. And a added bonus is that it looks really smart (contemporary) too! You have the option of 8 different grinds; a must for a family that has varying coffee likes. (pour over, french press, expresso, other) As for the noise of this machine wonder...its a coffee grinder. Its somewhat noisy for a few seconds while its grinding your favorite coffee beans. This is a great coffee grinder. Buy it. I think you will like it.
Date published: 2018-02-09
Rated 5 out of 5
by
Hyo B
from
Great future of coffee grinder
I been using 3 month now so far so good it's a excellent product.
Date published: 2018-02-08
Rated 5 out of 5
by
KennethS
from
Durable quality. Excellent grinder for the money.
I've had mine for about 10 years (when it carried the KitchenAid Pro Line moniker) and love it with one exception: I wish it had 1/3 click stops between the grind numbers instead of only 1/2 clicks. It would be nice to be able to dial in (and hold at a click) a little more precise grind. Otherwise, it's a great product. Quite a bit less expensive than the "barrister" grinders from the Italian espresso manufacturers.
Date published: 2018-02-06
Rated 5 out of 5
by
potteryman
from
great machine
I have had this for about a month and think it was money well spent. As with all KitchenAid products it does not disappoint.
Date published: 2018-02-06
Rated 5 out of 5
by
Grinder8789
from
Suburb Coffee Grinder
I have been using this grinder for about a month now. It was purchased to replace my previous burr grinder. I was very happy with how much faster it worked to grind the beans and how the grind affected the flavor of my coffee. Like most burr grinders it does make some noise, but the grinding goes quickly so it's not a problem for me.
Date published: 2018-02-05
Rated 5 out of 5
by
RebelBoxer
from
Heavy Duty Top Craftsmanship
If you are going to buy a burr grinder, stop debating about it and get this one. You will not be disappointed in the quality, workmanship, features, and overall dependability of a great reliable name trusted in all home kitchens. Very simple to use and clean. The only con, as others have said, is the very thin bottom glass canister. Hopefully, KitchenAid will correct this in the near future and I will be surprised to receive my updated glass catch jar, free of charge.
Date published: 2018-02-04
Rated 5 out of 5
by
ScrewBall
from
I enjoyed the perfect grind every time !!!!
Fathers day gift 3 years ago. The unit was in an accident now i can not use it the adjustment knob and the two glass bowels were broken ! The adjustment knob is unavailable ! WHY WOULD YOU HAVE A MACHINE THAT YOU COULD NOT GET REPLACEMENT PARTS FOR ?????????
Date published: 2018-02-04