#1 RATED
30'' 4-Burner Dual Fuel Freestanding Range, Commercial-Style
30'' 4-Burner Dual Fuel Freestanding Range, Commercial-Style is rated out of 5 by 54.
This dual fuel range has commercial styling available in a variety of bold colors. The stunning look is complemented by features like our Ultra Power™ Dual-Flame Burner that can reach a maximum output of 20K BTU. The Even-Heat™ True Convection Oven allows passionate cooks to reach their gourmet potential.
Stainless Steel - KDRS407VSS
Features

Dual Fuel Range
Satisfies the culinary needs of the most demanding cooks by combining the precise control of a gas cooking surface with an electric oven.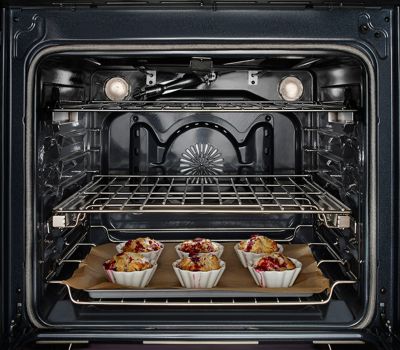 Even-Heat™ True Convection
Produces flawless results. The unique bow-tie design and convection fan ensure the inside of the entire oven is heated to, and stays at, the perfect temperature.
20K BTU Ultra Power™ Dual-Flame Burner
Dual-flame burner design allows fine-tuned, versatile control for a range of high-to-low heat outputs that let you master a variety of cooking techniques and recipes.
5K BTU Simmer/Melt Burner - Reduces to 500 BTUs
Gives you a wide range of low temperatures so that you can simmer, reheat, or keep sauces warm without having them scorch.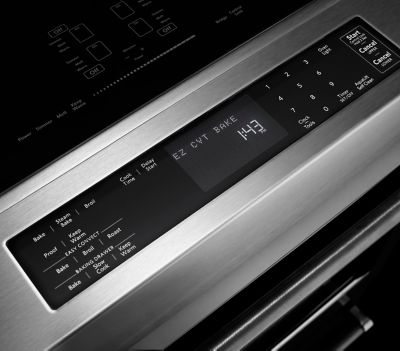 EasyConvect™ Conversion System
Takes guesswork out of convection cooking by ensuring you can get exceptional results when experimenting with new or familiar recipes.

Convect Bake, Roast, and Broil
Intuitive convection settings provide even baking results on all racks, even browning and faster roasting times for meats, and decrease the time needed to get exceptional results similar to outdoor grilling.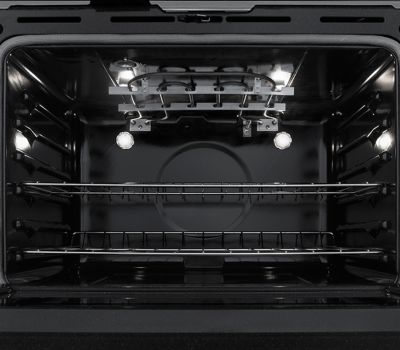 4.1 Cu. Ft. Total Capacity
Provides room to handle a family-size meal.

Star-K Certified
Approves the oven for use on the Sabbath and other religious holidays when Sabbath Mode is being used.
Specifications
Configuration and Overview
Cooktop Features
Cooktop Element Style
Sealed Burner
Cooktop Surface Color
Black
Cooktop Surface Material
Porcelain Coated Steel
Number of Cooking Element-Burners
4
Left Front Element-Burner Power
20,000 BTU
Left Front Element-Burner Type
Dual Flame
Left Rear Element-Burner Power
15,000 BTU
Left Rear Element-Burner Type
Sealed Burner
Right Front Element-Burner Power
15,000 BTU
Right Front Element-Burner Type
Sealed Burner
Right Rear Element-Burner Power
5000 BTU
Right Rear Element-Burner Type
Simmer
Grate Details
Cast Iron Grates, Dishwasher Safe, Individual, Matte Finish
Oven Features
Automatic Convection Conversion Temperature Adjust
Yes
Heating Element On Indicator Light
No
Hot Surface Indicator Light
No
Power On Indicator Light
Yes
Oven Rack Type
1 Gliding Roll-Out, 2 Heavy Duty
Self-Cleaning 
Self-Cleaning
Oven Control Location
Front
Oven Cooking System
Convection
Broiler Element Power
5500W
Broiler Location
Top of Oven
Convection Element Power (watts)
1600
Convection Element Type
True
Convection Functions
Bake, Broil, Convection Conversion, Roast
Oven Interior Depth(IN,inches)
17 5/8
Oven Interior Height(IN,inches)
16
Oven Interior Width(IN,inches)
25
Controls
Selections
Automatic Door Latch, Clock, Control Lock, Delay Start, Easy Convect Conversion, Keep Warm Setting, Power Outage Compatible, Proofing, Sabbath Mode, Simmer, Temperature Probe, Timer, Warm Hold
ADA Compliant
ADA Height and Operation Compliant
Show More Specifications
Reviews
Rated 4 out of 5
by
Becky
from
Happy with it.
So quiet and easy to use.
Date published: 2017-08-30
Rated 5 out of 5
by
Ed
from
Great range
Very good gas range. Heavy and well built. One thing that could be better is the space in back for the gas hookup and electric outlet. It took my plumber several hours to get it to go all the way back to my backsplash tile. It is fine now so be sure to make sure the hookups are in the right place.
Date published: 2017-08-24
Rated 5 out of 5
by
Jeff the lover of sailboats
from
Value
This is an awesome range. We looked at Wolf but found this range to be a better value. And it looks awesome. It's the star of our kitchen!
Date published: 2017-04-21
Rated 4 out of 5
by
orchidlady
from
Wonderful Stovetop. Lots of room.
So far I love it. I have not had a chance to bake anything yet but the burners are awsome. My last stove all the burners always had yellow flames no matter how often I called the service guys. Boy I hated that stove! I think think this will be the stove of my dreams.
Date published: 2017-04-18
Rated 5 out of 5
by
Phil
from
A great Range
We purchased this a few months ago and are very happy with it. I especially like the dual fuel, electric oven and gas stove top. The oven temperature regulation is very precise and I like the variable sized burners on the stove.
Date published: 2017-02-23
Rated 5 out of 5
by
Pucci1230
from
Wonderful stove
Love this stove. Initially had a problem as we didn't realize you could control temp on "broil". Now, all is working wonderfully. Baked goods come out perfectly and stove top control is excellent.
Date published: 2017-02-22
Rated 4 out of 5
by
Foxy
from
Bakes evenly
I'm not real happy with Whirpool that I have waited so for the black stainless steel and ended having to go with just stainless... Shame on you for not coming out with all the black stainless kitchen appliances at one time, what were you thinking?, if it hadn't been a Kitchen Aid product I would have not settled for stainless.
Date published: 2017-01-14
Rated 5 out of 5
by
Abbey
from
Love it.
Just remodeled kitchen and bought this new range to replace the ones that came with the house. I love my dual fuel range. The gas stove top cooks excellently and I'm enjoying using the convection oven feature along with the conventional oven.
Date published: 2017-01-13
Rated 5 out of 5
by
Michael & John's Kitchen
from
Amazing form and function
Only have had it for a month but has been amazing so far. The oven cooks steaks perfectly, and the gas cook top heats quickly and evenly. It looks stunning and the cooktop is super easy to clean.
Date published: 2016-12-13
Rated 5 out of 5
by
Arlington Annie
from
A Joy to Use
This is a wonderful heavy duty quality range. I haven't used all the features yet, but the features I have used are great.
Date published: 2016-12-04
Rated 5 out of 5
by
The French Chef
from
Excellent Range
Looked at DCS, Wolf, Viking, and KitchenAid. Consumer Reports scored the KitchenAid above the others and it was a bit less money to boot. KitchenAid has specification advantages in that it's dual fuel feature can run on a 30A service (instead of 40A+) and you get an extra set of burner jets for propane (if you move to the country). Unit has been bullet proof since installed 3 years ago at Thanksgiving. Burners give good even heat, plenty of adjustment, and the Power Burner has the BTU's to get a pot of water boiling (especially handing when canning). Electric oven is a gem. In regular mode (not convection) it cooks evenly with no need to rotate the pans during cooking. Slide out rack is a must have and the KitchenAid's is beefy and works smoothly even at temperature. Bread proof gives consistent proofing of breads winter or summer and is also a great feature. Broiler gives a consistent heat across a half sheet pan - this is not a point to gloss over when spec'ing an oven. Most have hot spots that require you to rotate pieces or rotate the pan. Careful though as it really pumps out the heat and you can burn the food if you aren't attentive. Made in USA. I cook lot and this unit has met all of my expectations. In fact, I was so impressed with KitchenAid quality I then bought one of their top of the line dishwashers. Another excellent unit I would recommend - you can hardly hear it running!
Date published: 2016-10-30
Rated 5 out of 5
by
Kennon the Master Cook
from
New User of Gas Range
In 50+ years of cooking, I had never used a natural gas burning range until it was installed in our new home. As such, there was a bit of trepidation when I first used my new range Those fears quickly melted as quickly as the butter that glazed the bottom my egg pan or the olive oil searing the searing chicken breasts placed over a salad. The range is intuitive, very quick in bring food to the appropriate temperature, and extremely efficient in elapsed cook time. Spills? The grill tops remove easily for clean-up. Do I love it after two weeks? YES!
Date published: 2016-08-19
Rated 5 out of 5
by
Happy in DC
from
Works as advertised
I bought this stove several months ago and so far it has fulfilled my expectations. The top burners are great and the controls seem easy to use. I baked my first batch of bread and it came out great.
Date published: 2016-07-21
Rated 5 out of 5
by
montana bound
from
Great range
First, I love the sturdy look of this dual range. I like that each burner has it's own rack - ease of cleaning. They are heavy but very sturdy. The knobs for the burners are a great size for ease of turning on or off. All items for each burner can be easily removed for washing. I love the black base as opposed to stainless steel. I have owned GE Profile & Dacor - not user friendly as far as cleanup. I do have one con. It seems that the oven light comes on easily if oven handle is even slightly pulled. Great range and highly recommend.
Date published: 2016-06-18
Rated 5 out of 5
by
Boo
from
Love it
I am still getting used to my new stove-but so far love everything about it. I love that the grates on the top go all the way across making a flat surface to move a hot pan off the burner or oven to. I used the oven for the first time yesterday and the temperature was true to the recipe. Love the modern industrial style. Took me a minute to get used to the power of the burners-I can boil a big pot of pasta water in just a few minutes. Cleaning around the burners is very easy. Have not tried the convection oven yet. There is no storage for cookie sheets/baking pans but I just store them in the oven and remove them when I use the oven so it hasn't been a problem. All around great stove.
Date published: 2016-04-16
Rated 5 out of 5
by
Steve
from
30-inch 4-burner Dual Fuel Commercial Style
I love this stove! Should have bought this earlier. I had a good premium stove and it did not cook/simmer near as well as this stove. I only wish the 36 inch stove would have fit in my space.
Date published: 2016-02-06
Rated 5 out of 5
by
MAS
from
Mostly Love It
This range is really fantastic. I love everything about it except for one simple thing. Since the controls are on the front, naturally, it gets dirty every time the stove top is used. I lock the screen but when I wipe the touch control surface the timer is activated. There may be a way to totally lock every button on the screen, but I haven't found it yet. So far, that is my only complaint.
Date published: 2015-12-11
Rated 5 out of 5
by
Mary Ann
from
Love It
I have only had my range for 2 weeks but I love it! The convection bake feature works beautifully as does all other features. Very happy.
Date published: 2015-11-15
Rated 5 out of 5
by
Nicole
from
Love this! Use it daily!
Purchased for a kitchen renovation. Swapped out apartment sized electric for this. I am a regular home cook and at times cook larger meals for groups and friends.
Date published: 2015-10-08
Rated 5 out of 5
by
BB
from
Love my gas range
Nothing to complain about, cooking is so much fun now. This gas range is awesome. Took some getting use to after having an electric range because this on cooks much faster.
Date published: 2015-10-01
Rated 4 out of 5
by
Beth
from
Love that looks commercial
We purchase the range for our outdoor kitchen(which can have A/C) it's perfect for all our outdoor dinner parties.
Date published: 2015-09-17
Rated 5 out of 5
by
Big Bubba
from
A New Adventure
I never thought I would be off on a new adventure right in my own kitchen, but my dual-fuel Commercial-Style Rang is taking me there each time I use it. Its incredible range of four burners with their well designed functions and particularly the 20k BTU Dual-Flame Burner are teaching me to cook all over again. Also the convection functions in the oven are also challenging me to be more creative in its operation variabilties. There is nothing about the range I do not love!
Date published: 2015-09-16
Rated 5 out of 5
by
Merkman
from
Reviews told the truth.
I did a lot of searching before a purchase this range and I'm glad I did. This range is everything I expected. If I didn't have a problem getting the 9" backsplash through the parent company I'd be set.
Date published: 2015-09-16
Rated 5 out of 5
by
den in pa
from
Love this range
Purchased this range about a month ago and love it. It is nice and solid - does have that commercial feel to it.
Date published: 2015-07-22
Rated 5 out of 5
by
Penny K
from
Even cooking and the oven is awesome!
I wanted a kitchen aid and when I was looking saw a Viking and bought it and it was AWFUL! I sent it back and bought the kitchen aid. Soooo glad I went back to my originally choice and bought the kitchen aid and I LOVE IT!
Date published: 2015-04-24
Rated 5 out of 5
by
JDSP
from
Fantastic heat! Quick cooking!
I am very happy with this range. Love the higher BTU's and space between the units. The convection oven cooks quickly as well.
Date published: 2015-04-10
Rated 5 out of 5
by
Yankee
from
Extraordinary
We are very pleased with our new gas range. I did a substantial amount of resarch prior to making this purchase and am redoing my kitchen around my Kichenaid duel fuel range. Love it!
Date published: 2015-03-02
Rated 5 out of 5
by
Headtomato
from
so fsr so good
Had the range about one month. Performance has been as expected
Date published: 2015-02-02
Rated 5 out of 5
by
mc84
from
love this stove
When remodeling our kitchen we looked at "every" available dual fuel range and decided on this one. Solid, looks great, works great. After using just electric stoves in the past, we were a little concerned about going to gas but gas was easier, quicker and more accurate to use. Electric oven with convection works really well also but takes a little longer to heat up. Was concerned about price initally but got a great deal at the time when Kitchenaid had a sale (the more appliances you bought,the better the deal - went with Kitchenaid stove, fridge, dishwasher and hood fan - very happy with all of them). The boss loves the looks, especially the solid, heavy black knobs. Had a small issue at first with scratches on the metal face but Kitchenaid warranty was excellent - fixed quickly with no hassles
Date published: 2015-01-22
Rated 5 out of 5
by
Ncpope
from
Substantial and fabulous
This range delivers fast even baking and powerful cooktop boiling. It is pretty and fun to use!
Date published: 2015-01-07
Demos & Guides
guides
Warranty Information
A complete description of your warranty coverage, and contact information for service and support.
Use & Care Guide
Comprehensive information about your new appliance - from getting started to cleaning and maintenance.
Dimension Guide
Detailed dimensions of your new appliance with space requirements for the area surrounding it.
Installation Guide
Instructions for unpacking and installing your appliance, including electrical requirements and necessary tools.
In order to read a PDF file, you must have Adobe Acrobat reader installed on your computer. You can download the latest version at the Adobe website.
Show More Guides