NEW
30" Combination Wall Oven with Even-Heat™ True Convection (Lower Oven)
30" Combination Wall Oven with Even-Heat True Convection (Lower Oven) is rated out of 5 by 83.
This 30" Combination Wall Oven with Even-Heat™ True Convection provides consistent heating and even cooking. A unique bow-tie shaped design and convection fan helps ensure there are no burnt edges or undercooked centers. Its upper Microwave Convection Cooking Oven combines a 900 watt microwave with a 1600 watt convection element for high speed cooking. Bold design details are the perfect balance of elegance and functionality.
Black Stainless - KOCE500EBS
Product Overview
Learn more about the KitchenAid® Combination Wall Oven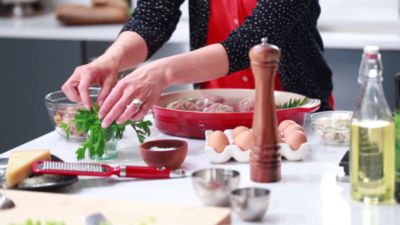 Features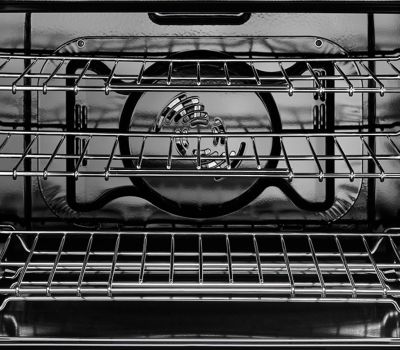 Even-Heat™ True Convection Oven (Lower Oven)
produces flawless results. The unique bow-tie design and convection fan ensure the inside of the oven is heated to, and stays at, the perfect temperature.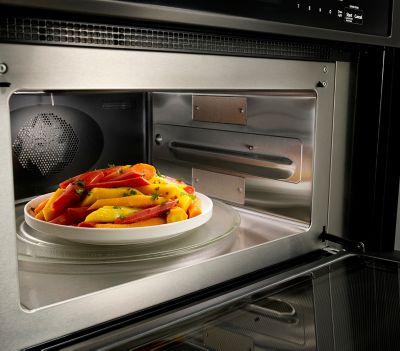 Microwave Convection Cooking (upper oven)
Increases the speed of cooking and provides a secondary convection cooking option.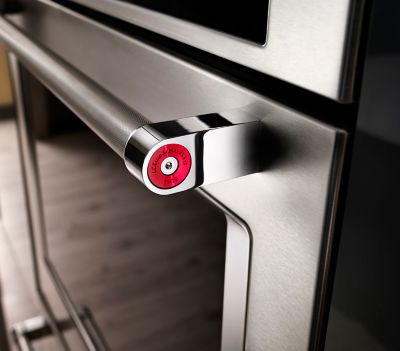 Professionally-Inspired Design
Combines a bold blend of professionally-inspired styling with sleek touches for the home. This beautiful built-in wall oven features Satin Textured Handles and the KitchenAid® Badge, a symbol of uncompromised quality.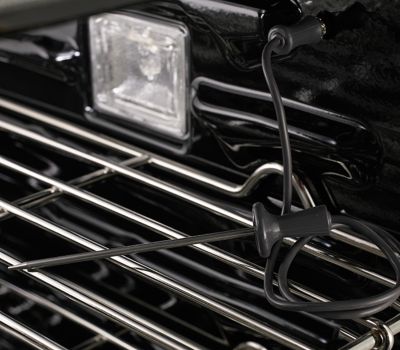 Temperature Probe
Allows accurate measurement of internal temperatures of meats, poultry, and casseroles without having to open the oven so that food can be cooked perfectly.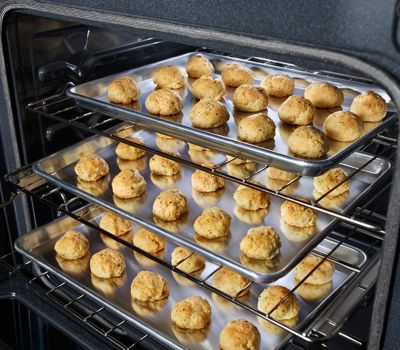 EasyConvect™ Conversion System
Takes guesswork out of convection cooking by ensuring you can get exceptional results when experimenting with new or familiar recipes.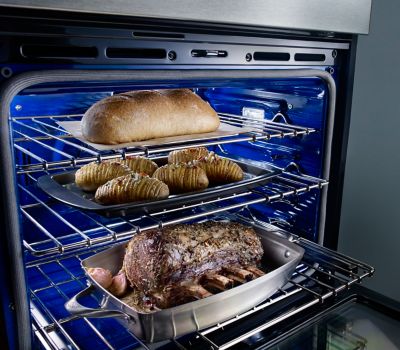 5.0 Cu. Ft. Total Capacity (lower oven)
Gives you an extra-large capacity for holding your largest turkeys and roasts. It also lets you prepare multiple dishes at the same time.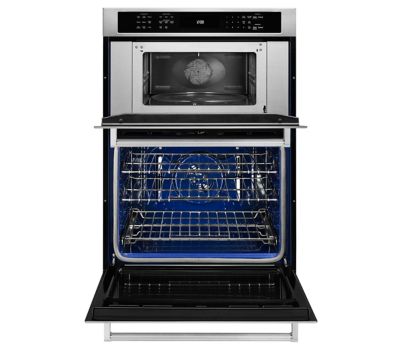 1.4 Cu. Ft. Capacity (upper oven)
The upper microwave oven gives you family-size capacity that complements the lower convection oven.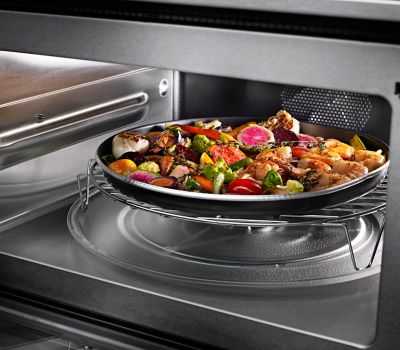 Crispwave™ Microwave Technology and Crisper Pan (upper oven)
Allows the microwave oven to be used for grilling, frying, and convection cooking. The specially designed crisper pan can be used to brown, crisp, and pan-fry foods.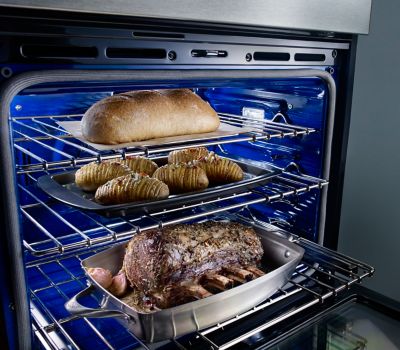 SatinGlide™ Roll-Out Extension Rack (lower oven)
Allows easy loading and features an easy-grip handle, giving you the confidence when cooking with large or heavy dishes.
Specifications
Configuration and Overview
Oven Capacity (cu.ft)
5.0
Oven Cooking System
Convection
Oven Features
Self-Cleaning 
Adjustable Self Cleaning
Self-Cleaning Oven Racks
No
Broiler Element Power
4000W
Convection Functions
Bake, Broil, Roast
Oven Cooking System
Convection
Flush Installation Approved
Yes
Broiler Location
Top of Oven
Convection Element Power (watts)
3200
Convection Element Type
True - Oven
Oven Controls
Convection Functions
Bake, Broil, Roast
Language Conversion
English/French
Microwave Details
Cooking Power Wattage
900
Convection Power Wattage
1600
Turntable Diameter Size
14 1/8
Microwave Controls
Sensor Cooking
Yes - Microwave
Controls
Flush Installation Approved
Yes
Handle Color
Stainless Steel
Oven Window Size
Extra Large
Dimensions
Depth With Door Open 90 Degree
46 3/4
Show More Specifications
Reviews
Rated 5 out of 5
by
Jeri45
from
Very nice
We have used both the microwave and the oven since it was installed. We are very happy with both units.
Date published: 2017-10-23
Rated 5 out of 5
by
b0bd0herty
from
Stupidly Easy to Use
My fourth combo and this is far and away the best. Great heating. Well thought out preset funtions that are easy to understand and great looks!
Date published: 2017-10-15
Rated 1 out of 5
by
Mlatheef
from
Defective Batch
The first oven we had installed in our new home had a flat door but it was not heating food properly. We sent in a warranty and received a replacement. However this one did not have a flat door like the first one. We complained and were scheduled to receive a replacement. That one was ALSO DEFECTIVE! The delivery men also noticed that this door was different from the first oven they delivered. This oven door is so BAD..It does not open all the way. It is absolutely horrible!! My mom is complaining that her arm hurts from putting things into the microwave...PLEASE CHECK REVIEWS BEFORE PURCHASING THIS PRODUCT!
Date published: 2017-10-13
Rated 5 out of 5
by
Stardust
from
This Combo is BOSS!
Love the microwave/convection oven combo - saves space and multifunctional!
Date published: 2017-10-06
Rated 5 out of 5
by
Fieldshay
from
Best purchase ever
I bought this to match the refrigerator I had just purchased. I am so pleased with the performance, the style and the quality of this product.
Date published: 2017-10-06
Rated 5 out of 5
by
EJMill
from
Classy, elegant, stylish
Have had it for a couple weeks and love it so far. So much quieter and more beautiful than the unit it replaced. Bakes and roasts great, love the second convection oven/microwave combo. Performing exactly to expectations so far. Very happy.
Date published: 2017-10-05
Rated 5 out of 5
by
KitchenAid Addict
from
When you're hot, you're hot!
Love the way it cooks, love all the features( built in meat thermometer, especially), love the easy glide rack, love the blackstainless steel look! It seems to take a little more time to heat up, but that doesn't bother me at all!
Date published: 2017-09-25
Rated 4 out of 5
by
Meg
from
I like it
I Like it but could be a bit more modern and innovative !
Date published: 2017-08-17
Rated 5 out of 5
by
Happy mom
from
Love it!!
I bought this 2 weeks ago and I'm so excited!
Date published: 2017-08-05
Rated 5 out of 5
by
Hawkeye
from
Beautiful
Was very disappointed that my "old" Kitchen Aide combination wall unit died, spent $$ attempting to save it without success. Decided to stay with Kitchen Aide despite the cost of the unit as it would have cost more to re-do the cabinets to accommodate a different brand. I am hopeful that this one will last longer than the last one. That being said the unit is beautiful, quiet (much quieter than the old one).
Date published: 2017-07-28
Rated 5 out of 5
by
Char
from
Love this appliance
We renovated a home and used all kitchen aid appliances.. easy to work easy to clean
Date published: 2017-07-23
Rated 5 out of 5
by
Scott
from
Excellent features. Easy to use. Wonderful appliance.
We bought this after a flood. Easy to use. Works great.
Date published: 2017-07-20
Rated 5 out of 5
by
Danny J
from
very satisfy
We love the Black Stainless, easy to clean and look great with white cabinets
Date published: 2017-06-16
Rated 2 out of 5
by
Scott
from
Noisy microwave
Extremely noisy microwave. My brother has same unit in his home in Tucson and his makes this one sound like a rock concert. Had repairman come out and told me it was standard microwave sound. Loud background clicking sound is not normal.
Date published: 2017-05-21
Rated 5 out of 5
by
Darla
from
Cooks like a charm
I am more than satisfied to have my new appliance. I am actually "cooking" with the microwave, following prompts with ease. Love the baking of the oven and have not tried convection yet. Can't wait to do that.
Date published: 2017-05-17
Rated 3 out of 5
by
jimvkmw
from
Good system
I purchased the Kitchen Aid combination microwave & oven wall mountable unit approximately 1 month ago and everything works well but I miss not being able to observe items cooking in microwave when it is running, microwave portion needs a brighter light or clearer window.
Date published: 2017-05-15
Rated 5 out of 5
by
Ray
from
Black steel finish impressive
I owned similar KitchenAid product for 15 years and this product performs better.
Date published: 2017-05-01
Rated 1 out of 5
by
redsky
from
Very Disappointing
Built a new home and fell in love with the Kitchenaid black stainless refrigerator. So then had to select the appliances to match. Very disappointed with the microwave/oven combo. Microwave is ONLY 900W - takes a long time to heat things up - our little $99 counter microwave in our guest kitchen is so superior. The oven also seems to heat slower, always have to either increase the temperature or lengthen the time to cook. The controls are confusing, especially the oven. First you pre-heat and if you don't immediately start cooking, it turns off. Plus the "bells" to notify you are very faint and you often don't hear them. It is also easy to pre-heat and put something in to cook, only to find that the oven has turned off! Also after cooking, the fan continually runs for a long time on both the microwave and the oven - I can understand the oven, but for a one minute warm-up in the microwave? Very annoying. For as much as we paid to have this Kitchenaid appliance, we are very disappointed.
Date published: 2017-04-25
Rated 5 out of 5
by
No nickname
from
Love this oven
Love this beautiful combo micro and oven. Bake many things in it so far but haven't used the convection part of it much--still learning. The only thing I'm not sure of is the self cleaning instructions. I was warned by the installer that the self cleaning feature on a combo oven can get it too hot and burn out the computer parts of it sooner or later. Hope this isn't true. He said he has had to replace parts because of this problem and he said I should use oven cleaner instead. Have to check with Kitchenaid about this.
Date published: 2017-04-15
Rated 5 out of 5
by
Leet
from
Perfect fit with great appearance
Best convection oven I have ever owned. Easy to operate and makes the best tasting dishes ever!
Date published: 2017-04-06
Rated 5 out of 5
by
D
from
Great features
Love the microwave and all it's cool features. Crisper pan works great. Can reheat pizza, make an awesome omlet even cook hashbrown potatoes to a crisp golden brown without any oil!!! Steamer is a nice addition. Bottom oven baked cookies to a perfect golden brown
Date published: 2017-03-24
Rated 5 out of 5
by
Jack B
from
Love the look
Slick work great looks great
Date published: 2017-01-20
Rated 5 out of 5
by
Shar
from
Great Combo
I bought the Micro/Oven combination to replace two very old used appliances. I love the look of it, the Black Stainless steel is amazing and easy to wipe off. The touch features are easy to use and rotate between the two units. I love the 3 oven pull out racks, and the front opening for a pot holder pulling the rack straight out.Comes with Broiler pan, steamer, and many other accessories.
Date published: 2017-01-09
Rated 5 out of 5
by
DJ
from
beautifully designer
Nice looking addition to the kitchen. The finish is beautiful as are the detailing. Easy to use and has a lot of useful features.
Date published: 2016-12-16
Rated 5 out of 5
by
Ann a golfer
from
Awesome range/microwave combo
This is an absolutely beautiful range. The black stainless is just gorgeous. I have only had it a week now but so far heat in oven is perfectly calibrated. Cooks evenly. The microwave does as well.
Date published: 2016-12-05
Rated 5 out of 5
by
Parker
from
Sleek and stylish
Love the look, no finger prints!!
Date published: 2016-12-02
Rated 5 out of 5
by
Kathy
from
Love my Combination Wall Oven
Over the Thanksgiving Holidays I roasted a prime rib roast using the meat probe and it turned out perfect. I made scalloped potatoes in the microwave and they were perfect. The oven was big enough to have room for rolls, corn pudding, dressing at the same time. It was a very good investment for the new kitchen.
Date published: 2016-11-29
Rated 5 out of 5
by
Linda
from
LOVE
Love the microwave/convection oven - I use it more often that my big oven since it's just my husband and I. Couldn't be happier with the black stainless steel - it's gorgeous!
Date published: 2016-11-28
Rated 2 out of 5
by
Kritter Guy
from
Sadly Disappointed
Remodeled Kitchen and after lots of searching opted for the Kitchen Aid Microwave Combo oven in Black Stainless Steel. Really beautiful, great features, very large capacity oven. However upon instatllation, oven door was badly started and needed to be replaced. Microwave made terrible sound and needed to be repaired. The fan was completely loose. Still not running right. And now the Oven is making a loud whining sound. Kitchen Aid customer service has been great, but this is the 3rd repair visit on a brand new, newly installed appliance. Plus the Microwave Door should open side to side not up and down. Makes it very hard to access, clean etc. Very Disappointed.
Date published: 2016-11-27
Rated 4 out of 5
by
Helen
from
Great oven, one small design flaw
The black stInless used by KitchenAid is what drew me to this oven. A perfect complement to otherwise vintage kitchen. The micro/oven controls are intuitive and I rarely need to consult the somewhat complex instruction manuals. Oven temp is on tArfet and I'm not bothered by the fans that cool down the units after the cycle has been completed. The design flaw is in the overlap of stainless steel pieces at the corners of both the oven and microwave. The overlaps create sharp edges that can snag clothing or resul in scratches to a person opening or closing the doors. Our contractor was able to file the edges to a satisfactory level. This issue should be corrected in what otherwise is a great appliance. .
Date published: 2016-11-25
Demos & Guides
guides
Flush Installation Instructions
Detailed flush installation instructions
Use & Care Guide
Comprehensive information about your new appliance - from getting started to cleaning and maintenance.
Microwave Use and Care
Comprehensive information about your microwave oven
Installation Guide
Instructions for unpacking and installing your appliance, including electrical requirements and necessary tools.
Dimension Guide
Detailed dimensions of your new appliance with space requirements for the area surrounding it.
Warranty Information
A complete description of your warranty coverage, and contact information for service and support.
In order to read a PDF file, you must have Adobe Acrobat reader installed on your computer. You can download the latest version at the Adobe website.
Show More Guides