27" Built In Microwave Oven with Convection Cooking
27" Built In Microwave Oven with Convection Cooking is rated out of 5 by 30.
This convection cooking microwave oven combines the power of a 900 watt microwave with a 1600 watt convection element to increase the speed of cooking. The EasyConvect™ Conversion System takes the guesswork out of convection cooking, ensuring exceptional results. And it's chrome inlaid frame, satin cross-hatched handles, stainless steel oven cooking cavity and touch controls are the perfect balance of elegance and functionality.
Stainless Steel - KMBP107ESS
Features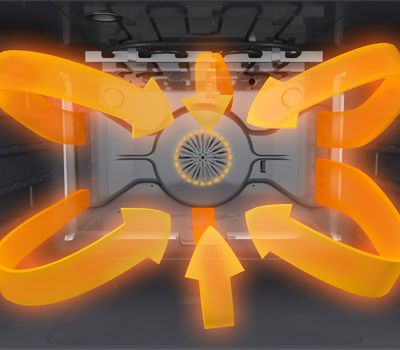 Convection Cooking
Circulates heat around the oven cavity with a 1600-watt convection element that allows baking at temperatures up to 450° F.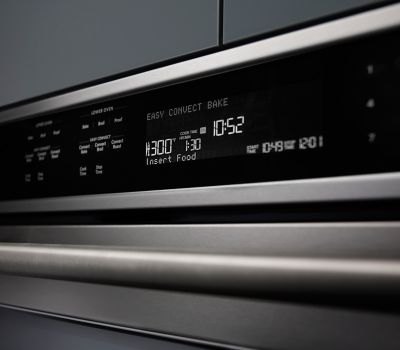 EasyConvect™ Conversion System
Takes the guesswork out of convection cooking by ensuring exceptional results when experimenting with new recipes or familiar favorites.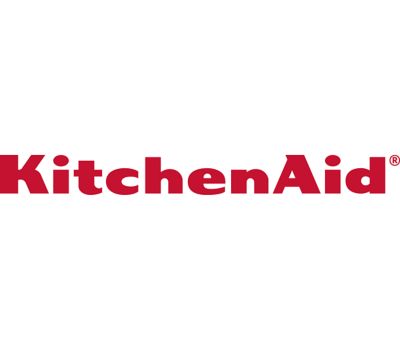 Professionally-Inspired Design Including Handle, Badge, Graphics, Chrome Chamfer
A bold blend of professionally-inspired styling with sleek touches for the home. This stunning microwave oven features Satin Textured Handles, Precision Touch Controls, a Chrome Inlaid Frame, the KitchenAid® Badge and KitchenAid Brand Medallion.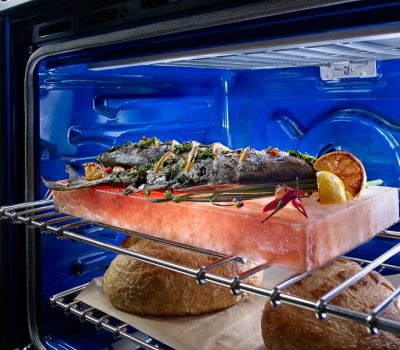 Broil Element
Combines the high power and even coverage needed to achieve results similar to outdoor grilling results.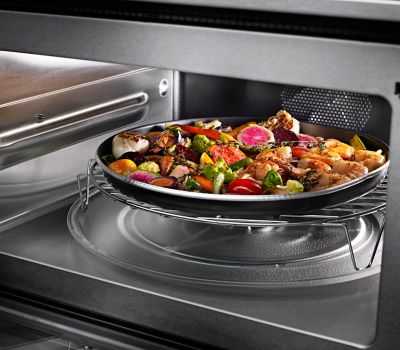 Crispwave™ Microwave Technology and Crisper Pan
Allows grilling, frying and convection cooking in the microwave. The specially designed crisper pan can be used to brown, crisp, and pan-fry foods.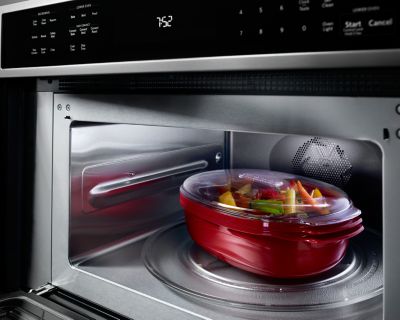 Sensor Steam Cycle with Steamer Container
A sensored microwave oven cycle that allows precise steaming based on the food type and doneness level selected. Includes a steamer container to help you get the best results.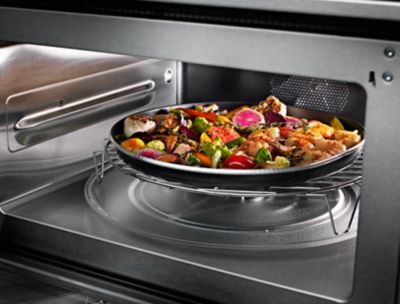 1.4 cu. ft. Capacity
Provides large cooking capacity while complementing your convection oven.
Specifications
Configuration and Overview
Cooking Power Wattage
900
Quick Touch Settings
Add A Minute, Control Lock, Convect, Cook Power, Cook Time, Crisp, Defrost, Easy Convect, Popcorn, Reheat, Soften/Melt, Speed Cook, Steam
Controls
Turntable Diameter
14 1/8
Dimensions
Depth With Door Open 90 Degree
35 5/8
Show More Specifications
Reviews
Rated 5 out of 5
by
CG
from
Consistent Heating
I've had this microwave for less than a month but I already love the way it heats food consistently throughout so that the food seems to stay warmer longer. Haven't had a chance to use the convection baking option yet, but will definitely do so during the holidays when having a second oven will be a huge plus.
Date published: 2016-11-28
Rated 5 out of 5
by
Donna
from
Amazing machine! I say "Ta Da" every time I open the door
Just buy lt. You will love it
Date published: 2016-11-06
Rated 5 out of 5
by
Karen
from
Happy with my new microwave
Love my new Kitchen Aid microwave. I do wish there was a little more information on how to use the different features.
Date published: 2016-10-17
Rated 4 out of 5
by
CaptainFreon
from
Great Design, but a glaring quality issue
This is a great design that matches our KitchenAid appliances. The features and performance are top notch. The included convection accessories are very good quality. I like that the tones and display are the same as the double oven. Microwaves often look like the afterthought of the kitchen, but not this one. The only issue was that the KitchenAid badge was not centered on the oven door. Hopefully, warranty service can resolve that. It is off center by about 1.5 inches! How this one ever passed QA on the assembly line is surprising for a premium brand. Other than that, it is a tremendous unit and I would purchase it again.
Date published: 2016-10-13
Rated 2 out of 5
by
Mj
from
Expensive and would not buy again
This was the suggested replacement for my old kitchen aid microwave. First off it did not fit the cut out area in the cabinet and after spend over 2000.00 dollars for this unit we had to get a trim kit costing an additional 150.00 dollars. The how to use books are not helpful and vague. My old one had stick on guide as you opened it that helped you find the correct power for various foods for cooking , reheating etc. this one is extremely lacking. I also hate the digital read out. Too much black. Also hate the red trim on the handle. There was no store in Denver, Co that I could see this replacement and I had to order only seeing the picture. Did popcorn in it and it performed poorly.
Date published: 2016-10-07
Rated 5 out of 5
by
Blizcoach
from
Solid well built & attractive Microwave
The Kitchen Aid was a great choice both in design & looks to performance. Cooking is accurate and very quiet. The face of the microwave fits in with any stainless kitchen.
Date published: 2016-09-21
Rated 5 out of 5
by
Loligag
from
Wow! What a microwave!
This microwave has so many features and so much power that I think I could do almost anything with it! What's more, it came with some special dishes and parts that allow me to be even more creative in the kitchen. It is quiet and powerful, and I LOVE it!
Date published: 2016-08-28
Rated 5 out of 5
by
Rosr
from
I love my new microwave. We use it everyday.
We bought the microwave a month ago and we are so happy we chose the Kitchen Aid microwave. It is easy to use and the end result is tasty. It makes my kitchen look like a professional cooks here. So happy I bought this product.
Date published: 2016-08-19
Rated 5 out of 5
by
KitKat
from
Beautiful
I love it! I love how it opens down like an oven. It shows a lot of finger prints on screen, but it's worth it!
Date published: 2016-08-05
Rated 5 out of 5
by
Bob the builder
from
Great Convection Microwave!
We were able to get an "InsidePass" and got this microwave for a great price. We just installed it and love it.
Date published: 2016-07-24
Rated 4 out of 5
by
Stephanie
from
Convection microwave
This cooks with convection, microwave, steams, crisp (haven't used yet). The only complaint is that it doesn't micro and convection cook like my others have.
Date published: 2016-06-20
Rated 5 out of 5
by
Debbie
from
Great Features!
I bought this microwave a month ago to replace the JennAir and absolutely love it! Not only does it look beautiful, it's features are too many to list. I particularly love the solid build and feel, the capability to use as a convection oven. I love the fact that the fan continues to run and cool down the interior to prevent moisture build up after cooking. Very versatile!
Date published: 2016-06-04
Rated 1 out of 5
by
Ray
from
Microwave
It has been installed for less than a month and had 2 service calls to fix the turn table. They replaced the motor - did not work. They replaced the circuit board (controller) - did not work. I told repairman no more repairs. I cannot keep staying home or adjusting my schedule for a product that should be replaced. I do expect a replacement.
Date published: 2016-04-19
Rated 3 out of 5
by
AP in KC
from
not worth the $
This oven looks great but the microwave is only "OK" and the convection oven works fine but is not user friendly. One third of the time it will tell me the door is not closed so I have to open and reclose the door to get it work. I would not purchase it again.
Date published: 2016-01-15
Rated 5 out of 5
by
Carrie
from
Great Product
We recently purchased this Microwave Oven when we did a major kitchen renovation. It is very sleek and looks great built in to our island. The Microwave is very quiet and easy to use. I highly recommend this product!
Date published: 2015-12-16
Rated 4 out of 5
by
Matchy-matchy!
from
Gourmet kitchen look
I purchased the microwave to match the appliances. They all look fantastic. Gives the look of a built in oven with microwave capability!
Date published: 2015-12-10
Rated 2 out of 5
by
Slower than Normal
from
Happy but disappointed
This is a recent purchase so we've only used it for a couple of weeks. The 27" Convection Microwave looks great and we're satisfied so far. I do question why Kitchenaid manufactured a microwave with 900 watts when the standard for food preparation is 1100. I purchased it at Sears and the wattage was not advertised when I bought it. I now understand that Kitchenaid's other models come with a much higher wattage and I would have opted for one of them had I known. I'm sure I could have returned it for a refund, but it was a custom installation and after going through all the hassles of remodeling the kitchen it was not worth it. The look of the kitchen is a big step forward, but knowing the performance of the microwave is a step backwards. As I stated, we're satisfied with what it is, but disappointed with its potential performance knowing we will have to modify cooking times to account for the lower wattage. I've always considered Kitchenaid to be a leader in higher-end appliances, but should have been more careful.
Date published: 2015-10-10
Rated 5 out of 5
by
MarySD
from
Amazing convection microwave
Got this for my kitchen remodel and couldn't be happier. Best feature is the quiet close door! Cooks amazingly. Convection works like a charm. Presets are easy to use. Does a great job on baked items like bread. Way way better than my old Dacor.
Date published: 2015-09-25
Rated 1 out of 5
by
CC
from
Worst and Most Expensive Microwave
I bought this a few months ago. I get an error message from time to time. It will only correct if I short-circuit the line. Customer service at KitchenAid has not given me a new one, they will now send a technician out for the second time in a month. Clearly, I have a lemon and they don't care. Never again. Their products look pretty--but pretty much don't work.
Date published: 2015-07-03
Demos & Guides
guides
Dimension Guide
Detailed dimensions of your new appliance with space requirements for the area surrounding it.
Warranty Information
A complete description of your warranty coverage, and contact information for service and support.
Use & Care Guide
Comprehensive information about your new appliance - from getting started to cleaning and maintenance.
Flush Installation Instructions
Detailed flush installation instructions
Installation Guide
Instructions for unpacking and installing your appliance, including electrical requirements and necessary tools.
In order to read a PDF file, you must have Adobe Acrobat reader installed on your computer. You can download the latest version at the Adobe website.
Show More Guides