NEW
30.0 cu. ft 48-Inch Width Built-In Side by Side Refrigerator with PrintShield™ Finish
30.0 cu. ft 48-Inch Width Built-In Side by Side Refrigerator with PrintShield Finish is rated out of 5 by 40.
This versatile 30.0 cu. ft built-in refrigerator features the ExtendFresh™ Plus Temperature Management System, which maintains the perfect temperature for fresh ingredients. The Produce Preserver extends freshness by neutralizing the over-ripening effects of ethylene emitted by certain fruits and vegetables. It also features PrintShield™ Finish, a fingerprint resistant finish, which protects against smudges and enhances the look of the refrigerator.
Stainless Steel - KBSN608ESS
Features

PrintShield™ Finish
resists smudges while enhancing the overall look of the refrigerator. This new feature for KitchenAid® takes the worry out of keeping a working kitchen beautiful.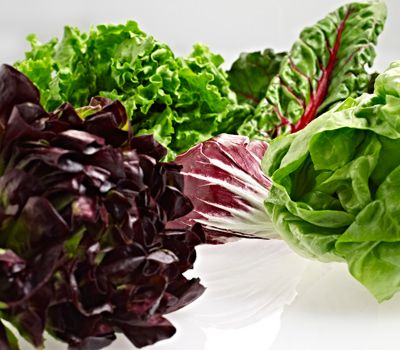 ExtendFresh™ Plus Temperature Management System
ensures ingredients remain fresh for maximum taste and texture using a sensor-controlled system with a variable-capacity compressor. There is one thermistor in the freezer and one thermistor in the refrigerator.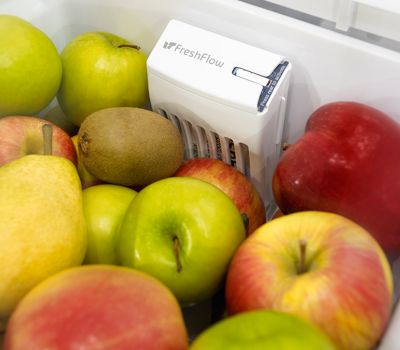 Produce Preserver
Absorbs ethylene gas emitted by many fruits and vegetables, causing them to over ripen. By removing ethylene, the produce preserver helps extend freshness.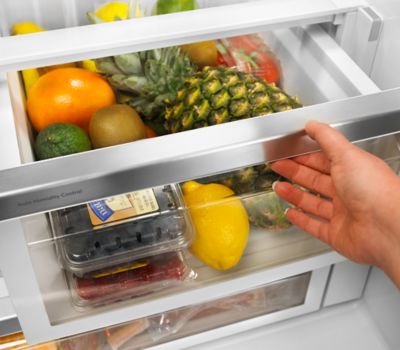 SatinGlide® Crispers
Add a smooth experience to the crisper drawers. The ball bearing rollers and glides allow effortless in-and-out movement even when fully loaded.

Professionally-Inspired Design
combines a bold blend of professionally-inspired styling with sleek touches for the home. This beautiful side-by-side refrigeration unit features Satin Textured Handles and the KitchenAid® Badge, a symbol of uncompromised quality.

Automatic Ice Maker
Ensures that you have a constant supply of ice for entertaining.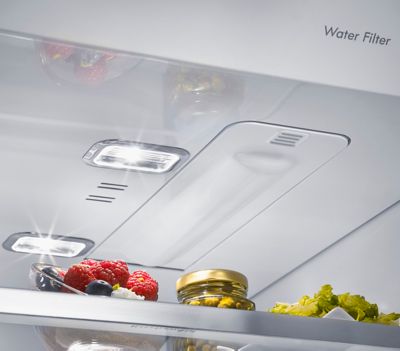 LED Lighting
Gradually increases to full intensity making it easy to find items inside the refrigerator, freezer, and even the crisper. Unlike incandescent bulbs, the LED lights framed in chrome are maintenance-free and never need to be replaced.

Adjustable Spill-Resistant Glass Shelves
are easy to clean and help prevent messes from spilling over into other parts of the refrigerator. The shelf edges are nano-etched with a finely textured surface that helps contain spills, and lets you use the whole shelf from edge-to-edge.

Intuitive Controls
Provide an easy-to-use touch pad control system that puts every refrigerator function right at your fingertips.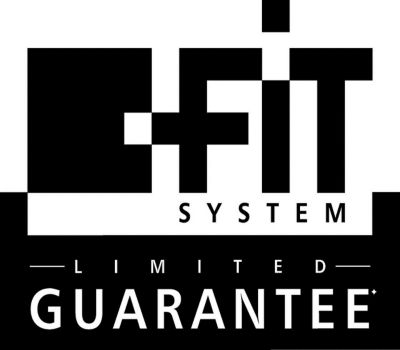 Fit System Limited Guarantee1
This installation guarantee ensures KitchenAid Brand Built-in Refrigerators will replace your existing cabinet cut-out of a standard comparable built-in refrigerator model that is 36", 42" or 48" inch wide or kitchenAid will provide up to $300 for a professional to adjust your cabinets2.
Specifications
Configuration and Overview
Refrigerator Type
Side-by-Side
Refrigerator Capacity
19.26
Energy Star® Qualified
No
Dimensions
Height To Top Of Cabinet
83 3/8
Depth With Door Open 90 Degree
51 3/8
Depth Excluding Doors
24 1/8
Depth Closed Excluding Handles
25 1/8
Width with Doors Closed
48 1/4
Capacity
Refrigerator Capacity
19.26
Features
Number of Interior Shelves
5
Spill-Proof Glass Shelves
1 Fixed Full Width, 4 Adjustable Full Width
Humidity-Controlled Drawers
No
Temperature-Controlled Drawers
1 Full Width
Non Climate-Control Drawers
2 Full Width
Door Bins
1 Adjustable Gallon, 1 Dairy, 3 Adjustable Full-Width
Freezer Features
Interior Shelves
1 Adjustable Full Width Wire, 3 Fixed Full Width Wire
Door Bins
6 Adjustable Full-Width
Freezer Drawer/Basket
1 Full Width Lower Plastic, 1 Full Width Upper Plastic
Filtration and Dispensing
Dispenser Type
No Dispenser
Ice Maker
Factory Installed
Show More Specifications
Reviews
Rated 5 out of 5
by
Suzie
from
Beautiful refrigerator
This refrigerator came with our new build home.
Date published: 2017-08-16
Rated 1 out of 5
by
disappointed foodie
from
Horrible!
This refrigerator is a big disappointment. I can't put any fruit or vegetables in there. i love to cook and i need fresh fruits and veggies. they are all wilted or rotten in a few days. I have an old refrigerator in my garage and it works better than my brand new one. I called the person who sold it to me and he has nothing to say. I can't put things on the top shelf or they will freeze.
Date published: 2017-08-16
Rated 5 out of 5
by
VFI
from
Great features
This unit replaced a 25 yr old kitchenaid unit. I couldn't be happier.
Date published: 2017-08-04
Rated 5 out of 5
by
Animal8
from
Absolutely wonderful product.
Replaced an existing KitchenAid, and we could't be happier!
Date published: 2017-06-13
Rated 4 out of 5
by
Cdw
from
Great built-in replacement
Great value for the money!!
Date published: 2017-04-07
Rated 5 out of 5
by
TucsonDon
from
Great fridge
Bought this fridge to replace a not too old built in which required multiple repairs. Wanted a quiet product with new features and a dependable ice-maker. Couldn.t be more satisfied. Great LED lighting, quiet, thoughtful layout.
Date published: 2017-03-31
Rated 4 out of 5
by
gigi
from
light inside refrigerator is great
streamlined exterior is very attractive
Date published: 2017-03-09
Rated 4 out of 5
by
Heather the designer
from
Beautiul high end Side by Side Classic refrigerator
This side by side refrigerator/freezer is beautiful to look at and sleek and clean inside. It makes little to no noise. Its easy to clean and to move compartments around to customize how you want to organize things. Everything stays fresh and cool.
Date published: 2017-02-23
Rated 5 out of 5
by
J-Ro
from
Love Love Love
Great refrigerator and freezer. It replaces a 30 year old Sub Zero. The Kitchen Aid has a much better use of space than the new Sub Zeros. Am very happy with it so far. We've had it about 2-1/2 weeks.
Date published: 2017-01-27
Rated 5 out of 5
by
Glicky
from
What a difference from the older models
Our 18 year old Kitchen "died" a sudden death We needed a new refrig ASAP The new 48 inch models are so nice I love the LED lights
Date published: 2017-01-07
Rated 5 out of 5
by
Colorado Contractor
from
Awesome Layout!
I am a General Contractor and Master Carpenter who has installed all manufactures 48" Refrigerators in my clients custom homes over the years. My wholesale supplier recommended the Kitchen Aid 48" Side by Side for my personal kitchen remodel. I am very glad she did as I find it to have more usable space than the Sub Zeros and GE's I've installed over the years. It is quite, efficient with well organized drawers and shelves, excellent lighting, and I love the location of the ice maker and the quantity of ice it produces. I am thrilled with this purchase. I hope it holds up to years of use.
Date published: 2016-10-30
Rated 5 out of 5
by
Suzanne
from
Fabulous Refrigerator
I bought this after lengthy research and much internal debate about whether to get a Sub Zero. I couldn't be happier. It provides all the refrigerator and freezer space I need. It is bight in the interior and everything is easy to find. The ice maker makes so much ice I doubt I could ever use it all. The look is great and something I didn't expect was the smudge proof surface. It is simple to keep spotless. A cloth comes with it and only water is required for cleaning, really. Be sure to know in advance that cleaning products can harm the finish. Oh, and the $4,000 savings from the Sub Zero isn't bad either.
Date published: 2016-10-14
Rated 5 out of 5
by
Larryb and j
from
It is sleek, quiet and an energy efficient machine.
The refrigerator has been in our home only a few weeks; however, it has been great. It is attractive and dresses up our kitchen nicely. It's quiet efficiency tells us it will be with us for a long time.
Date published: 2016-10-14
Rated 5 out of 5
by
Brenda the teacher
from
A lot of Space!
I bought this refrigerator 2 months ago. I love the space and all the extra ice the ice machine makes.
Date published: 2016-09-16
Rated 5 out of 5
by
Donnie
from
Built-in Frig
We replaced a 30+ yr old Sub-Zero and can not believe how much bigger the KitchenAid is. Looks and work fabulous !!!
Date published: 2016-09-13
Rated 4 out of 5
by
Ottawa guy
from
So far so good...
Bought this to replace my jenn air built in. Hope this one lasts a bit longer then 7 years. Easy to install (was missing a small connecting piece for the water supply for the icemaker). Could have even have done it on my own! So far, week 2 and working well.
Date published: 2016-08-19
Rated 1 out of 5
by
disapointed
from
Worse refrigerator ever
We bought this refrigerator on July 27 and are still waiting for KitchenAid to repair or replace it.
Date published: 2016-08-15
Rated 5 out of 5
by
Oweshe
from
Great
We replaced our last kitchen Aid, which lasted over 25 years! We love all of the new features and it works wonderfully.
Date published: 2016-08-06
Rated 3 out of 5
by
DB97
from
No water dispenser!
Recently bought a new home and this fridge was already in the house. I cannot fathom how a refrigerator at this price point does not have water dispensing inside the refrigerator side. I don't like that the ice doesn't dispense but I understand the desire for a clean look on the outside, but not having a water dispenser on the inside seems extremely short sighted. Competitors have them in much lower price points. So now I need to install a system into my sink to filter water. Very disappointing. Also, as others have mentioned, the unit makes a constant hissing sound that is surprising for this unit.
Date published: 2016-07-05
Rated 5 out of 5
by
AmyG
from
Amazing
Our first Kitchen Aid refrigerator lasted 18 years...and I loved it. This one is even better. It looks beautiful, works wonderfully. It's quieter, brighter on th inside, has plenty of room. I just love it.
Date published: 2016-06-25
Rated 4 out of 5
by
h
from
Nice looking but whistles
Too early to tell how this unit will perform. Nice looking outside. Lights inside seem duller and slower to click on from my GE? Icemaker makes ice quicly. My big issue is that after closing the freezer door, unit whistles. From what I Have read on line, this is normal? Anyhow, it is annoying and I am glad this unit is in my laundry room.
Date published: 2016-06-03
Rated 1 out of 5
by
Helen
from
main control board died
we'll see if KA will let this review stand. the main control board was badly designed: there are hundreds of complaints online for the same problem. KA has chosen to abandon the product and no longer makes the main control board. will not be buying any KA products in the future. the ice maker has not worked since purchase despite multiple service calls.
Date published: 2016-03-12
Rated 5 out of 5
by
Jeff
from
Just Lovely & Works Beautifully!
We bought this to replace a Jenn Air 48' built in that was a 2003 model - What an Upgrade! The exterior finish is just gorgeous and the handles match our stainless steel 48" gas stove - This refrigerator offers plenty of shelf & in the door storage space, including gallon storage, it has beautiful LED lighting on the side that illuminates the interior well, it has a beautiful temperature control panel, a filter for the ice maker which by the way has totally exceeded our expectations on the making of ice cubes - quickly makes ice, is quieter than most ice makers, and doesn't have that "off" taste - The freezer is spacious too. Keeps ice cream frozen solid! All around, we are delighted with this purchase!
Date published: 2015-12-11
Rated 5 out of 5
by
Bill
from
Good as a Sub Zero?
We had to replaces built-in SubZero. Opted for one without bells and whistles. Installation went well. Quiet so we barely hear it. Drawers work well. Doors open easily. We miss a egg rack that we had in the Sub Zero. So far, after three months, no problems it appears that we can find happiness in Kitchenaid after owning a SubZero.
Date published: 2015-11-10
Rated 3 out of 5
by
Cat, home chef
from
Excellent features and look
Waited 10 weeks for our first one to be delivered, yes first one. Within 24 hours it was obvious there was a problem with the refrigerator section. Kitchenaid were super helpful and efficient having a tech out the next morning who confirmed the control panel was malfunctioning. I was offered the repair which I declined as I felt a High end appliance should be brand new and functioning not repared. Kitchenaid delivered our second unit 4 weeks later and so far so good with a notable bonus that it is signifucantly quieter than the previous one too.
Date published: 2015-11-07
Rated 5 out of 5
by
K
from
Significant Upgrade
We bought this built in to replace our 19 year old KitchenAid built in and found the new unit to be more quiet, had significant improvements in its lighting and great door shelves/racks. We thought the ice bin is a little oversized but works greatly.
Date published: 2015-11-03
Rated 4 out of 5
by
Ann
from
48 inch built in panel ready
Love this built in. We purchased our first KitchenAid 48 inch built in which was also panel ready about 20 years ago. This time no one told us that it did NOT come with handles. 20 years ago it did but not this time. I was surprised that the salesman didn't offer that information until after we received it and had to call to ask where the handles were. At that point he told us it did not come with handles. Never saw it on your web site either.
Date published: 2015-10-26
Rated 5 out of 5
by
none
from
performs well
Replaced a 12 year old same 48" kitchen ais built in.
Date published: 2015-09-23
Rated 4 out of 5
by
Mary
from
loved the INSIDE upgrades to an existing model
Happy to replace my kitchen Aid refrigerator with the same Kitchen aid side by side model that I had for 15 yrs. This model is an exact inside replica of my old one however the existing panels frames are not compatible and would not fit thus resulting in extra expenses,terrible look and inconvenience.The designers need to take care of existing clients that have held the exact kitchens.It is ok for new kitchens when kitchen cabinets are being made to measure~!otherwise I am happy with the product.
Date published: 2015-08-19
Demos & Guides
guides
Use & Care Guide
Comprehensive information about your new appliance - from getting started to cleaning and maintenance.
Dimension Guide
Detailed dimensions of your new appliance with space requirements for the area surrounding it.
Warranty Information
A complete description of your warranty coverage, and contact information for service and support.
Installation Guide
Instructions for unpacking and installing your appliance, including electrical requirements and necessary tools.
Energy Guide
Information about the efficiency of your appliance, including energy consumption and annual costs to operate.
In order to read a PDF file, you must have Adobe Acrobat reader installed on your computer. You can download the latest version at the Adobe website.
Show More Guides
(2) Visit kitchenaid.com/refrigeration-fit-system-limited-guarantee for complete details.
(1) Fit System Limited Guarantee: On 36", 42" or 48" inch wide KitchenAid Brand built-in standard refrigerators (excludes columns). Excludes new cabinet installations and custom wood panels. Offer valid for qualified models of a compatible width purchased between 6/1/17 – 12/31/17. Visit kitchenaid.com/refrigeration-fit-system-limited-guarantee for complete details.