NEW
25.5 cu. ft 42-Inch Width Built-In Side by Side Refrigerator with PrintShield™ Finish
25.5 cu. ft 42-Inch Width Built-In Side by Side Refrigerator with PrintShield Finish is rated out of 5 by 36.
This beautiful 25.5 cu. ft built-in refrigerator provides the premium look of Panel Ready design. It allows you to customize your refrigerator to match surrounding cabinetry. The ExtendFresh™ Plus Temperature Management System maintains the prefect temperature for fresh ingredients. The FreshFlow™ Produce Preserver extends freshness by neutralizing the over-ripening effects of ethylene emitted by certain fruits and vegetables. It also features PrintShield™ Finish, a fingerprint resistant finish, which protects against smudges and enhances the look of the refrigerator.
Stainless Steel - KBSN602ESS
Features

PrintShield™ Finish
resists smudges while enhancing the overall look of the refrigerator. This new feature for KitchenAid® takes the worry out of keeping a working kitchen beautiful.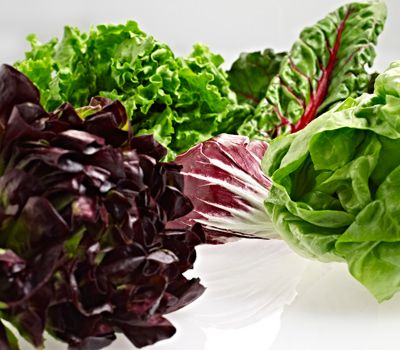 ExtendFresh™ Plus Temperature Management System
ensures ingredients remain fresh for maximum taste and texture using a sensor-controlled system with a variable-capacity compressor. There is one thermistor in the freezer and one thermistor in the refrigerator.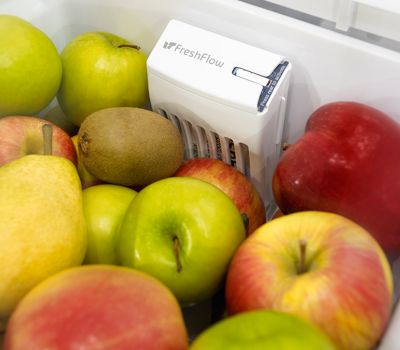 Produce Preserver
Absorbs ethylene gas emitted by many fruits and vegetables, causing them to over ripen. By removing ethylene, the produce preserver helps extend freshness.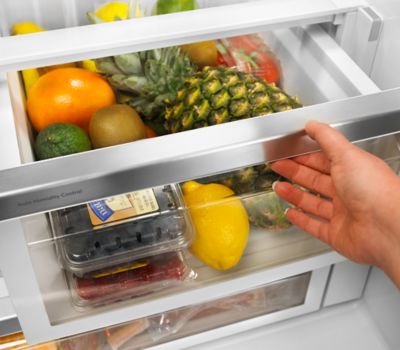 SatinGlide® Crispers
Add a smooth experience to the crisper drawers. The ball bearing rollers and glides allow effortless in-and-out movement even when fully loaded.

Professionally-Inspired Design
combines a bold blend of professionally-inspired styling with sleek touches for the home. This beautiful side-by-side refrigeration unit features Satin Textured Handles and the KitchenAid® Badge, a symbol of uncompromised quality.

Automatic Ice Maker
Ensures that you have a constant supply of ice for entertaining.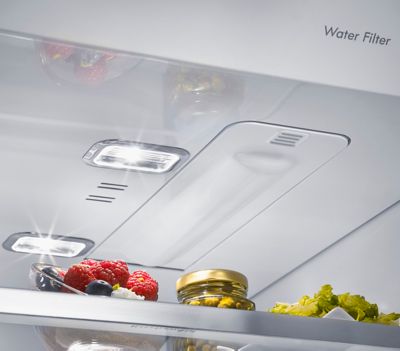 LED Lighting
Gradually increases to full intensity making it easy to find items inside the refrigerator, freezer, and even the crisper. Unlike incandescent bulbs, the LED lights framed in chrome are maintenance-free and never need to be replaced.

Adjustable Spill-Resistant Glass Shelves
are easy to clean and help prevent messes from spilling over into other parts of the refrigerator. The shelf edges are nano-etched with a finely textured surface that helps contain spills, and lets you use the whole shelf from edge-to-edge.

Intuitive Controls
Provide an easy-to-use touch pad control system that puts every refrigerator function right at your fingertips.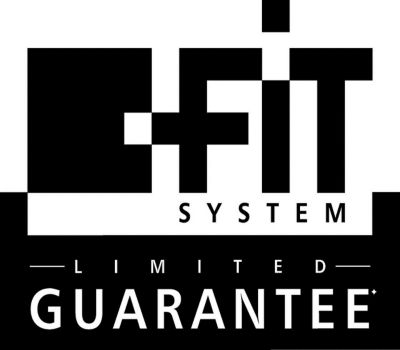 Fit System Limited Guarantee1
This installation guarantee ensures KitchenAid Brand Built-in Refrigerators will replace your existing cabinet cut-out of a standard comparable built-in refrigerator model that is 36", 42" or 48" inch wide or kitchenAid will provide up to $300 for a professional to adjust your cabinets2.
Specifications
Configuration and Overview
Refrigerator Type
Side-by-Side
Refrigerator Capacity
16.41
Energy Star® Qualified
No
Dimensions
Height To Top Of Cabinet
83 3/8
Depth With Door Open 90 Degree
47 7/8
Depth Excluding Doors
24 1/8
Depth Closed Excluding Handles
25 1/8
Width with Doors Closed
42 1/4
Capacity
Refrigerator Capacity
16.41
Features
Number of Interior Shelves
5
Spill-Proof Glass Shelves
1 Fixed Full Width, 4 Adjustable Full Width
Humidity-Controlled Drawers
No
Temperature-Controlled Drawers
1 Full Width
Non Climate-Control Drawers
2 Full Width
Door Bins
1 Adjustable Gallon, 1 Dairy, 3 Adjustable Full-Width
Freezer Features
Interior Shelves
1 Adjustable Full Width Wire, 3 Fixed Full Width Wire
Door Bins
6 Adjustable Full-Width
Freezer Drawer/Basket
1 Full Width Lower Plastic, 1 Full Width Upper Plastic
Filtration and Dispensing
Dispenser Type
No Dispenser
Ice Maker
Factory Installed
Show More Specifications
Reviews
Rated 1 out of 5
by
JT
from
Nice refrigerator but not perfect...
Love the refrigerator but disappointed with freezer drawer design. Drawer is a wire basket with a plastic front. The plastic drawer front on both drawers will not stay attached to the wire basket rendering the drawers useless. This seems to be a design flaw with the drawer.
Date published: 2017-07-08
Rated 1 out of 5
by
Shar
from
Didn't work !
Brand new worked only 3 days then didn't cool on refrigerator side. freezer side frosted up. called kitchen aid, on hold for 57 minutes then have up and made appointment on line for service. rep came out a week later and found a pkuf not properly installed at factory. worked fine for 3 days but now freezer frosting up again
Date published: 2017-04-15
Rated 5 out of 5
by
Judyjudyj
from
Nice
Bought few weeks ago to replace 20+ year old built-in. Good looking refrigerator and am happy with purchase
Date published: 2017-04-06
Rated 5 out of 5
by
eastender
from
So quiet side by side
I bought this a month ag and love it. No ice dispenser or water dispenser gives it a sleek appearance Very quiet ice maker
Date published: 2017-03-13
Rated 5 out of 5
by
sherry
from
good value
It is a replacement of my old 42" GE Monogram. I am happy for the decision I made replace vs repair. Works out well. Actually better than I expected. The unit is very quiet. Hope it will last longer than GE Monogram.
Date published: 2017-02-27
Rated 4 out of 5
by
Cookie
from
Beautiful!
Working great, easy to find everything in the fridge and freezer. Do wish one was offered without ice maker though.
Date published: 2017-02-19
Rated 5 out of 5
by
Charlie's Mom
from
Gorgeous.
We installed this fridge a couple of weeks ago and so far I don't have any complaints. It is quiet, the icemaker is quick, and it's just the right size. We really have loved the lighting inside the unit as well as the way the doors feel when you open and close them-- very sturdy and quiet. We did recieve the wrong base grill somehow-- but after contacting customer service I was informed that there is a seperate phone number for the built in units and I was VERY impressed with the customer service I recieved. I got a person without having to listen to elevator music and she understood my issue and sent a replacement out without question and incurring extra charges. I was very pleased with the experience!
Date published: 2017-01-23
Rated 5 out of 5
by
Chef/Mother/Wife
from
Kitchen is my 'office'
Replaced our side-by-side KA refrigerator ( 2004) model with 2016 model. Incredible lighting improvements. Ice maker lowered to much easier level for gathering ice. So quiet that we initially checked repeatedly to see if it was functioning properly. Shelves vastly improved: better sliding function, deeper, well positioned. Very satisfied.
Date published: 2016-12-16
Rated 4 out of 5
by
Bianca
from
attractive, simple design
Had previous Refrigerator for 10.5 yrs... This new one is similar but with a better interior design. Runs quietly, good to look at.
Date published: 2016-12-08
Rated 5 out of 5
by
Bill
from
Sub Zero vs. Kitchenaid
Recently purchased a Kitchenaid refrigerator for our guest house and it is clearly on par with the Subzero refrigerator we have in our main house.
Date published: 2016-11-25
Rated 4 out of 5
by
SKH
from
Beautiful inside and out!
We love our new side by side built in refrigerator! We just did a total kitchen remodel and purchased all new KitchenAid appliances. We are happy with all of our appliances. They look great and perform well. My husband's only request was for a side by side refrigerator. I originally wanted french door refrigerator but have been very happy with the side by side. Great storage. Beautiful inside, easy to keep clean and organized. Food seems to stay fresh longer.
Date published: 2016-10-21
Rated 5 out of 5
by
MC
from
love it
We have had this fridge for 3+ years and can't complain. Looks great and zero issues. Hoping for years of continued carefree ownership. A little loud but no more than our old subzero.
Date published: 2016-10-19
Rated 4 out of 5
by
Points
from
FREEZER TEMP CONCERN
Had a built-in KitchenAid when bought new house. Lasted 16 years. Bought same type, capacity, etc. The unit is beautiful and refrigerator side is great. Problem on Freezer side is that it, every so often, on it's own, although set to 0 degrees, the thermostat drops as low as -10 degrees. With a mercury thermometer we put in the freezer it reads as low as -18 degrees. I then have to reset the temp control in the refrig back to factory settings 0/37. About an hour later the freezer rebounds to -0 to -2 degrees. And no, this is not a result of the freezer door being left open for a period of time. Because it is not an every occurrence we haven't called for service. This unit is only 40days new.
Date published: 2016-10-07
Rated 5 out of 5
by
cookiebaker
from
One Great Refrigerator
We needed to replace a counter depth refrigerator having pretty exacting measurements to fit the cabinet. The Kitchenaid was a perfect fit. Not only that, it is a perfect refrigerator; well built, great lighting, wonderful depth and sturdy shelving. The ice maker works amazingly fast. I love the silent doors---no suction sound. I would recommend this appliance over and over.
Date published: 2016-10-01
Rated 5 out of 5
by
paulp
from
well designed
Did Major renovations and replaced all appliances. Not as Deep as our old fridge so don't expect to put a large pizza box on the shelf. will take some time getting use to.
Date published: 2016-09-20
Rated 5 out of 5
by
homerepairnut
from
Great!
Granted it is only a week old, but we really like it. The LED lighting is awesome, it does what it is supposed to and looks great. A couple notes - the S.S. finish seems updated from the past and is a lighter shade/more smudge proof (that is good!), and I think this one is 1/2" deeper than our other older model. We really like it so far!
Date published: 2016-09-06
Rated 5 out of 5
by
Sheree, the cook
from
Elegant design
We remodeled our kitchen this year. The KitchenAid counter depth frige looks awesome!
Date published: 2016-08-27
Rated 5 out of 5
by
janice
from
Love the space and LED lighting
We love our new kitchenAid refrigerator. The new led lighting is awesome. I've had kitchenAid for the past 15 years. It is my go to brand for all our kitchen appliances.
Date published: 2016-08-22
Rated 1 out of 5
by
CHATTGUY
from
worst service experiance
I purchased this built in KBSN602ESS00 unit in may 2016. Since day 1 we have had over temp alarm and no control of temp. I WAS TOLD THERE IS A SERVICE BULLITIN about bad board from factory. after 2 services problem still persist. board and wiring harness replaced. ref temp was 56 degrees. Trying to talk to service or schedule is horrible. I called 5 times this am and no response yet. NEVER will I BUY kitchenaid again unless the after sales experience changes.
Date published: 2016-08-22
Rated 5 out of 5
by
Twinmom
from
Love the new refrigerator!
Love the look of this refrigerator. Nice drawers inside too that open and close easily compared to older models. Ice drawer is good size for our family of five and fills quickly. Shelves in freezer a little smaller than our older model though, which is the only thing we do not like about it. But, like the drawers it has. Our older version didn't have any drawers in the freezer. Doors feel substantial and shelves are easy to clean.
Date published: 2016-07-29
Rated 4 out of 5
by
Vicki
from
Replacing a refrigerator in a custom kitchen
I needed to replace a built in refrigerator in a custom built kitchen. Due to restrictions in the space I opted for the upgraded KitchenAid model that is the new version of my former refrigerator.
Date published: 2016-07-11
Rated 5 out of 5
by
Bobby Ed
from
New Ice Box
Our built-in Kitchen Aid went kaput so we replaced it with the newest model. The lighting is terrific. Still the ice drawer freezes over so individual ice cubes don't happen.
Date published: 2016-07-11
Rated 5 out of 5
by
Lake-side living!
from
Excellent side-by-side fridge!
I bought this fridge 3 weeks ago and we love it. Runs quiet, and makes ice extremely fast compared to our other fridge. We replaced a Northland Built in fridge, same size. No comparison in quality. Absolutely love the Kitchenaid! Looks great, runs quiet, inside drawers make it easy to organize. Would recommend this side-by-side to anyone.
Date published: 2016-05-20
Rated 2 out of 5
by
Mori
from
Having problem with door make noise when open and xlose
Less than 3 months old and door start making noise
Date published: 2016-02-05
Rated 5 out of 5
by
Fred
from
Great expectations
We looked forward to the installation of our new KitchenAid as it was to be a major item in the modernization of our kitchen. Upon its arrival and installation we were delighted to find that it was even more than we had anticipated. Our cabinetmaker installed the custom doors along with the custom handles we selected and it is simply beautiful. The design is well thought-out, and the fact that it is not as deep as our previous refrigerator yielded an even greater surprise as how much larger our kitchen became with the refrigerators less deep foot print. Our home is an historic home and it was important to us to be able to make the refrigerator "disappear" into the cabinets and look appropriate to the 1700's. All in all, we are absolutely delighted and very pleased that this is the brand and model we chose. We highly recommend this product.
Date published: 2015-11-28
Rated 5 out of 5
by
thefowl
from
Love the LED lighting
Replaced a KitchenAid Built in from 1999. Much improved in every aspect. Visibility is ten times better when looking for items.No motor noise when running. Excellent interior design.
Date published: 2015-11-07
Demos & Guides
guides
Dimension Guide
Detailed dimensions of your new appliance with space requirements for the area surrounding it.
Installation Guide
Instructions for unpacking and installing your appliance, including electrical requirements and necessary tools.
Energy Guide
Information about the efficiency of your appliance, including energy consumption and annual costs to operate.
Use & Care Guide
Comprehensive information about your new appliance - from getting started to cleaning and maintenance.
Warranty Information
A complete description of your warranty coverage, and contact information for service and support.
In order to read a PDF file, you must have Adobe Acrobat reader installed on your computer. You can download the latest version at the Adobe website.
Show More Guides
(1) Fit System Limited Guarantee: On 36", 42" or 48" inch wide KitchenAid Brand built-in standard refrigerators (excludes columns). Excludes new cabinet installations and custom wood panels. Offer valid for qualified models of a compatible width purchased between 6/1/17 – 12/31/17. Visit kitchenaid.com/refrigeration-fit-system-limited-guarantee for complete details.
(2) Visit kitchenaid.com/refrigeration-fit-system-limited-guarantee for complete details.