NEW
25.0 cu. ft 42-Inch Width Built-In Side by Side Refrigerator with PrintShield™ Finish
25.0 cu. ft 42-Inch Width Built-In Side by Side Refrigerator with PrintShield Finish is rated out of 5 by 76.
This versatile 25.0 cu. ft built-in refrigerator features the ExtendFresh™ Plus Temperature Management System, which maintains the perfect temperature for fresh ingredients. The FreshFlow™ Produce Preserver extends freshness by neutralizing the over-ripening effects of ethylene emitted by certain fruits and vegetables. It also features PrintShield™ Finish, a fingerprint resistant finish, which protects against smudges and enhances the look of the refrigerator.
Stainless Steel - KBSD602ESS
Features

PrintShield™ Finish
resists smudges while enhancing the overall look of the refrigerator. This new feature for KitchenAid® takes the worry out of keeping a working kitchen beautiful.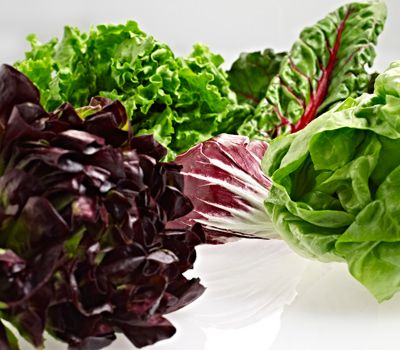 ExtendFresh™ Plus Temperature Management System
ensures ingredients remain fresh for maximum taste and texture using a sensor-controlled system with a variable-capacity compressor. There is one thermistor in the freezer and one thermistor in the refrigerator.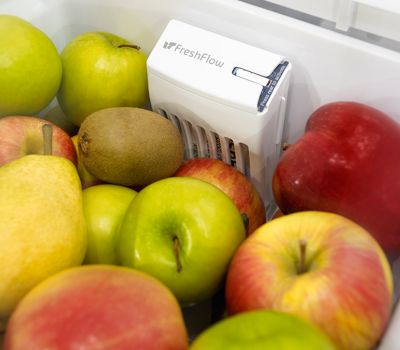 Produce Preserver
Absorbs ethylene gas emitted by many fruits and vegetables, causing them to over ripen. By removing ethylene, the produce preserver helps extend freshness.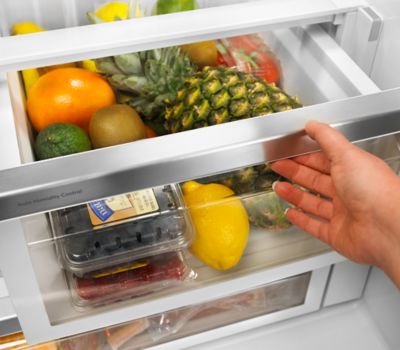 SatinGlide® Crispers
Add a smooth experience to the crisper drawers. The ball bearing rollers and glides allow effortless in-and-out movement even when fully loaded.

Exterior Ice and Water Dispenser
Light touch controls provide easy access to ice and water and enhances the refrigerator's look and performance.

Professionally-Inspired Design
combines a bold blend of professionally-inspired styling with sleek touches for the home. This beautiful side-by-side refrigeration unit features Satin Textured Handles and the KitchenAid® Badge, a symbol of uncompromised quality.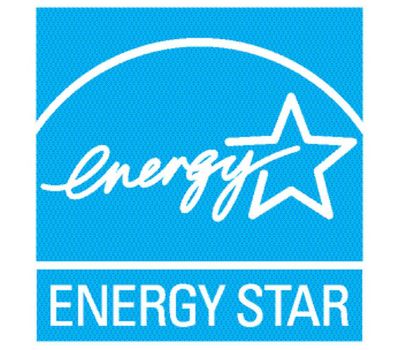 ENERGY STAR® Qualified
products conserve energy by exceeding minimum federal energy efficiency.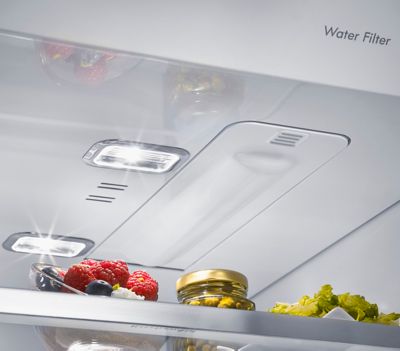 LED Lighting
Gradually increases to full intensity making it easy to find items inside the refrigerator, freezer, and even the crisper. Unlike incandescent bulbs, the LED lights framed in chrome are maintenance-free and never need to be replaced.

Adjustable Spill-Resistant Glass Shelves
are easy to clean and help prevent messes from spilling over into other parts of the refrigerator. The shelf edges are nano-etched with a finely textured surface that helps contain spills, and lets you use the whole shelf from edge-to-edge.

Intuitive Controls
Provide an easy-to-use touch pad control system that puts every refrigerator function right at your fingertips.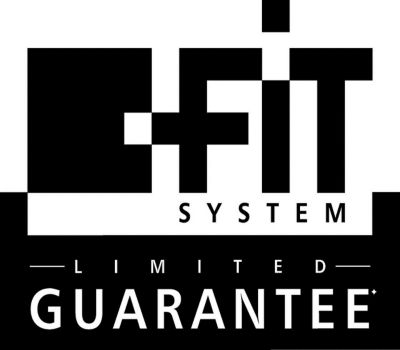 Fit System Limited Guarantee1
This installation guarantee ensures KitchenAid Brand Built-in Refrigerators will replace your existing cabinet cut-out of a standard comparable built-in refrigerator model that is 36", 42" or 48" inch wide or kitchenAid will provide up to $300 for a professional to adjust your cabinets2.
Specifications
Configuration and Overview
Refrigerator Type
Side-by-Side
Refrigerator Capacity
16.41
Energy Star® Qualified
ENERGY STAR® Qualified
Dimensions
Height To Top Of Cabinet
83 3/8
Depth With Door Open 90 Degree
47 7/8
Depth Excluding Doors
24 1/8
Depth Closed Excluding Handles
25 3/8
Width with Doors Closed
42 1/4
Capacity
Refrigerator Capacity
16.41
Features
Number of Interior Shelves
5
Spill-Proof Glass Shelves
1 Fixed Full Width, 4 Adjustable Full Width
Humidity-Controlled Drawers
No
Temperature-Controlled Drawers
1 Full Width
Non Climate-Control Drawers
2 Full Width
Door Bins
1 Adjustable Gallon, 1 Dairy, 3 Adjustable Full-Width
Freezer Features
Interior Shelves
2 Fixed Full Width Wire, 4 Adjustable Full Width Wire
Door Bins
3 Adjustable Full-Width
Freezer Drawer/Basket
1 Full Width Lower Plastic, 1 Full Width Upper Plastic
Filtration and Dispensing
Dispenser Type
Exterior Ice and Water
Dispenser Options
Control/Child Lock, Filtered Water
Ice Maker
Factory Installed
Show More Specifications
Reviews
Rated 4 out of 5
by
Leesh
from
Should have checked the cubic feet
Wish it had more cubic feet but loving the side by side. Love having access to the water up front. Jury is still out on the crushed ice feature but love the cubed ice.
Date published: 2017-08-17
Rated 5 out of 5
by
JGotro
from
Wonderful Fridge!
We've had this fridge for for nearly 3 weeks and love it! It is bright, clean and I love all the features. Just be careful: it's too shallow for a pizza box, and the door will not close properly!
Date published: 2017-08-17
Rated 5 out of 5
by
Pepper
from
Love the size and features
I liked my old Kitchen Aid so when I built my home I wanted a slightly bigger one. The size is perfect and I love it.
Date published: 2017-07-17
Rated 1 out of 5
by
Dave D
from
An expensive refrigerator is fine IF it works...
I bought this as a replacement for my previous Kitchenaid built-in refrigerator, that one lasted 20+ years before it had to be replaced, this came DOA. It has been hooked up for 9 hours now and it STILL has not started to cool off inside. All of the food is ruined and is sitting on my curb awaiting the trash pickup tomorrow morning, perhaps this new refrigerator should be right next to it? I have never been so disappointed in an appliance, it is supposed to be superior in every imaginable way to my previous Kitchenaid. More efficient, more high tech, more beautiful and certainly more capable, it has failed me in all of these ways. So now I have to wait until Kitchenaid takes care of it, all I know is I paid a lot of money for this experience to drag out over the course of a long day, and apparently, I'm going to have to go through it all over again. I'm sitting here tonight aggravated beyond belief because I can't believe that this refrigerator made it through Quality Control. I have never had such a bad experience with a Kitchenaid appliance before. One thing is for sure, the only satisfactory outcome is a new refrigerator, as a repaired, defective refrigerator is not acceptable. Even then, I'm out my day today, my patience, a refrigerator full of food and with the promise of yet another day to rectify this. I will update this review as soon as a solution is offered.
Date published: 2017-07-13
Rated 5 out of 5
by
Ty Aldinger
from
Just what we wanted
Just replaced a similar Kitchen Aide after 17 years....not bad, eh?
Date published: 2017-06-17
Rated 5 out of 5
by
Trev
from
Excellent in everyway
Great fridge that provides a ton of value. Water/Ice feature in the door is very hard to find in a professional level appliance. Quiet operation and quality finishing throughout.
Date published: 2017-06-15
Rated 5 out of 5
by
First on Race Day
from
We Love It!
A really nice detail to our new home
Date published: 2017-06-11
Rated 5 out of 5
by
deborah
from
Sleek, modern look....well designed storage
Previously had kitchen aid fridge and was very happy with it. Even happier with new one! Love sleek modern design and easy to clean exterior
Date published: 2017-06-10
Rated 4 out of 5
by
bill
from
a very good appliance
am very happy with my applince
Date published: 2017-06-03
Rated 4 out of 5
by
fifi
from
Better than ever
This refrigerator is a replacement for 15-year old KItchenaid model with the same features. The freezer of the previous model was no longer able to keep ice cream cold enough; when taken out of the freezer the consistency was between soft and soupy. The only problem with the new model is the ice cream is too hard, even at the highest freezer setting. Otherwise, the refrigerator is an improvement in every way. It seems to have greater capacity and provide greater visibility and access. It provides ease in changing the waste filter which the old model did not. Finally, it appears to be well-made an hopefully will last a long time.
Date published: 2017-06-02
Rated 5 out of 5
by
Jan
from
Beautiful fridge
Love it! Looks beautiful, and I love the LED lights. Has plenty of storage room. Hope it works and lasts as long as my last Kitchenaid which lasted over 20 years!
Date published: 2017-06-01
Rated 5 out of 5
by
Hass
from
holds perfect temp
I have this fridge for 8 months and its been great. It holds temp really well and plenty of room for a medium size family. We also love the look of this fridge.
Date published: 2017-05-26
Rated 5 out of 5
by
CW
from
Love my new fridge!
My new stainless steel built in looks great. Now I don't have to worry. Frozen foods stay frozen.
Date published: 2017-05-14
Rated 5 out of 5
by
Sadie
from
Fantastic size. Cooling directions a bit confusing, i,e, the
Print shield is great ans is the storage space inside. The four trays directions are a bit confusing.
Date published: 2017-05-04
Rated 5 out of 5
by
Matty
from
Beautiful!
We purchased two months ago and could not be happier!
Date published: 2017-05-02
Rated 5 out of 5
by
Michael Ann
from
Worth the money
So nice to have a 42" built in frig after having a 36" counterdepth. Plenty of room for everything and great internal layout. I haven't even moved any of the shelves since you put them in the right places! Built-ins are really expensive vs. traditional refrigerators but worth the money.
Date published: 2017-04-22
Rated 5 out of 5
by
Ginny
from
Very pleased overall
This is an excellent refrigerator with very nice features - a beautiful addition to our new kitchen. For a 42-inch counter depth refrigerator, it offers ample space for fresh and frozen food and shelving is versatile. I have three minor complaints: 1) the butter compartment does not have a lip on the shelf, so when the door to the compartment is opened, the contents can slide off easily onto the floor; 2) if the icemaker is not used for a week or so, the ice will stick together, requiring emptying the ice container on the door and starting over with a new batch; 3) seeing the exposed door hinges where the refrigerator meets the floor looks unfinished when viewed from a distance. A cover plate or grill piece would be nice. Otherwise, I am very pleased with the purchase.
Date published: 2017-03-24
Rated 5 out of 5
by
Jan F
from
Happy with new refrigerator
Purchased to replace 21 year old model insralled in 1996. Nicely updated - hope this one lasts as long as the earlier model.
Date published: 2017-03-14
Rated 5 out of 5
by
Erin
from
Amazing and lots of space!
I love this and all the space. I don't need a second refrigerator this holds everything!
Date published: 2017-03-09
Rated 5 out of 5
by
AZPACKER
from
LG refrigerator
Love it!!! This is the second home we've built and used this fridge and love it.
Date published: 2017-02-28
Rated 5 out of 5
by
Food lover
from
Great looking, great features and great design. We love it !
I love my 25.0 Cu. Ft 42-inch Width Refrigerator, it is big and nice to fit our big family size. It is a energy saving and quiet one. The door will beeping if we did not close the door well, i like this function because everyone is opening it when we are around the kitchen.
Date published: 2017-02-17
Rated 4 out of 5
by
Rick
from
Only Small Annoyances
Only have had this a month and the overall operation is great. Noise level is low, cools quickly and makes ice quickly as well. Only issues we have noticed this far is that the stainless steel finish shows fingerprints a little too much. Although the frig operates quietly, the ice maker is very noticeable when it is refilling the water into the ice tray for the next batch of ice cubes.
Date published: 2017-02-07
Rated 4 out of 5
by
Randy
from
Great features.
We like all the features that it has compared to the one we had before.
Date published: 2017-01-06
Rated 5 out of 5
by
Tracey
from
Plenty of room
The best fridge I have ever owned love it
Date published: 2017-01-06
Rated 5 out of 5
by
Lynn
from
Ease of use
I had the ssme model for 25 years so we knew we would be pleased with the new model. We have loved this model. It meets all of our needs
Date published: 2017-01-06
Rated 5 out of 5
by
Paula
from
Beautiful
I have had my refrigerator for a month and both my husband and I love it!
Date published: 2017-01-06
Rated 5 out of 5
by
Gigi
from
Awesome refrigerator!
I've only had this refrigerator for a month, but so far it has worked flawlessly. The look and built in feel of this particular model really make my kitchen look "professional" and since we invested in a Viking stove we felt the refrigerator needed to be of the same caliber-and it is. All shelves and door shelves are adjustable, it almost runs silently and the icemaker is great.
Date published: 2016-12-16
Rated 5 out of 5
by
Chanakya
from
Lots of storage space, very quiet operation. Happy so far
Lots of storage space, very quiet operation. Happy so far
Date published: 2016-12-15
Rated 5 out of 5
by
K. Scott
from
Great looking Fridge. Lots of room inside. So far so good!
Replaced my old Kitchnaid I had for 18 years. Hope this one last as long.
Date published: 2016-12-14
Rated 4 out of 5
by
Paul
from
So far it's great
This replaced our 19 year old kitchenaid. We have only had it for two months but really like it. Pros are; easy clean stainless steel, inside lighting, large door baskets, auto-light on the external water/ice maker. Normal running is very quiet (compared to our old model), it does make some very temporary funny noises now and then (ice making). I am concerned that the coils at the top will not be easy to clean, as you have to come in from the side. It was a couple of days before the temperature settled in, but we very happy with the temp now. The fridge door swings wide a bit too easily for me and anything you have in the door baskets clang around. Also, the butter tray has no lip and so you have to be careful when you open it that the butter doesn't fall out. Four stars cause I'm a hard grader and it's only been with us two months. I would buy again unless I had several thousand more to spend on Sub-Zero.
Date published: 2016-12-11
Demos & Guides
guides
Dimension Guide
Detailed dimensions of your new appliance with space requirements for the area surrounding it.
Energy Guide
Information about the efficiency of your appliance, including energy consumption and annual costs to operate.
Installation Guide
Instructions for unpacking and installing your appliance, including electrical requirements and necessary tools.
Warranty Information
A complete description of your warranty coverage, and contact information for service and support.
Use & Care Guide
Comprehensive information about your new appliance - from getting started to cleaning and maintenance.
In order to read a PDF file, you must have Adobe Acrobat reader installed on your computer. You can download the latest version at the Adobe website.
Show More Guides
(1) Fit System Limited Guarantee: On 36", 42" or 48" inch wide KitchenAid Brand built-in standard refrigerators (excludes columns). Excludes new cabinet installations and custom wood panels. Offer valid for qualified models of a compatible width purchased between 6/1/17 – 12/31/17. Visit kitchenaid.com/refrigeration-fit-system-limited-guarantee for complete details.
(2) Visit kitchenaid.com/refrigeration-fit-system-limited-guarantee for complete details.