NEW
24.2 Cu. Ft. 42" Width Built-In Stainless French Door Refrigerator with Platinum Interior Design
24.2 Cu. Ft. 42" Width Built-In Stainless French Door Refrigerator with Platinum Interior Design is rated out of 5 by 54.
Behind these built-in French doors lie performance and beauty. The Preserva® Food Care System features three technologies that work in concert to assure crisp produce and deliciously flavorful foods while helping to eliminate refrigerator odors. The glossy silver Platinum Interior Design complements the metallic accents on shelves, crisper and baskets while the SatinGlide® System with Soft-Close assures their smooth operation.
Black Stainless - KBFN502EBS
Features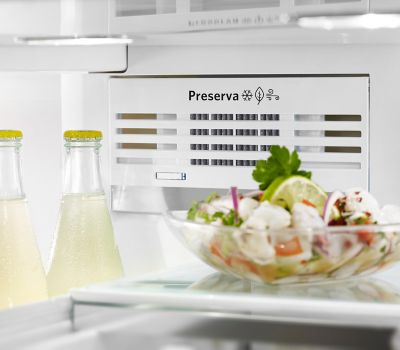 Preserva® Food Care System
Two independent cooling systems provide a dedicated refrigeration unit to help keep food fresh longer, and a separate system for frozen food. The FreshFlow™ Air Filter helps minimize odors while the FreshFlow™ Produce Preserver helps delay over-ripening.

Professionally-Inspired Design
combines a bold blend of professionally-inspired styling with sleek touches for the home. This beautiful side-by-side refrigeration unit features Satin Textured Handles and the KitchenAid® Badge, a symbol of uncompromised quality.

Automatic Ice Maker
Ensures that you have a constant supply of ice for entertaining.

SatinGlide® System with Soft-Close
Add a luxury experience to the crisper drawers. The ball bearing rollers and glides allow effortless in-and-out movement even when fully loaded.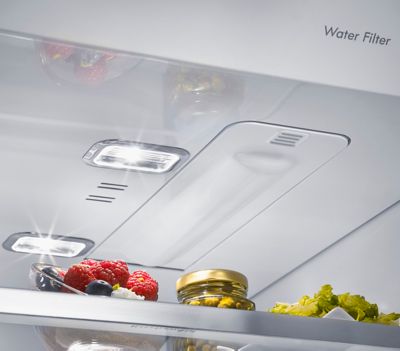 LED Lighting
Uses less energy than incandescent bulbs. Multiple lights are purposefully placed throughout the refrigerator and freezer, making it easy to find items at a glance.

Intuitive Controls
Intuitive controls make it easy to precisely adjust the temperature of both the refrigerator and freezer.

Adjustable Spill-Resistant Glass Shelves
are easy to clean and help prevent messes from spilling over into other parts of the refrigerator. The shelf edges are nano-etched with a finely textured surface that helps contain spills, and lets you use the whole shelf from edge-to-edge.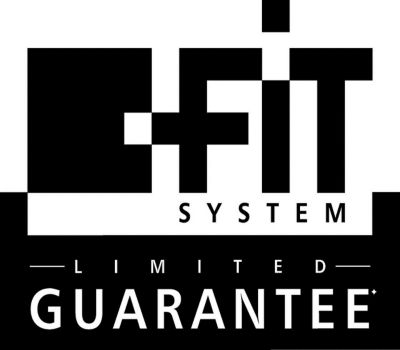 Fit System Limited Guarantee1
This installation guarantee ensures KitchenAid Brand Built-in Refrigerators will replace your existing cabinet cut-out of a standard comparable built-in refrigerator model that is 36", 42" or 48" inch wide or kitchenAid will provide up to $300 for a professional to adjust your cabinets2.
Specifications
Configuration and Overview
Refrigerator Capacity
17.75
Energy Star® Qualified
ENERGY STAR® Qualified
Dimensions
Height To Top Of Cabinet
83 3/8
Depth With Door Open 90 Degree
44 1/4
Depth Excluding Doors
23 3/8
Depth Closed Excluding Handles
25 1/8
Width with Doors Closed
42 1/4
Capacity
Refrigerator Capacity
17.75
Features
Number of Interior Shelves
4
Spill-Proof Glass Shelves
4 Adjustable Half Width
Non Climate-Control Drawers
4 Half Width
Door Bins
2 Dairy, 2 Half-Width Gallon, 4 Adjustable Half-Width
Freezer Features
Freezer Drawer/Basket
1 Full Width Lower Metal, 1 Half Width Upper Plastic
Filtration and Dispensing
Dispenser Type
No Dispenser
Ice Maker
Factory Installed
Show More Specifications
Reviews
Rated 1 out of 5
by
Pablo
from
Ice maker does not work even after seven repair attempts
This is a very expensive refrigerator and the ice maker does not work. The appliance repair people were out here SEVEN times to try to fix the problem and have not been able to do so. Whirlpool has not honored their warranty yet and the repair men keep coming out to try to fix this to no avail
Date published: 2017-08-30
Rated 5 out of 5
by
The cook
from
Stunning beauty and function
So happy I chose this make and model. Looks amazing
Date published: 2017-08-17
Rated 5 out of 5
by
Fred
from
Great, except for a noisy spring
The french door refrigerator looks and works great. Good lighting and adjustable shelves and good use of space. The spring in the left door, which has the double seal, occasionally twangs like it got caught in the wrong position, but otherwise we love it.
Date published: 2017-06-09
Rated 5 out of 5
by
Tiff Designs
from
Sleek
We love the counter depth with the Black Stainless finish. Could not be happier with the look and feel of this fridge. It gets a lot of good looks from friends and family too.
Date published: 2017-06-07
Rated 5 out of 5
by
deb
from
Great storage
I have bought this appliance twice for both homes I own. I love it and have had great success with kitchen aid
Date published: 2017-05-18
Rated 5 out of 5
by
Nana
from
Beautiful appliance
Bought a house 2 years ago with a built in kitchen aide refrigerator that died. It was 20 years old. Had a little problem finding replacement as had to be special ordered. However after getting it installed I am very pleased. It is very nice to look at and is spacious. I only hope this one will last 20 years. Love it.
Date published: 2017-05-17
Rated 5 out of 5
by
Trina
from
great size
I could not be happier. the frig is huge, very organized on how its layed out very accurate temp and the lightening to amazing
Date published: 2017-05-15
Rated 5 out of 5
by
Solubility Constant
from
So far so good
Bought this a month and a half ago. It's very quiet compared to my last fridge (when ice is being made or consender is running you can hear it, but usually those are not happening). Ice maker works well and it holds a lot. Still getting used to counter-depth (cannot fit a pizza box in there) but that doesn't have anything to do with the fridge, just the style and depth of all built-ins.
Date published: 2017-03-23
Rated 5 out of 5
by
Dar
from
love my fridge
When renovating our kitchen we replaced our refrig with a counter depth one. We love it. (although the ice maker is a little noisy and drips ice when full)
Date published: 2017-03-09
Rated 5 out of 5
by
TMM
from
Exceeded expectations
Except for an installation problem this unit has a user friendly layout and very quiet function. It would be nice to have a classier and more detailed user guide included. We are happy with it and would recommend
Date published: 2017-02-11
Rated 4 out of 5
by
Jlo
from
Wow this is big. Took a whole crew to deliver.
First of all Lowe's did a great job installing this gigantic fridge without scratching it or our floors. The fridge is beautiful to look at inside and out. Very thoughtful touches such as a bin to store eggs and functional ice tray. Very quiet. I don't think I've ever heard it make a sound. The only drawback we have experienced within the first month is the flap on the left door that seals the French doors was somehow broken and doesn't close easily anymore. Apparently we are going to have to be very careful opening and closing the doors.
Date published: 2017-02-10
Rated 5 out of 5
by
Cheryl
from
Sleek, contemporary design
There is nothing I don't like about this refrigerator. The inside space is designed so well. I'm actually having a problem filling it up. Also, it is beautiful!!!
Date published: 2017-01-24
Rated 4 out of 5
by
DeeJaySea
from
Great-looking 'fridge - just wish the shelves were deeper
We replaced an old KitchenAid 42" side-by-side model that was 22 years old with this new beauty in October 2016. The old one had wooden panels that matched our cabinets, so this new black one stands out a lot - but that's okay because it is quite handsome. The old one seemed to hold more because the interior shelves were definitely deeper. If I designed this, I'd consider omitting shelves on one door, then the interior shelves and drawer could be deeper. I'd also add an exterior water dispenser (which takes up room inside, I know. But still.) This new one is much quieter - that's for sure - and that's a good thing. All in all, we're pleased this this guy.
Date published: 2017-01-16
Rated 1 out of 5
by
Aga
from
Not worth the price
Overall the refrigerator is too small , freezer is small too. When i open the right door , the door does not stay open , i have to hold with my hands , so inconvenient while trying to grab things inside the refrigerator . Very expensive.
Date published: 2017-01-13
Rated 5 out of 5
by
Marie B.
from
Awesome design
I absolutely love my kitchenaid built-in refrigerator!!!
Date published: 2017-01-10
Rated 5 out of 5
by
Antique1
from
Looks large and impressive
Our former Kitchen Aid refrigerator died after 17 years of use. We needed a built in with the exact dimensions of our old unit so it would fit in the specific cabinet space. This one made it with 1/8 inch to spare. Our old unit had wood panels and this one is Black stainless steel. The unit is very impressive in Black stainless and has given our kitchen an updated look. The inside is a grey metal look and we would have preferred it to be white like all other refrigerators but I guess it just takes getting use to it. Overall it met our specific needs and we really like the Black stainless steel and will eventually replace our other appliances with the Black stainless steel.
Date published: 2016-12-18
Rated 5 out of 5
by
TLCW
from
Awesome fridge!
This refrigerator is full of room. The compartments are large and is convenient to use.
Date published: 2016-11-25
Rated 1 out of 5
by
Frustrated with KA
from
This product is a lemon, DO NOT BUY
I purchased this fridge and the frame cracked and was deemed irreparable so KA replaced it. The replacement broke 5 months later due to a completely different reason from the 1st one. The recommendation was to have it replaced but KA refused. I emailed teh CEO twice and he never responded. I was asked to contact customer service and I did but they never got back to me. I finally had it fixed because KA gave me no other choice and the fix has lasted 2 weeks before the same issue occurred again. Now I am back to a broken fridge. I don'r understand how KA won't at least respond back to me and stand behind it's product.
Date published: 2016-11-24
Rated 4 out of 5
by
Pawsitiv1
from
Loving it!
I bought this about 2 months ago and had to wait for it to be delivered - about a month ago. I've been using it and loving it - although my renos are still ongoing so I haven't seen it installed with the cabinetry yet. Good visibility of all shelves. I wish the interior lights would come on as soon as you open a door (not wait till they hit a certain 'angle' of being open. The covered interior (butter?) container at the top of the door sometimes gets caught when opening the door and opens allowing stuff to fall out. Looks great inside and out and is keeping things nice and cold.
Date published: 2016-10-20
Rated 5 out of 5
by
Rick
from
Great Value
Great product beautifully made attention to detail, would compare it to Thermadore or Viking. Would recommend as a great buy.
Date published: 2016-10-15
Rated 1 out of 5
by
Frustrated
from
DO NOT BUY!
5 Months old and has completely broken down. Needs a new motherboard and more. Repair technician equated the issue to an engine going out on a brand new car and recommended that it be replaced instead of fixed. Customer service said they won't replace. Sent an email to the CEO and didn't get a response. You spend this much on a refrigerator and you expect it to last 20 years.
Date published: 2016-10-07
Rated 3 out of 5
by
H
from
sufflicilent space and shelving
purchased refrigerator about 1 month ago. delivered and installed same day. Except for no prior advicei from salesman or otherwise that when doors close there is a "pop out" [from inside air pressure], all is (was) most satisfactory.
Date published: 2016-09-16
Rated 5 out of 5
by
Amrita the dieter
from
Artistic and functional
Love how it looks beautiful in my kitchen. It's an art itself and serves great purpose.
Date published: 2016-09-09
Rated 5 out of 5
by
Demanding Consumer
from
Great Looking. Over the top if a few improvements were made
So far,I am mostly delighted with my purchase. It's a terrific looking refrigerator which performs well. (Even the ice cubes are good looking.) The black doors are really splendid - a major design innovation. I have just three suggestions. The drawers in the refrigerator portion need drawer pulls or recessed spaces to make them easy to grip. There is no obvious way to pull them out. The butter containers do not open easily. A little tab on the bottom of the lid would do the job. It would also be nice to be able to open one door (not both) to get at the drawers. These are small matters. 5 stars for me.
Date published: 2016-09-06
Rated 5 out of 5
by
Len
from
Great Frig
We bought this refrigerator about a month ago and absolutely love it. Keeps food right in fromt. Nothing hiding all the way in the back. LED lights, interior color, charcoal air freshener, veggie keeper all standard. Plenty if ice too.
Date published: 2016-08-29
Rated 5 out of 5
by
Kamer
from
We love our new KitchenAid Frige
Large space that fits everything, motor doesn't make any noise. Very easy handling. Elegant look and professional design
Date published: 2016-08-20
Rated 4 out of 5
by
LAB PSU
from
Lots of room
Lots of room compared to our old Monogram. Love the freezer being on the bottom. Left door does slam shut and causes items in door to jostle.
Date published: 2016-08-04
Rated 5 out of 5
by
SuzyQ
from
Big improvement
We replaced our kitchen aid built-in when the older model quit working. This one is far superior to be old. Our old one never really seemed to work right. We love the platinum interior and LED lights. Everything stays really cold. The ice maker is very good as well.
Date published: 2016-08-01
Rated 5 out of 5
by
Kaceykay
from
Love the Space!
I love the amount of space available in this refrigerator! Everything has easy access. I was unsure of the ice being inside the freezer, but after dealing with numerous faulty water/ice dispensers, this is a pleasure.
Date published: 2016-07-23
Rated 3 out of 5
by
Natali
from
Great looks, some design mistakes
I have had this for about a month. The color inside is quite nice. Looks good. I like that the ice maker is inside the fridge. I think an indoor water dispenser would be nice. The drawers do not open if you don't have both doors open (it might scratch the seal between doors) which makes it a bit uncomfortable for using. The other thing is that it has a lot of humidity. I think there might be something not working properly. The veggie drawers don't have a humidity control, instead it has an extra thing you out there. I think if it where built inside like others it would be much better. I would have liked to see a deeper freezer and a compartment for items like ice cream. It seems a bit simple for such an expensive fridge.
Date published: 2016-07-11
Demos & Guides
guides
Installation Guide
Instructions for unpacking and installing your appliance, including electrical requirements and necessary tools.
Warranty Information
A complete description of your warranty coverage, and contact information for service and support.
Energy Guide
Information about the efficiency of your appliance, including energy consumption and annual costs to operate.
Dimension Guide
Detailed dimensions of your new appliance with space requirements for the area surrounding it.
Use & Care Guide
Comprehensive information about your new appliance - from getting started to cleaning and maintenance.
In order to read a PDF file, you must have Adobe Acrobat reader installed on your computer. You can download the latest version at the Adobe website.
Show More Guides
(2) Visit kitchenaid.com/refrigeration-fit-system-limited-guarantee for complete details.
(1) Fit System Limited Guarantee: On 36", 42" or 48" inch wide KitchenAid Brand built-in standard refrigerators (excludes columns). Excludes new cabinet installations and custom wood panels. Offer valid for qualified models of a compatible width purchased between 6/1/17 – 12/31/17. Visit kitchenaid.com/refrigeration-fit-system-limited-guarantee for complete details.