3-Piece Pasta Roller & Cutter Set
3-Piece Pasta Roller & Cutter Set is rated out of 5 by 114.
No longer settle for pre-packaged pasta when making it fresh is easy and tastes so much better. Powered by the KitchenAid® Stand Mixer, the 3-Piece Pasta Roller and Cutter Set makes authentic, fresh pasta from scratch quickly and easily. Includes Pasta Roller, Spaghetti Cutter and Fettuccine Cutter. Made in Italy.
Other - KSMPRA
Features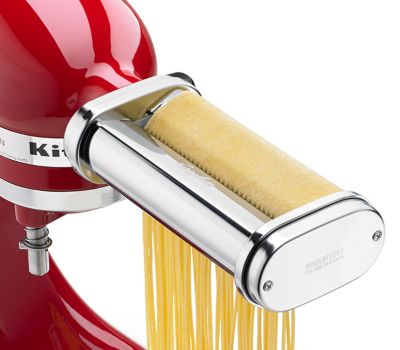 Powered by your KitchenAid® Stand Mixer
To make quick and easy work of fresh homemade pasta in your kitchen using the 3-Piece Pasta Roller & Cutter Set. Fits all Household KitchenAid® Stand Mixers.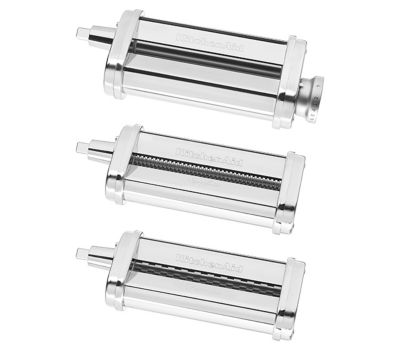 Commercial Style Stainless Steel Rollers and Cutters
For smooth rolling and clean cutting of pasta dough.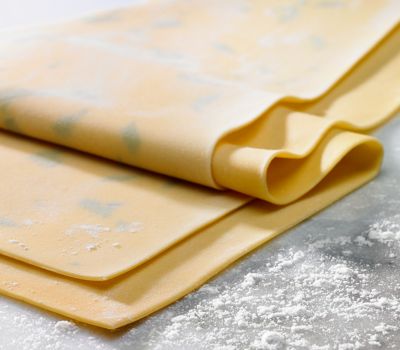 Pasta Roller
Rolls 6-inch sheets of pasta with 8 thickness settings to adjust to your desired sheet thickness.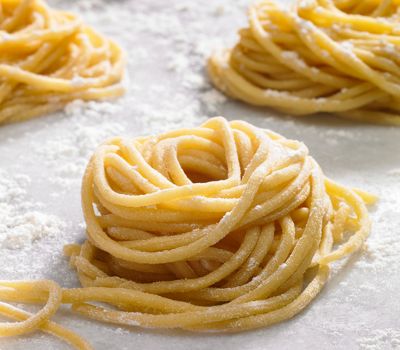 Spaghetti Cutter
Cuts pasta sheets into classic Spaghetti noodles.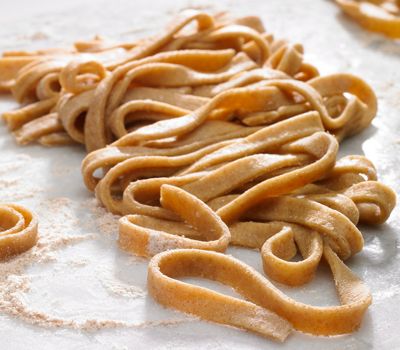 Fettuccine Cutter
Cuts pasta sheets into hearty Fettuccine noodles.

Model KSMPRA includes
(1) Pasta Roller, (1) Fettuccine Cutter, (1) Spaghetti Cutter, (1) Cleaning Brush
Reviews
Rated 5 out of 5
by
pj1957
from
Easy to use!
So easy to use and makes a great product. Worth it's weight in gold for the fresh product!
Date published: 2017-10-09
Rated 5 out of 5
by
Loves to Cook
from
Works Like a Charm!
I bought this recently and made my first batch of pappardelle with the roller attachment. So, so easy, and the pasta was excellent. I highly recommend these attachments (not to mention the superb KitchenAid Proline mixer!)
Date published: 2017-07-21
Rated 5 out of 5
by
Jccwc
from
Love these attachments
I have this set and another one because I like it so much. It's easy and quite therapeutic to make fresh pasta from scratch using these attachments. Since I started using them I no longer buy pasta at the market. Nothing can compare to homemade. The rollers cut nicely (made sure your pasta isn't too wet or the pasta strands will not separate), they're easy to attach to my mixer, and easy to clean (never put them in water), just allow them to dry and wipe clean with the brush provided or a dry cloth. If you're a beginner set the speed on slow, as you gain control and experience turn up the speed. These beat using a hand crank pasta maker, believe me I've experience in that department.
Date published: 2017-07-14
Rated 5 out of 5
by
sidedraw
from
Great for a Beginner
I've never made pasta before and these made it very easy. Works great! I would recommend these for anyone wanting to try making their own pasta.
Date published: 2017-07-12
Rated 5 out of 5
by
Becky H
from
Love it!
I wanted to try making fresh pasta with my KitchenAid mixer so my husband bought me the three-piece pasta roller set for my birthday. I wasn't sure how it would work but after the first dough went through I fell in love with it. It is very easy to make sheets of pasta and then cut them into fettuccine or spaghetti noodles. The amount from one batch of dough is amazing and it tastes so good. The only critique is that small pieces of dough get caught on the back side of the rollers and then it takes a bit to get them out. However it is well worth the extra effort.
Date published: 2017-07-11
Rated 1 out of 5
by
Vicki
from
Missing cleaning brush
I bought this yesterday at my local store and was very disappointed because it missing the cleaning brush.
Date published: 2017-06-19
Rated 5 out of 5
by
Pasta maker
from
Great attachments
Bought this last week and have already used them to make pasta. They make the process much simpler.
Date published: 2017-06-05
Rated 5 out of 5
by
August
from
Easy Peasy!
I used the pasta roller and fettuccini rollers last night. I didn't follow the egg noodle mixing instruction steps in order (e.g. I didn't measure my eggs and just dumped it all into the mixing bowl and mixed) but did add a tbsp. or two of water to get my desired consistency. I was a little troubled starting with the flat roller but after running the dough through 2 or three times, I felt like I was getting the hang of it. No problems or complaints with the fettuccini roller. Over all, I give it 2 thumbs up.
Date published: 2017-05-19
Rated 5 out of 5
by
Lori
from
Great!!!
I used to make pasta the old fashion way - rolling out cutting it. This takes all the work out of making pasta - so easy - so quick. My family is eating healthy pasta without all those preservatives!!!
Date published: 2017-05-01
Rated 5 out of 5
by
Harryram50
from
Best Pasta Ever
My fiancé and I received this as a wedding shower gift and I thought for sure it would never be used. I was surprised with a homemade pasta dinner a few weeks later and I now wonder how we ever ate boxed pasta. So easy to use!
Date published: 2017-04-17
Rated 5 out of 5
by
MFD
from
Outstanding Accessory
I have always planned to learn pasta making. In order to have the tools available I ordered the 3-Piece Pasta Roller & Cutter Set that attaches to our KitchenAid stand mixer. Wow! What a great purchase. With minimal practice I can now make wonderful spaghetti, fettuccine and even filled pastas. This is a very well made product that I strongly recommend to anyone who wants to enhance their cooking skills!
Date published: 2017-04-15
Rated 5 out of 5
by
Britt
from
Love It!!
I bought this kitchen aid attachment like two week ago and I fell in love. The attachments are the gifts that keep on giving. It took me a few times to get it right after looking at a couple of youtube videos. But now I'm a pasta making champ. I will be using this all the time.
Date published: 2017-04-08
Rated 5 out of 5
by
Gigi
from
Let the good times roll
So far so good! I am impressed with the quality of the materials and workmanship of the roller and cutters. I am inspired to make pasta more often and enjoy many new recipes!
Date published: 2017-04-08
Rated 4 out of 5
by
Colorful Colorado
from
Easier than expected
First time making pasta with the attachments. To start, its a shame recipes are not included in the box. And the recipe for the basic dough was not the best. So looked online and after 2 batches, found one that was actually made by Italian Grandma...can't go wrong there! The other things that came into play was the flour, eggs and altitude. Living in Colorado the air is very dry were we live. So it took some adjustments on the water and eggs. Using the attachments were easy enough for my 15 year old daughter to figure out! We had a wonderful time making our first spaghetti! But we realized that we do need a drying rack and on some of it we did not dust with enough flour so had some groups that stuck together. But cooking it was pretty straight forward, we started with a 3-5 minute boil and taste tasted till we had what we prefer. Added a Bella mushroom ragu and it was divine. Just wish all the attachments were not so expensive. But we found the pasta attachments on sale for $70 off. Take your time, we watched a few utube videos and that helped. All in all, a wonderful experience and we are making ravioli's next!
Date published: 2017-04-02
Rated 5 out of 5
by
Susan the cook
from
So Easy To Use
I was hesitant on buying a pasta maker because I wondered just how much I would use it. Now that I have used the 3-Piece Roller and Cutter Set and tasted the lovely noodles I can make, I am sold on it. The noodles are really good and although it does take a little time, it is fun to do. My husband joined me in the process which makes me think it might be fun to have friends over for a "noodle party". If I had to run down to the store to buy noodles, it would take me a lot longer in time, gasoline and stress. Plus, I can make noodles ahead of time and freeze them. What could be better????
Date published: 2017-04-01
Rated 5 out of 5
by
Spenny
from
Easy to use
Very easy to use and clean. The pasta recipe provided is good also. I had to add a bit more water than it called for Very happy with this purchase
Date published: 2017-03-27
Rated 5 out of 5
by
notregular_guy
from
Such a great product!
I have been using a tabletop version of a past roller and it was difficult to use due to the fact that it had to be clamped to the counter to stay in place. I had no such counter to clamp it too, so I decided to get this for my Kitchenaid. What a huuuuuuuge difference it was! So much easier and 1 person can do it vs the other one was a 2 person job. Best investment I have made since getting my Kitchenaid! :)
Date published: 2017-03-26
Rated 5 out of 5
by
Linda
from
Easy to use
So easy to use. Makes Fresh pasta a breeze to make any day of the week.
Date published: 2017-03-19
Rated 5 out of 5
by
Sam
from
Great quality
Works exactly as it claims. We use the basic egg noodle recipe in the instruction manual and it makes perfect pasta every time!
Date published: 2017-02-13
Rated 5 out of 5
by
Bob
from
Great Alternative To Cranking Pasta Maker
Heavy duty attachments that are easy to use and cuts significant time to make homemade pasta. Will not go back to traditional pasta maker.
Date published: 2017-02-10
Rated 5 out of 5
by
Robbie J
from
Makes awesome pasta
We have made several pasta dishes and the benefit of fresh and family time is wonderful/
Date published: 2017-02-06
Rated 5 out of 5
by
Sue
from
Free up both hands!
I love this attachment !!! For the last several years I've been using a hand crank roller/cutter. It worked fine but, it only left me with one hand to juggle the dough. Now I can use both hands to deal with the dough as it is rolled out. Once I have long sheets of flat dough I cut them to the length of noodles I want and run those sheets through the cutter. Easy peasy!
Date published: 2017-02-04
Rated 5 out of 5
by
Phyl
from
Easy to use
Having been waiting a long time to get this attachment and I am not disappointed. Easy to use. Lots of options.
Date published: 2017-02-02
Rated 5 out of 5
by
Baron
from
easy to use, good results
Used this pasta roller for the first time last week end. Used it to make sheets of pasta for Ravioli and for fettuccini. I used a past recipe from a book on artisan pasta. This did not include salt or olive oil. The second round I added salt and a little EVO and it rolled smoother. You need to stabilize the bowl on the mixer as it kneads the dough but it did just fine. It is important to run the pasta through the roller set on one until it is smooth and malleable. Initially the rollers shredded portions of the sheet, but after flouring the pasta and running it through 3-4 times it became smooth and easy to roll. Don't be discouraged if initial attempts to roll results in a shredded mess. Just fold it back together flour and run it through again and again till it is smooth. After the initial rolling it was a piece of cake to roll 6 inch by 3 foot sheets of pasta that we made into ravioli and fettuccini. Tasted great and clean up went smoothly
Date published: 2017-01-31
Rated 5 out of 5
by
Annie
from
I love it!!!!!!!!!!
I got the pasta rollers and cutters for Christmas and I love it!! I have made pasta at least once a week, and my kids and husband say it's the best pasta they've ever eaten. Nothing beats fresh pasta.
Date published: 2017-01-27
Rated 5 out of 5
by
Katskitchen
from
Fantastic
I received this as a Christmas gift and I'm so pleased with it! Easy to use & easy to clean . Makes pasta making so much easier!
Date published: 2017-01-26
Rated 5 out of 5
by
PG
from
Perfect addition
I have wanted this for a long time. I have another KitchenAid pasta maker, but this one is more authentic to pasta making. Easy to operate
Date published: 2017-01-26
Rated 5 out of 5
by
MCL
from
Couldn't be Easier! What fun!
I commented to my husband when we were dining at an Italian restaurant known for its fresh pasta that there is just nothing quite like fresh pasta--and the pasta roller and cutter set appeared under the Christmas tree! I was a little nervous, never having tried to make pasta before, but found that it's really not that hard . . . and the roller and cutter set makes it incredibly easy. I made spaghetti the first time out, and I'm now looking forward to making his (Italian) grandmother's ravioli. Thanks for opening up new possibilities!
Date published: 2017-01-24
Rated 5 out of 5
by
nanc
from
great investment
Excellent way to make homemade noodles and pasta. It was so slick and eay to use-even the first time. Love it
Date published: 2017-01-24
Rated 5 out of 5
by
Lillyol
from
Well made and very easy to use! Great gift!!
Received the set as a Christmas gift. Made a nice batch of the egg fettuccine noodles and they are very good! If you like making homemade food you will love hoe easy the set is to use. My fav is the pasta roller.
Date published: 2017-01-24
Demos & Guides
guides
Use & Care Guide
Comprehensive information about your new appliance - from getting started to cleaning and maintenance.