Juicer and Sauce (slow juicer)
Juicer and Sauce (slow juicer) is rated out of 5 by 121.
Stock up on fresh fruits and vegetables for everyday use with the KitchenAid® Juicer and Sauce Attachment that attaches directly to your KitchenAid® Stand Mixer. This juicer attachment is a slow (masticating) juicer which first slices then processes soft, hard or leafy fruits and vegetables for nutrient-rich extraction. With 3 pulp screens the options are endless for low pulp or high pulp juices, sauces and jams.
Other - KSM1JA
Features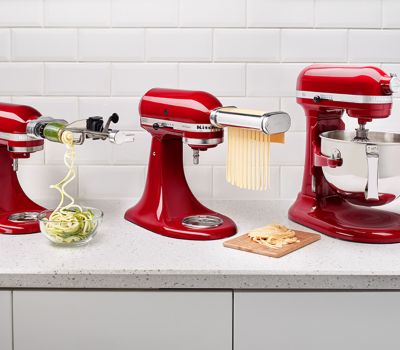 Attaches to Power Hub
Of your stand mixer and uses the power of the motor to run the attachment. Fits all Household KitchenAid® Stand Mixers.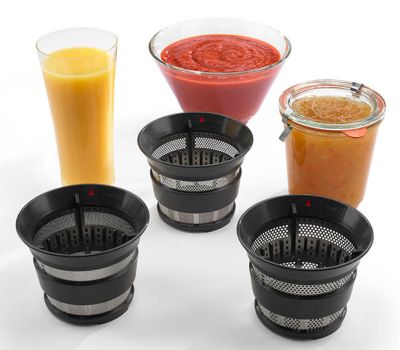 3 Pulp Screens
For Low Pulp and High Pulp Juices, Sauces and Jams.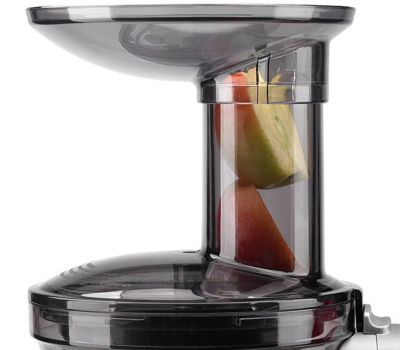 Extra Wide Feed Tube and Stainless Steel Slicing Blade
To accommodate various sizes of soft, hard or leafy fruits and vegetables with less prep work.

Model KSM1JA Includes
(3) Pulp Screens, (1) Pitcher, (1) Waste Container
Reviews
Rated 5 out of 5
by
napaman95
from
juicer
I truly love this product other than it is kind of hard to assembly correctley .
Date published: 2017-07-11
Rated 1 out of 5
by
Josh W
from
professional series
I purchased this and I do not think this works with the Professional Series.
Date published: 2017-07-05
Rated 3 out of 5
by
Sluggo 40504
from
Great product yet wasn't happy with it.
Purchased a few weeks ago and used a couple of times. Is a good product yet wasn't happy with the amount of cleanup. End result of making smoothies and sauces were delicious yet the cleanup wasn't smooth. To many intricate parts that have to be thoroughly cleaned was t what I was looking for.
Date published: 2017-06-18
Rated 4 out of 5
by
camposartu
from
I like it
Decided to use it for a while before writing a review. For me it works quite well. The only downside is that the mixer itself doesn't seem to have enough torque for the pressing and you can hear the juicer attachment really strain through some veggies or fruits. I cut everything before putting it through, I go slowly and it works for me. The pulp comes out quite dry. I was using a centrifugal juicer before and this extracts way much more juice. I payed below $100 and I am happy. But at full price $200+ I guess I wouldn't be. All in all it was a good option for me to jump from a centrifugal without committing several hundreds dollars on a slow juicer.
Date published: 2017-06-17
Rated 5 out of 5
by
Hey You
from
Quality
Wife is happy....I'm happy.
Date published: 2017-06-14
Rated 4 out of 5
by
tls1fla
from
Less mess
We bought the juicer attachment about a month ago after using a friend's juicing machine. Found this Kitchenaid unit to be easy to use and clean. The hard waste was dry and exited the unit well. I juiced lemons, limes and ginger. And froze the juice in ice cube trays, then transfered them to freezer bags. Couple of tips, at least for me... for fear of the citrus rinds gumming up the unit, I zested the lemons, then cut the balance of the rind off before juicing. I also cut the ginger into smaller pieces to fit the shoot. Overall the attachment oerformed well and i was very pleased with the outcome. Next purchase... a spiralizer.
Date published: 2017-06-04
Rated 5 out of 5
by
Marlon
from
Best juicer ever
I have had other juicers before but always longed for a Kitchen Aid one, because it's an excellent brand, the preferred one for everybody. The first time I've used my juicer, I was amazed of the way it works, and the best of all is that you have the option to select the kind of texture you need. Now it's almost used on a daily basis!
Date published: 2017-05-30
Rated 4 out of 5
by
Sandra
from
Works well
I enjoy using the juicer. I can see lots of future use with tomatoes. I enjoy using it for fresh veggies to make juices.
Date published: 2017-05-26
Rated 5 out of 5
by
haba jr
from
another great attachment
Purchased this for my partner who had been looking at other juicers on the market. After comparing all of them, we purchased the kitchen-aid attachment solely due to the reputation and my experience with my other attachments. Can't go wrong with Kitchen-aid. The juicer is easy to use and easy to clean.
Date published: 2017-05-18
Rated 1 out of 5
by
CJ
from
Broke after 3 juices
Broke after making 3 juices.
Date published: 2017-04-11
Rated 4 out of 5
by
Flo
from
Great attachment
I was happy to find this special attachment to use with my existing kitchenaid appliance rather than set another freestanding juicer on my counter with limited space. It works very well but does permit a few solid pieces through and that is why I gave lt a 4 rating.
Date published: 2017-04-03
Rated 4 out of 5
by
Kim
from
I think for the price this is an excellent juicer.
I had to turn my first one in as it made a super loud thumping sound. Second one better. Juices better, cleans easier, takes less space to store and is just all around more convenient to use than my standalone juicer.
Date published: 2017-03-23
Rated 4 out of 5
by
John
from
Works great
It would be better if the juicer got more juice out of the fruit like most other juicers. Otherwise I have had not problems and I use it every weekend for the past 2 months.
Date published: 2017-03-23
Rated 5 out of 5
by
David the budding nutritarian.
from
Brilliant
Research on juicers left me confused and unsure of direction. Everyone has a definite opinion about the best. Well, I just wanted to get some nutrients in my body from the source without putting a 2nd mortgage on the house. Beginner or not, this was the perfect choice for me. It masticates slowly which simply chews and squeezes the juice so I can benefit from the nutrients without having to do the work. Now I use that extra energy to maintain a clean house. Of course we need fiber and I get it when I eat my vegetable bean soups and salads. This attachment made sense in that I could use a tool (mixer) already owned. It was 20% the price of "the best Juicer" and 100% the satisfaction of filling my nutrition needs. Thank you Kitchen Aid.
Date published: 2017-03-19
Rated 4 out of 5
by
karlcort2
from
In love! Super easy to use!
absolutely looove my juicer ! its super easy to use and really gets every drop of juice. I would have given it 5 stars but there's little things that could have been better like, it's alot bigger than I expected so it's not something I'd leave attached to use daily. Also, it freaks me out that my mixer gets really hot after using the juicer too long. However, I still looove my juicer!
Date published: 2017-03-17
Rated 5 out of 5
by
Shooosh
from
Great Juicer!
I have been eyeballing masticating juicers for a long time and couldnt believe that i could get an attachment for it on my already AWESOME KitchenAid appliance. For 1/4 of the price
Date published: 2017-03-09
Rated 2 out of 5
by
Apple sauce
from
Doesn't work right
Tried to make apple sauce with this attachment. Followed the instructions and online tutorials, however the sauce was full of pulp. Very disappointing. However a friend has one and it works great! I guess I got a lemon.
Date published: 2017-03-08
Rated 4 out of 5
by
Luilli
from
Great
I bought this a six month ago an I so happy
Date published: 2017-02-17
Rated 4 out of 5
by
Rob
from
Great Juicer!!
I use this juicer 3-4 times a week and it works great! My only complaint is cleaning is kind of a pain but it kind of comes with the territory!
Date published: 2017-02-12
Rated 4 out of 5
by
Chef Dale
from
got greens or carrot have a cup of fresh juice
I was getting a lot food that would spoil but not any more I can turn anything into fresh juice now.
Date published: 2017-02-10
Rated 1 out of 5
by
athorna
from
Very bad purchase
My son bought this for me for Christmas knowing that I had been unsuccessfully searching for a better tool for making tomato sauce and raspberry jam. I can't tell you how badly I feel that he spent his money on this product. There are far too many parts to make this easy to use, and once I got it together I had to take it apart every few minutes to clean the tomato seeds out of the strainer and pulp chute. I freeze my tomatoes in the summer and process them in the colder months, and I was only trying to process two defrosted gallon bags of tomatoes. And to top it off, what did come through was a very thin liquid full of seeds. I ended up just giving up and tossing the rest of the tomatoes because it was so frustrating. I don't know how you can make a product that plainly doesn't do what it was built to do. I'd return it in a second, but my son was so proud to have gotten it for me that I'm going to have to keep it and hide the new strainer that I'll have to buy. Maybe it works as a juicer, but if you're thinking of buying this as a saucer, don't.
Date published: 2017-02-06
Rated 4 out of 5
by
Anthony
from
Great product
This juicer works great! I have used it several times and it works really well. It gets most of the juice out of things, which is evident by how dry the pulp is. There are a lot of parts, so it turns into a project to clean up afterwards. This deters me from making juice as often as I would like to; that is just me being lazy though.
Date published: 2017-01-25
Rated 5 out of 5
by
Pynk
from
I love my New Attachment
Juicing with this KitchenAid Attachment is so easy to use & easy to clean as well! I just love the different pulp level filters! Being able to get all the vitamins & nutrients from fruits & vegetables, so quickly, never been more fun! I don't even have to add water! It's amazing to see all that turn to pure juice before your eyes!
Date published: 2017-01-23
Rated 4 out of 5
by
swimmons
from
Good Option
My husband wanted a juicer, but I didn't want another large bulky appliance on our kitchen counter. This was a great compromise since we already have the kitchenaid mixer. It is still rather larger, but we can easily store it away in a cabinet. Like most juicers, it's a total pain to clean. It's definitely slow and I feel like I'm going to burn out my mixer motor when I use it because you have to have it on high. It does a great job of getting all of the juice out of your veggies. The pulp comes out really dry and dense.
Date published: 2017-01-16
Rated 4 out of 5
by
Juicer Jason
from
Good trade off if you already have the stand mixer
I bought this because I was looking for a masticating juicer but didn't want to pay $300. If you already have the stand mixer, it's a good deal. I doubt it is as good as dedicated masticating juicers. It slows our Artisan and the pulp shoot clogs up occasionally, but it gets the job done.
Date published: 2017-01-16
Rated 5 out of 5
by
Grammy4
from
It really speeds up the process of making tomato juice.
I bought this a few months ago, specifically to make my homemade V8 juice. I am so glad I did. It sped up the process so much. I like all the different features of the juicer, but there is a little bit of a learning curve to it. I love the fact that it has rubber scrapers inside the bowl of the juicer. It was well worth the money paid for it. I would definitely recommend this to anyone. After I made the juice, I made some salsa. It worked great!!!
Date published: 2017-01-13
Rated 4 out of 5
by
KelseyS
from
Very Easy to Use
I love this juicer. It has made making fresh juice pretty quick and easy for us. My kids love it! There are a lot of pieces to wash, so I would say that would be the only down side.
Date published: 2017-01-09
Rated 3 out of 5
by
Anonymous
from
Good product
This juicer is average in terms of noise level while juicing, I don't find this extremely important as far as juicing however, some may so I included this for those this applies to. One feature that is difficult if your not accustomed to an attachment juicer is the latch in back on top has to have some force to opporate this item if it isn't secured then the juicer will not run. When I first began using the juicer it was a little unsettling because I feared the plastic would snap but it hasn't and all runs nicely. After one pitcher of juice the pulp catch does fill, I believe this to be positive because it allows the user to remain faithful in keeping it clean which allows for a better juicing experience. I give this a three thumbs up overall because the juice does come out nicely.
Date published: 2017-01-07
Rated 4 out of 5
by
The Davis'
from
Great attachment!
We bought this as an alternative to buying a separate juicing machine to save on cupboard and counter space. Seems much smaller than a regular juicer would so happy about that! We aren't everyday juicers but it has worked well so far. The low pulp basket split at a seam in the first month and Kitchenaid sent a replacement right away- great customer service.
Date published: 2016-12-13
Rated 1 out of 5
by
Flyguy
from
Good but not quite as good as it should.
Normally I love Kitchenaid products but this one falls a bit short. After only having the juicer a month both juicing strainer baskets have cracked. I believe this is due the fact the molding process leaves the metal at the bottom of the basket exposed creating a weak point. Also there is a gap at the top where the press and the basket meet that allows large chunks of fruits or vegetables to get to the juice side of the extractor. Finally the input shaft of the juicer leaks a bit of grease during use. It's not noticeable until you remove the juicer and end up with grease all over your hands. When this juicer was new and working properly it worked fairly well. Processed fruits and vegetable as advertised, minus any seeds of course. The small bits that escaped into the juice were easily strained out, which was only a minor annoyance. All in all I thought I would use this attachment for quite a while, but at this point I'm not sure it will last. I'm going to try and get the baskets warrantied in hopes that they have been redesigned or may possibly last a bit longer. If not I will be sadly looking at a different product.
Date published: 2016-12-11