12-Cup Glass Carafe for KCM111/ KCM1202
12-Cup Glass Carafe for KCM111/ KCM1202 is rated out of 5 by 38.
The 12-cup glass carafe with soft-grip handle makes pouring your perfect cup of coffee easy. The carafe is also top-rack dishwasher safe.
Other - KCM11GC
Features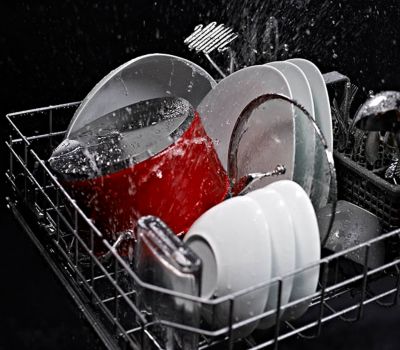 Dishwasher Safe (top rack)

Pouring Spout
Reviews
Rated 1 out of 5
by
Labouarabi
from
Poor quality
I've had my new kitchen aid coffee maker for a couple months now and my carafe has already cracked. The glass seems very thin. I have several kitchen Aid products but, this one seems to be of lesser quality.
Date published: 2018-02-15
Rated 1 out of 5
by
meclark3
from
Glass Carafe is broken already
My carafe is also broken! We purchased this on November 24, 2017 and last night, after approximately 5 weeks of use, it broke while I was hand washing it. There is a crack about halfway around the entire carafe. I'm very disappointed...especially given how much this coffee maker cost us. Does anyone know if the thermal carafe will fit? At least that one won't crack.
Date published: 2018-01-03
Rated 1 out of 5
by
Bobbb
from
Broken Spout on plastic cup
Spout broke off on a plastic cup, it's way too fragile.
Date published: 2018-01-02
Rated 2 out of 5
by
larson26
from
Nice unit, poor pot
Unit makes good coffee, glass carafe unit broke 2 months after purchase, disappointed.
Date published: 2018-01-01
Rated 1 out of 5
by
Kimv999
from
Fragile
I received this for my bridal shower less than three months ago and the carafe broke while hand washing, I can't seem to find a replacement in the white color which means I have to buy a brand new coffee maker. I don't understand why there's not replacement carafes in white. It's a shame.
Date published: 2017-12-31
Rated 1 out of 5
by
ethankim
from
Carafe was broken fast, it's too thin.
I love this coffee maker however that carafe was broken so fast. I'm not sure how it cracked, too fragile and thin. I've never cracked any carafe before from normal using. Worry to buy a new one.
Date published: 2017-12-17
Rated 1 out of 5
by
Bingcrosby
from
Same Problem
Also hand wash my carafe, no dishwasher no stacking. Went to wash it this morning and the whole spout came off in my hand. Can't figure out your website or replacement for. Also, the first coffeemaker quit working a few weeks after purchase and you replaced it . My thanks for the excellent service
Date published: 2017-02-19
Rated 1 out of 5
by
snookie k
from
glass carafe broke within a few months of purchase.
The coffee maker made good coffee but the carafe broke just by setting it down on the cupboard. I am hesitant to buy a new carafe as I am not sure it will last and I will be out more money.
Date published: 2017-02-18
Rated 2 out of 5
by
Tracy
from
Sad that a carafe can make a great coffee maker just okay
I love everything about this coffee maker - the control of the flavor, pre-programmable, the style - it's fantastic. How a simple carafe can ruin the whole KitchenAid experience is disappointing. The spout always caused messes when trying to pour the water in. Everyday, no matter how hard I tried to be careful, water was always spilled from this dribbling carafe. I'm in a rush in the morning, so having to wipe up the mess (which inevitably would end up under the coffee maker making it even more difficult to clean up since I'd have lift the entire coffee maker to clean it up), makes me run behind. What took the cake is the day my carafe broke on my while my coffee was brewing. A chunk from the bottom of the carafe just "blew out" while it was on the warming plate. This may well be my last KitchenAid purchase.
Date published: 2017-02-07
Rated 1 out of 5
by
Anonymous
from
SAD!
Just bought the KitchenAid KCM1204 two weeks ago and the carafe is already broken. I don't have a dishwasher and this is the last thing I wash so it rests on top. I am the only one who uses the pot and I try to be careful. It seems that this is too fragile to be sold. Maybe they need to go back to the drawing board. The coffee machine is fantastic! The carafe is AWFUL!
Date published: 2017-01-17