24-Inch 4-Cycle/6-Option Dishwasher, Pocket Handle
24-Inch 4-Cycle/6-Option Dishwasher, Pocket Handle is rated out of 5 by 89.
This powerful dishwasher features our ProScrub® Option, an ideal solution for casserole dishes and other large platters that require concentrated cleaning of caramelized or baked-on messes. In addition to the ProScrub® option, you'll enjoy the industry's best performing dishwasher brand1. A stainless steel tub and wash arms combine with a Heat Dry option to help ensure dishes are clean and dry.
Black - KUDS30IXBL
Features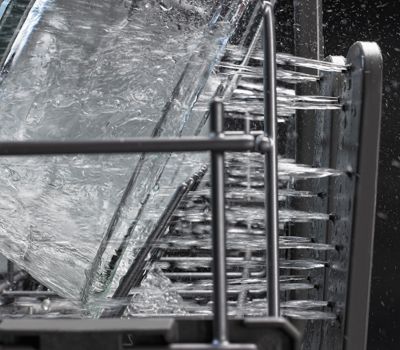 ProScrub® Option
Uses 36 targeted spray jets at the back of the dishwasher to help eliminate soaking or pre-scrubbing.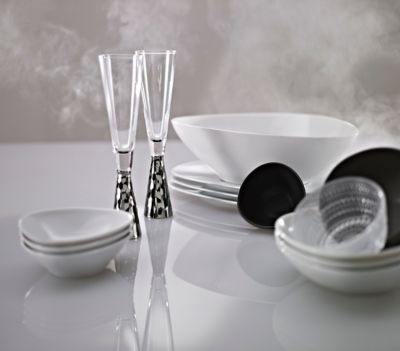 Heat Dry Option
Delivers the best drying2 by activating a recessed heating element at the end of the cycle.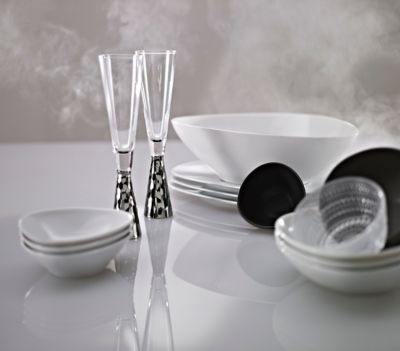 4 Stainless Steel Wash Arms
Distribute water precisely and powerfully to every corner of the dishwasher for exceptional cleaning performance. Durable stainless steel construction helps ensure long life.

Full Stainless Steel Tub
Resists streaks, stains, and odors while providing optimum heat transfer for exceptional drying.

Upper Rack with SatinGlide® System and Premium Adjusters
Creates versatile loading options to help optimize performance. Premium adjusters make it easy to raise or lower the upper rack depending on the items being loaded, and the SatinGlide® System allows the rack to move smoothly, even under the weight of heavy items.

Hard Food Disposer
Grinds up and removes loose food particle, eliminating the need for pre-rinsing.

14 Place Setting Capacity
Gives you the usable capacity for the cups, plates, and bowls that you use frequently for entertaining.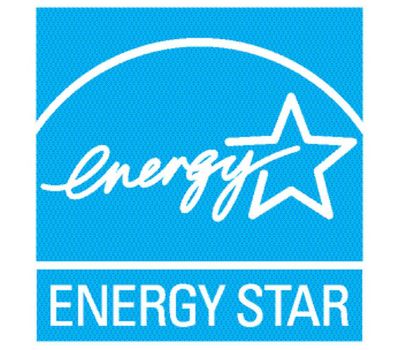 ENERGY STAR® Qualified
These KitchenAid® dishwashers are designed to use less energy, help save money on utility bills, and help conserve our natural resources.
Specifications
Configuration and Overview
Energy Star® Qualified
ENERGY STAR® Qualified
Cycle Selections
1-Hour Wash, Heavy, Light/China, Normal
Option Selections
4 Hour Delay, Heated Dry, Hi Temp Scrub, Lockout, ProScrub®, Sani Rinse®, Zonal Wash
Water Filtration System
Maintenance Free Hard Food Disposer
Extras
4-Light Item Clips
Adjustable Upper Rack
2 Position Removable
Number of Place Settings
14
Dimensions
Depth With Door Open 90 Degree
49 1/2
Show More Specifications
Reviews
Rated 1 out of 5
by
Disappointed1
from
Flimsy parts
They removed my earlier review so don't trust this web site for honesty in their review system. The top drawer falls down, the brackets that hold it on break. Don't bother to use the adjustable top shelf. The parts store indicated this is a common problem with this dishwasher.
Date published: 2015-06-01
Rated 5 out of 5
by
goofey
from
GREAT FEATURES
WE BOUGHT THIS DISHWASHER ABOUT THREE WEEKS AGO AND IT IS EXTREMELY QUIET AND DOES A GREAT JOB ON THE DISHES ON THE ONE HOUR CYCLE. WE LOVE IT.
Date published: 2015-02-05
Rated 5 out of 5
by
Uncle Buddy
from
It washes dishes! Huzzah!
Out old dishwasher laid down and died. I bought the least expensive dishwasher at the local appliance store to replace it. The new one works real good.
Date published: 2015-01-26
Rated 4 out of 5
by
jacqu
from
Cleaner dishes
I had to replace my dishwasher, but now I have a quieter, more effective dishwasher. My glasses are sparkling
Date published: 2014-12-13
Rated 5 out of 5
by
John O
from
Very quiet,nice design !
This is the quietest dishwasher I have ever owned. I like the soft touch operating buttons. The racks are perfect for anything I need to put in the dishwasher due to their adjustable positioning.
Date published: 2014-12-08
Rated 5 out of 5
by
WXYZ
from
Super Quite
Purchased in October. So far so good. Unit very quite and provides excellent cleaning of dishes/pots/pan/silverware. Owned previous dishwasher for 10+ years. Looking forward to many useful years for this dishwasher.
Date published: 2014-11-07
Rated 5 out of 5
by
Sulek
from
Nice and Quiet
Energy effecient and extremely quiet. Like all the space for even tall items with the adjustable upper rack So far it's a great machine.
Date published: 2014-10-20
Rated 4 out of 5
by
bird123
from
Overall works well.
Only problems seems to be the sensitivity of the touch pad on the front of unit and the basket that holds the silverware keeps colapsing.Cleans well and very quiet.
Date published: 2014-10-13
Rated 5 out of 5
by
Grandmere
from
So quiet!!!!
Love this dishwasher. It looks great and cleans beautifully. I have a very open floor plan and you can barely hear the dishwasher running. At first I kept turning it on when I leaned on the counter. Then I read how to lock the buttons and that solved that issue. It does take about 2 hours to run but that is worth it if it really does save energy in the long run.
Date published: 2014-10-06
Rated 5 out of 5
by
general
from
Runs quiet and cleans great!
The stainless steel insides and have quality has been built into this product.
Date published: 2014-10-04
Rated 4 out of 5
by
Frerich
from
awesome
awesome dishwasher. never had dishes so clean!!! we use only once a week and yet the dishes are always clean...
Date published: 2014-08-30
Rated 5 out of 5
by
Tonimaroni
from
Quiet & lots of Room
After 17 years my old Kenmore dishwasher went kaput. I am very happy with my new KitchenAid dishwasher. It is extremely quiet, so I can run it during the day instead of the night. It holds so much more and my wider plates can stand upright. The first silverware holder was replaced with a newer design after I called customer service explaining that the top came off as I loaded or unloaded silverware. The new design is stable and I love using it to separate silverware. I am trying various settings, as my older Pfaltzgraff dishes have a tendency to craze when the water or heat dry is too hot. It is a beautiful addition to my kitchen and easy to clean, I love it.
Date published: 2014-08-29
Rated 5 out of 5
by
felicia3
from
Great dishwasher
I bought this Kitchenaid dishwasher a few months ago. PC Richards came to my home, quickly installed it and took away my old dishwasher - very fast and efficient. The dishwasher works great and it's so quiet -- my previous one was so much louder when on. The dishwasher has a lot of room to arrange dishes and silverware and they come out really clean (I discovered I do need to use a rinse aid, which I didn't need for my prior dishwasher).
Date published: 2014-08-24
Rated 4 out of 5
by
Perry
from
super quiet
Have had for a couple months. Love how quiet it is, I could practically sleep next to it. Cleans really well. My main gripe is the front buttons are easily pushed. If you forget to lock the controls you hit drain and it stops the cleaning cycle.
Date published: 2014-08-24
Rated 5 out of 5
by
BeBe63
from
Awesome!
In our 44 years of marriage, this is definitely the best dishwasher we have ever had. It is so quiet, we can actually turn the TV on in the kitchen and hear the program. It is awesome on getting those dishes clean also! Great purchase!
Date published: 2014-08-06
Rated 5 out of 5
by
Anonymous
from
Love how quiet my machine is
Love my new machine, I am glad we purchased it. I depend on my dishwasher as I am limited with time in my day
Date published: 2014-08-05
Rated 5 out of 5
by
Emilia
from
Best Dishwasher Ever!
I bought this dishwasher a few months back. I absolutely love it. It's quite, cleans dishes well and looks great in my kitchen. Very nice style. Now I want to buy a new stove!
Date published: 2014-07-31
Rated 4 out of 5
by
Happier
from
Good quiet running dishwasher
I had problems at first with my glasses having a film. I determined that I needed to change to cascade detergent and it is working fine now. Cleans well, runs quietly, would like a rinse and hold cycle, but that is not available on this model. It is so much quieter than my old frigidaire and I love that..
Date published: 2014-07-22
Rated 5 out of 5
by
tomzgirl
from
BUY IT!
I upgraded from a frigidaire to this kitchenaid and am very happy I did. It is whisper quiet, completely adjustable, fits a feastful of dishes with nothing left behind on anything. I am a very satisfied customer!
Date published: 2014-07-22
Rated 5 out of 5
by
no one
from
Dishes are cleaner
Dishes are cleaner than they have ever been. My last dishwasher left streaks on the glasses after a wash.
Date published: 2014-07-21
Rated 4 out of 5
by
melby1
from
Almost excellent
I could give this an excellent rating except...the dishes don't seem to "nest" very well, the control panel seem to be more confusing than necessary, the silverware covers grids are chintzy and difficult to manage, and there's more residual dirt than I expected in the bottom of glasses from time to time. The unit does live up to its billing as a very quiet model and I love the stainless steel finish as well as the finish on the racks.
Date published: 2014-07-21
Rated 3 out of 5
by
Anonymous
from
This is a very good dishwasher, but had its problems.
I purchased this dishwasher a little over a year ago and the main power board went out. The repair person said this was a common problem on this model. Although Kitchenaid paid for the part it cost me $185 for two repair visits to fix the problem. In my opinion this was a manufacturer issue and should have been covered completely.
Date published: 2014-07-21
Rated 4 out of 5
by
Mel1426
from
Very quiet
We bought this dishwasher about 4 months ago. Happy with how quiet it is. Can't really hear it running. Disappointed with the cleaning if I use powdered Cascade. It leaves soap on the dishes. Even when I use the pods, occasionally food is still left on the dishes and glasses so I still have to rinse before putting them in the dishwasher. Overall a good appliance.
Date published: 2014-07-20
Rated 5 out of 5
by
Peaches1212
from
A fantastic, sparkling clean!
The dishwasher that came with the house I bought almost ten years ago did an adequate job. A few months ago it finally died so I bought my current KitchenAid dishwasher. I couldn't believe the difference in quality of clean. Everything came out perfect and sparkling, including the crystal. It is a wonderful machine; the only minor issue I have is the super sensitive touch panel on the front that will activate, for instance, if the cat jumps up on the counter at that spot or I lean up against the machine but all you have to do is hit cancel.
Date published: 2014-06-17
Rated 5 out of 5
by
larryr
from
Very happy with my purchase
Looks and works great. Very happy with my choice of this kitchen aid model.
Date published: 2014-06-11
Rated 5 out of 5
by
DRH2020
from
does everything well
We have used our dishwasher for a few months and thoroughly enjoy it. It cleans well and is extremely quiet. My only surprise is that this unit did not come with a cord. I would have kept my old one if I knew this.
Date published: 2014-06-06
Rated 1 out of 5
by
Tgirl
from
disappointing performance
This dishwasher does not do a good job of cleaning dishes. We had to increase the water temp of the hot water heater and use pot scrubber to simply get a light load of dishes clean
Date published: 2014-06-02
Rated 5 out of 5
by
navymom1
from
DISHWASHER SUPER QUIET
Bought this about two months ago. Very quiet. Love the cycle features too. I like the way the silverware holder separates the silver ware and the larger holders for my cooking utensils.
Date published: 2014-05-18
Rated 4 out of 5
by
amyjrn
from
Good item to have!
I purchased this item for a Christmas preset. We chose to install ourselves and was fairly easy to install. Gets my dishes super clean! I would have liked to have a quick rinse option, but didn't really have to have it. I have a problem with when I lean against it, it will start whatever option I touch. Overall a great product
Date published: 2014-05-18
Rated 5 out of 5
by
LadyDi1
from
Everything about it is wonderful!
Bought it before Christmas last year, it is wonderful!
Date published: 2014-05-17
Demos & Guides
guides
Use & Care Guide
Comprehensive information about your new appliance - from getting started to cleaning and maintenance.
Energy Guide
Information about the efficiency of your appliance, including energy consumption and annual costs to operate.
Dimension Guide
Detailed dimensions of your new appliance with space requirements for the area surrounding it.
Warranty Information
A complete description of your warranty coverage, and contact information for service and support.
Installation Guide
Instructions for unpacking and installing your appliance, including electrical requirements and necessary tools.
In order to read a PDF file, you must have Adobe Acrobat reader installed on your computer. You can download the latest version at the Adobe website.
Show More Guides
(2) Among leading premium brands, with rinse aid.
(1) Combined wash and dry results of leading premium brands; dry testing conducted with rinse aid.