5 Blade Spiralizer with Peel, Core and Slice
5 Blade Spiralizer with Peel, Core and Slice is rated out of 5 by 1809.
Reinvent classic meals and inspire your culinary creativity with fresh fruits and vegetables. The versatile KitchenAid® Spiralizer Plus with Peel, Core and Slice Stand Mixer Attachment comes with 4 Spiralizing/Slicing Blades and a Peeling Blade, perfect for fresh fruit and vegetable recipes. From zucchini noodles to sweet and savory dishes, the options are endless.
Other - KSM1APC
Features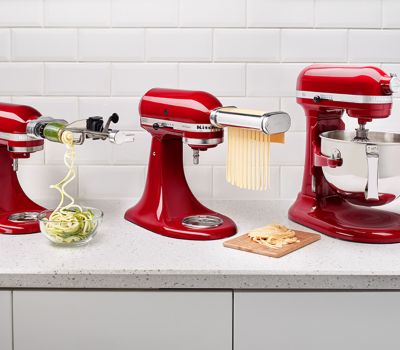 Attaches to Power Hub
Of your stand mixer and uses the power of the motor to run the attachment. Fits all Household KitchenAid® Stand Mixers.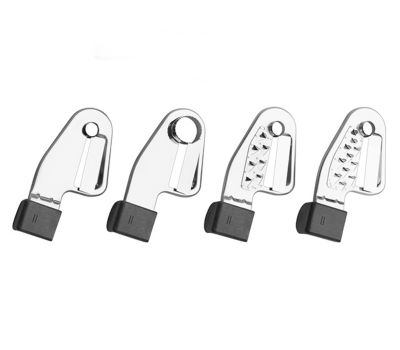 Versatile Blade System
With 4 quick-change blades and an optional peeling blade to inspire healthy versions of classic recipes and unleash your culinary potential. Spiralizing Blades - Medium and Fine; Slicing Blades - Slicing (Large Core) and Slicing (Small Core); Peeling Blade.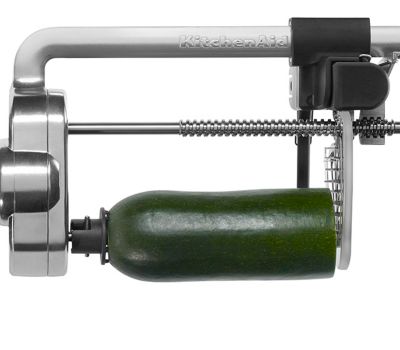 Premium Metal Construction
Provides durable long lasting performance, and when attached to the stand mixer, provides stability and ease of use.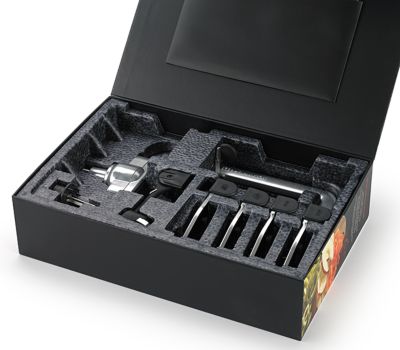 Convenient Storage
Packed and organized inside its own storage case, designed for easy access and simple storage.
Dishwasher Safe
All Blades are dishwasher safe on the top rack. The body can be wiped clean with a warm damp cloth.

Model KSM1APC includes
Fine spiralizing blade, medium spiralizing blade, spiral slicing blade with 12 mm corer, spiral slicing blade with 23 mm corer, peeling blade, and fruit and vegetable skewer.
Reviews
Rated 5 out of 5
by
BL67
from
Great!
Great item! I can't wait to use it over the summer with fresh veggies from the garden!
Date published: 2018-02-22
Rated 4 out of 5
by
Nana7
from
Awesome
This was a Christmas gift and I love it. I like to eat healthy and this makes it fun.
Date published: 2018-02-22
Rated 5 out of 5
by
eszwarga
from
My favorite kitchen gadget
I bought this so I could indulge my love of zucchini noodles and I am so happy I did. It is a breeze to set up and also to clean. It makes zucchini noodles in no time flat!
Date published: 2018-02-22
Rated 5 out of 5
by
EMack
from
Well made!! Does an excellent job!!
I purchased this not knowing really what to expect. It came really well packaged and just FEELS like quality. Making zucchini noodles has never been easier! Same for spiralizing potatoes and coring/cutting apples. I love it!! Would definitely recommend to anyone who has this mixer. Why WOULDN'T you get this!?
Date published: 2018-02-22
Rated 4 out of 5
by
Valorie81
from
Great product
The spiralizer is easy to assemble and use. Only reason I gave it a 4 star instead of 5 is I would have appreciated the overall length to be a little longer. You really have to cut the longer items (like zucchini) pretty short to get them to fit in the holder. I also had to go back separately purchase the other 2 blades.
Date published: 2018-02-20
Rated 4 out of 5
by
itsdot
from
Easy and Fun
Easy to use and makes food fun to prepare and eat. Great way to 'disguise' vegetables
Date published: 2018-02-19
Rated 5 out of 5
by
lovealwayslisa
from
A MUST-HAVE KITCHENAID ACCESSORY
I bought this accessory after several attempts at less expensive handheld and crank vegetable spiralizers- this is BY FAR the best quality and easiest to use! I have used it already dozens of times since purchasing it at the beginning of 2018 when starting a paleo diet/lifestyle. I personally enjoy making curly fries with sweet potatoes and spaghetti from multicolored carrots. The options are numerous with this tool! The multiple different blades offer different options and I have enjoyed searching the web for new and interesting recipes I can use this attachment for! All in all, love it and HIGHY RECOMMEND!
Date published: 2018-02-16
Rated 5 out of 5
by
MeliK
from
Great addition to my appliances!
I bought this to make veggie noodles! Great product!
Date published: 2018-02-16
Rated 5 out of 5
by
JCK720
from
Perfect Accessory
Very good construction and works well. Easy to use.
Date published: 2018-02-16
Rated 5 out of 5
by
Erikson
from
Not a gadget that stays on the shelf!!
We bought this KitchenAid attachment about a month ago and have used it almost every week! We love using it to make sweet potato and potato slices and then baking them in the oven. We can't wait to harvest our garden to try making vegetable spaghetti. This is not a gadget that stays on the shelf collecting dust!
Date published: 2018-02-16