Sausage Stuffer Kit
Sausage Stuffer Kit is rated out of 5 by 34.
Make homemade breakfast sausage, brats and more with the KitchenAid® Sausage Stuffer Kit, made to work exclusively with the Food Grinder Attachment (Model FGA, sold separately).
Other - SSA
Features
Designed for the Food Grinder Attachment
To make small or large sausages from scratch (Requires model FGA, sold separately).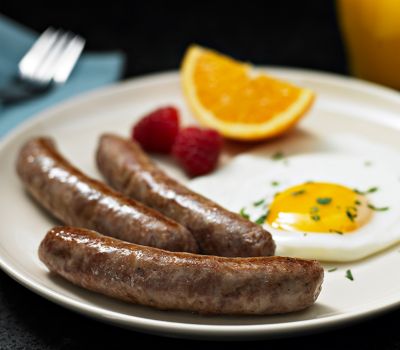 3/8" Stuffing Tube
For breakfast and other smaller sausages.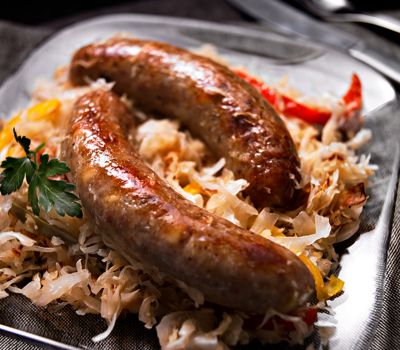 5/8" Stuffing Tube
For larger varieties, such as Bratwurst, Italian or Polish Sausage.
Reviews
Rated 5 out of 5
by
Chen
from
For Better Speed: Add Water to Sausage Mix
I see many people writing negative comments on this sausage stuff because they are having problems feeding the meat through the apparatus and the solution is to add liquid to the mix like water or cider. I have had the same problem many here describe on other sausage stuffing equipment not made by Kitchenaid but through lots of trial and error found the secret to good sausage making is adding water to the mix. When the mix is too lean the problem becomes worse and more water is needed. Meat will dry out quickly after it is ground and this is the reason for fresh meat being preferred. The nearer the time after slaughtering the animal the better the performance of the meat mix. If you are worried about too much water in the mix then expirament by incrementally adding water to the mix until the proper flow through the sausage stuffing tube is achieved. You may even need to add more after the mix sits for a time. I hope this helps everyone!) BTW Kitchenaid is owned by Hobart, which is a highend manufacturer of industrial food processing equipment.
Date published: 2017-12-02
Rated 1 out of 5
by
Ed S-J
from
Slow, Slow, Slow
My wife and I tried to do approx. 30 lbs. (I know it's alot). However, the speed of the sausage stuffer was ungodly slow. We finally had to put some in freezer bags so we could get some sleep. Maybe the sausage stuffer is good for very small batches but that is it.
Date published: 2017-11-25
Rated 5 out of 5
by
cfomahm
from
First Time Sausage Maker Success
I read all the reviews of this product and was really worried it would not work properly. WRONG. I never made sausage before. In fact I had never even used a meat grinder before. I looked at numerous videos of sausage making before I tried for the first time and paid attention to 1) keeping the meat cold, 2) not trying to force the meat down the feeder - let gravity and the machine do the job, and 3) greasing the horn before putting the casings on it. Neither the grinding or the stuffing is lightning fast. You have to have patience. Don't try to push the meat down the feeder too hard and do not set your speed too high (I used #1). It will all get there and you do not have to watch it every moment, especially during the grinding process. It was actually pretty easy. Just keep putting your meat back in the fridge to keep it cold between loads on the feeder tray. I added my spices after the first grind, put the meat through again on fine and then fried up a sample to test for taste. I did not need a second pair of hands to deal with the link as it came off the stuffer. If you keep the machine on low, the sausage will not come out so fast that you can't control the fill. No problem at all with air in the casing. I made 5# of Italian last night and 5# of breakfast this morning. As I said, I never did this before and it was EASY. (Except for turning it into links. It was hard to get them the same size but that is user error, not the KitchenAid. I need some experience under my belt to get better at it.)
Date published: 2017-10-10
Rated 1 out of 5
by
DTCJEM
from
Kitchen Aid Grinder Stuffer
Bought the Grinder and Sausage Stuffer. Don't waste your time. Feed neck is small, and plunger design is a mess. Much smaller than opening so meat gets caught around it when going through a second grind. Does okay on first bring is the mead is really cold but worm gear doesn't want to grab the meat. Be prepared to work hard and be very frustrated. Stuffing Sausage.....forget it! Lots of air from bad plunger design.
Date published: 2017-07-03
Rated 4 out of 5
by
Sarah
from
Needs two people but works great
Main point- it takes 2 people. One putting the meat in and one on the other side with the casing. Like this it works great with few problems. Only issue we have is we've used it so much, the part of the tube the connects to the grinder is cracking. Thankfully it's a rather inexpensive kit. Well worth it in my opinion
Date published: 2017-06-23
Rated 1 out of 5
by
Dan
from
Waste of time and money!
Bought this to start making my own sausage to smoke in my smoker. Tried it one time and swore that I wasn't even cleaning it and just throwing the unless plastic in the trash. Somehow my wife found, cleaned and put it away and then encouraged me to try it one more time. Should have thrown it away last time, just like I threw away my money when I purchased it. Pros: Not one single thing I can think of. The plunger is close to 1/4" smaller than the neck of the stuffer so when you are trying to push the meat through the worm gear you just have all of the meat squeeze up and around the plunger. 25 minutes into the task I wound up with 2" of something you could possibly call sausage. All I really managed to stuff into the casings was air. Not sure how this even made it on the shelf to be sold to anyone. Save your money and look away.
Date published: 2017-06-09
Rated 1 out of 5
by
Geo315
from
Sausage stuffer kit,
I have used the kit on and off for three years. Every time I use it I swear that I will not use it again. The stuffing cones broke around the fat end neck. The meat must be near frozen to get it to go into the tube. It destroys cheese. I am done with it. Unless they come out with a replacement. Geo.
Date published: 2017-05-30
Rated 1 out of 5
by
Retired and luvin it
from
What a disappointment!
I bought this sausage stuffer because I love my KitchenAid grinder,use it all the time and works great but the stuffer is a big disappointment. The plunger is not tight to push the meat down to the worm. The worm does not grab the meat do you are constantly trying to push the ground meat down with your fingers to get the air out ultimately getting a lot of air in your casing. I had watched a lot of the videos on using the stuffer and they looked so easy. It took an hour to do 1 pound of sausage because I had to keep stopping and manually work the air out of the casing. Not what I had expected.
Date published: 2017-05-28
Rated 1 out of 5
by
Laura
from
Once and done
What a nightmare. I wanted to love this so much. And then I used it. What a disaster... There is a major issue of air suction/vacuum with the tamper, and there is no gravity helping you whatsoever. The auger doesn't want to catch the meat at all unless you are constantly pushing down hard with the tamper... I would have been better off just sticking the meat in a pastry bag and squeezing it into the casing - at least then I wouldn't have to keep fighting the meat coming back out or getting stuck to the tamper. Absolute flop. The only upside is that it was pretty easy to clean. It took my husband and I 2-3 hours to stuff just under 5 lbs worth of sausage, and that was through sheer determination.
Date published: 2017-05-01
Rated 4 out of 5
by
Skip
from
Was worried but it worked great
After reading so many negative comments, I was a little concerned. But for the price we thought we would try it. Following directions made the process simple and quick. Only downside was the size and design of the plunger. It let too much mix come back up the tube (easy to remedy). It is best with two people working it. You're not going to make several hundred pounds in an afternoon, but it is great for a 5-10 lb run for the family.
Date published: 2017-04-17
Demos & Guides
guides
Use & Care Guide
Comprehensive information about your new appliance - from getting started to cleaning and maintenance.