3-Piece Pasta Roller & Cutter Set
3-Piece Pasta Roller & Cutter Set is rated out of 5 by 110.
No longer settle for pre-packaged pasta when making it fresh is easy and tastes so much better. Powered by the KitchenAid® Stand Mixer, the 3-Piece Pasta Roller and Cutter Set makes authentic, fresh pasta from scratch quickly and easily. Includes Pasta Roller, Spaghetti Cutter and Fettuccine Cutter. Made in Italy.
Other - KSMPRA
Features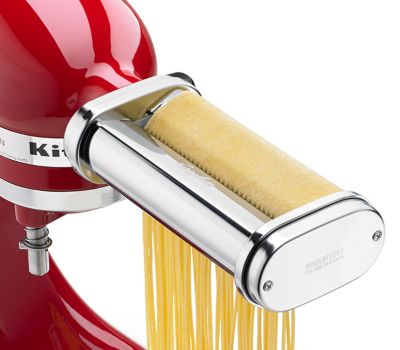 Powered by your KitchenAid® Stand Mixer
To make quick and easy work of fresh homemade pasta in your kitchen using the 3-Piece Pasta Roller & Cutter Set. Fits all Household KitchenAid® Stand Mixers.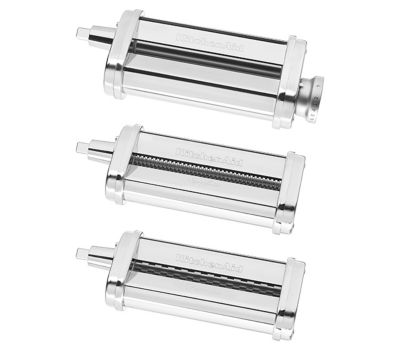 Commercial Style Stainless Steel Rollers and Cutters
For smooth rolling and clean cutting of pasta dough.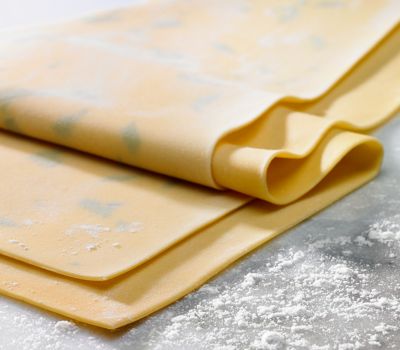 Pasta Roller
Rolls 6-inch sheets of pasta with 8 thickness settings to adjust to your desired sheet thickness.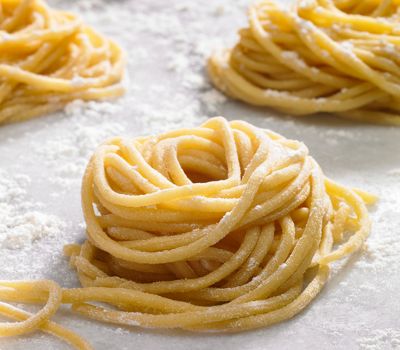 Spaghetti Cutter
Cuts pasta sheets into classic Spaghetti noodles.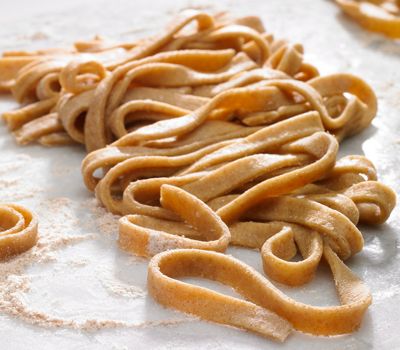 Fettuccine Cutter
Cuts pasta sheets into hearty Fettuccine noodles.

Model KSMPRA includes
(1) Pasta Roller, (1) Fettuccine Cutter, (1) Spaghetti Cutter, (1) Cleaning Brush
Reviews
Rated 5 out of 5
by
Maggie421
from
Time saver!
I purchased a pasta attachment for my KitchenAid awhile back. It is fantastic! I have been making pasta for decades, hand- kneading and with a crank roller. Pasta was drying on all my surfaces because it was so labor-intensive I had to make some to freeze. KitchenAid makes it so easy, with making dough to cooking in just minutes!
Date published: 2017-11-24
Rated 1 out of 5
by
Chris T
from
Second set of these rollers, both bad
I don't use them but once a year, but my first set broke one of the plastic gears, and now my second set has as well. At $150 each set, I'd expect metal gears. No, I didn't over load them...No, I didn't shove something in there. Normal usage with Semolina based flour. Now I know why they sell refurbished units. I'll have to find a different solution moving forward because I'm not willing to spend another $150 to have them fail again.
Date published: 2017-11-19
Rated 4 out of 5
by
Pasta queen 3
from
Looking forward!
I've only had a chance to use this once. I was not totally pleased but think there is a bit of a learning curve. I feel positive that I will be very happy with this!
Date published: 2017-11-06
Rated 5 out of 5
by
GaminoA
from
Pasta made easy!
This is the first attachment I have bought to use with my Kitchen Aid stand mixer. My son wanted to learn how to make my spaghetti and meatballs and asked if we could try making pasta for the first time. These tools made it so easy we may never get store bought spaghetti again. Loved the tools that made this moment with my son wonderful and memorable.
Date published: 2017-10-29
Rated 5 out of 5
by
Deepgan
from
Great product!
I have always wanted to buy the pasta attachments and finally bought it few days ago and what a wonderful experience! The spaghetti came out just right the very first time. Very happy with the product!
Date published: 2017-10-28
Rated 5 out of 5
by
Grana
from
Absolutely love this
I have used this 3 times since receiving them. I used it with my grandkids. My granddaughter, who is 7, ran it by herself, (of course I was there to supervise). We had so much fun! Very easy to use. I've only made a basic noodle recipe, and am anxious to make other types of noodles.
Date published: 2017-10-20
Rated 5 out of 5
by
pj1957
from
Easy to use!
So easy to use and makes a great product. Worth it's weight in gold for the fresh product!
Date published: 2017-10-09
Rated 5 out of 5
by
Loves to Cook
from
Works Like a Charm!
I bought this recently and made my first batch of pappardelle with the roller attachment. So, so easy, and the pasta was excellent. I highly recommend these attachments (not to mention the superb KitchenAid Proline mixer!)
Date published: 2017-07-21
Rated 5 out of 5
by
Jccwc
from
Love these attachments
I have this set and another one because I like it so much. It's easy and quite therapeutic to make fresh pasta from scratch using these attachments. Since I started using them I no longer buy pasta at the market. Nothing can compare to homemade. The rollers cut nicely (made sure your pasta isn't too wet or the pasta strands will not separate), they're easy to attach to my mixer, and easy to clean (never put them in water), just allow them to dry and wipe clean with the brush provided or a dry cloth. If you're a beginner set the speed on slow, as you gain control and experience turn up the speed. These beat using a hand crank pasta maker, believe me I've experience in that department.
Date published: 2017-07-14
Rated 5 out of 5
by
sidedraw
from
Great for a Beginner
I've never made pasta before and these made it very easy. Works great! I would recommend these for anyone wanting to try making their own pasta.
Date published: 2017-07-12
Demos & Guides
guides
Use & Care Guide
Comprehensive information about your new appliance - from getting started to cleaning and maintenance.