Artisan® Mini 3.5 Quart Tilt-Head Stand Mixer
Artisan Mini 3.5 Quart Tilt-Head Stand Mixer is rated out of 5 by 155.
Mini Mixer. Powerful Performance. The Artisan® Mini tilt-head stand mixer makes up to 5 dozen cookies in a single batch, with the same power as the full size KitchenAid® tilt-head Stand Mixers while being 20% smaller, 25% lighter. KitchenAid® Artisan® Mini compared to the full size KitchenAid® tilt head Stand Mixers.
Hot Sauce - KSM3311XHT
Features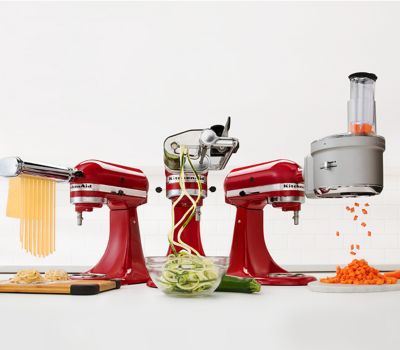 For Everything You Want To Make™
Turn your stand mixer into the culinary center of your kitchen. With over 10 different attachments, you can make everything from fresh pasta to burgers, veggie noodles and more.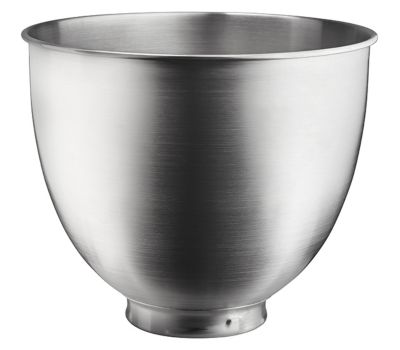 3.5 Quart Brushed Stainless Steel Bowl
Enough capacity to mix up to 5 dozen cookies, a loaf of bread, a batch of guacamole, pulled pork and more.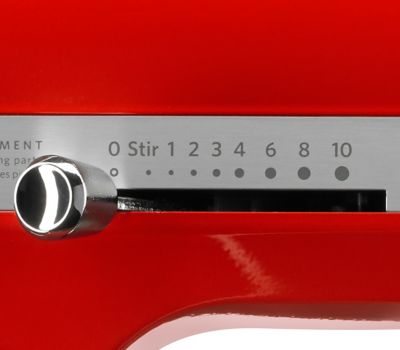 10 Optimized Speeds
Powerful enough for nearly any task or recipe, whether you're stirring wet and dry ingredients together, kneading bread dough or whipping cream.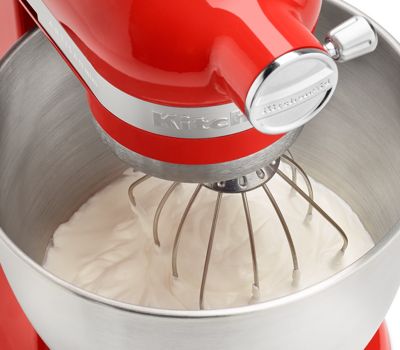 Soft Start®
Helps to avoid ingredient splash and flour puff by starting at a lower speed.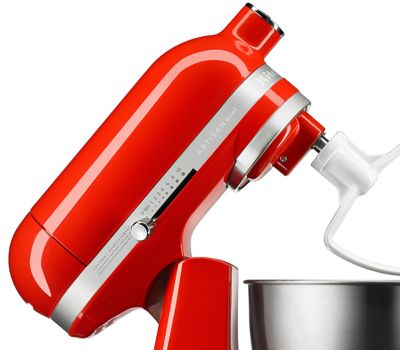 Tilt-Head Design
Allows clear access to the bowl and attached beater or accessory so you can easily add ingredients for a recipe. Locking the head into place during operation keeps the beater-to-bowl contact close and efficient.

Model KSM3311 includes
(1) Coated Flat Beater, (1) Coated Dough Hook, (1) Wire Whip
Specifications
Configuration and Overview
Design
Bowl Finish
Polished Stainless Steel
Includes
Included Accessories
6 Wire Whip, C - Nylon Coated Dough Hook, Nylon Coated Flat Beater
Show More Specifications
Reviews
Rated 5 out of 5
by
rlk43
from
Perfect!
This is the perfect mixer. Small enough to keep it out on the counter, but big enough for whatever I'm baking. It is not big enough if you are trying to make a double batch of anything.
Date published: 2018-01-15
Rated 5 out of 5
by
lindap110
from
Fabulous addition to our kitchen
I got this a bit over a year ago for our winter getaway home, I now use it more than any appliance in my kitchen except my magic bullet! It's as powerful as my large stand mixer in our full time home and much quieter. My 9 year old granddaughter can manage it so thinks it's great to help me in the kitchen. We started using it for cookies and bread but have discovered it's great for mashed potatoes, meatloaf and meatballs and a multitude of other goodies. There are many good ideas on the internet. I am now researching attachments that may help me eliminate some other items in my kitchen.
Date published: 2018-01-13
Rated 5 out of 5
by
Reese82
from
The best way to a lady's heart ❤
All I know is my life would so empty without my kitchenAide, lol. But all jokes aside, this is a must for your home. very diverse and makes it easy to multitask in the kitchen, and let's not forget the beautiful finish which brings such a elegant look to your kitchen!
Date published: 2018-01-09
Rated 5 out of 5
by
Amy53
from
Perfect size
Received as gift. Love it. Planning to order pasta attachments soon.
Date published: 2018-01-06
Rated 5 out of 5
by
Anonymous
from
beautiful color, great performance.
I received this for Christmas and it is the best gift I've ever received. Just the right size for my small family, easy to use and does a great job!
Date published: 2018-01-03
Rated 4 out of 5
by
GayleH
from
Quiet and powerful!
It was so quiet and smooth in operation. I could feel the power when I needed it but it remained very quiet.
Date published: 2018-01-02
Rated 5 out of 5
by
squid69
from
Just right !
I am a senior and was given this mixer as a gift for Christmas. It is the perfect size ! Now I can explore baking !
Date published: 2018-01-02
Rated 5 out of 5
by
Mariana
from
The perfect gift for the home cook.
I received this as a Christmas gift and I have already used it to significantly improve the output of several recipes, sweet and savory! The mini size fits perfectly in my minimalist Nordic style kitchen and the matte white finish adds a stylish, luxury touch to my decor. One of the best products I have used and I am looking forward to years of use and experimenting with different accessories.
Date published: 2018-01-02
Rated 5 out of 5
by
IanB
from
All the utility with a smaller footprint
I bought thie mini stand mixer for my girlfriend as a gift and it's been a hit since day one. This machine works just like it's larger counterparts. Plus the added bonus of a smaller footprint makes it ideal for those of us who live in an apartment and/lor have limited counter space. I recommened this product to anyone.
Date published: 2018-01-02
Rated 5 out of 5
by
Bakinggrannie
from
Love it
This mixer makes my life so much easier and it is very easy to clean.
Date published: 2018-01-02