Artisan® Mini 3.5 Quart Tilt-Head Stand Mixer
Artisan Mini 3.5 Quart Tilt-Head Stand Mixer is rated out of 5 by 222.
Mini Mixer. Powerful Performance. The Artisan® Mini tilt-head stand mixer makes up to 5 dozen cookies in a single batch, with the same power as the full size KitchenAid® tilt-head Stand Mixers while being 20% smaller, 25% lighter. KitchenAid® Artisan® Mini compared to the full size KitchenAid® tilt head Stand Mixers.
Empire Red - KSM3311XER
Features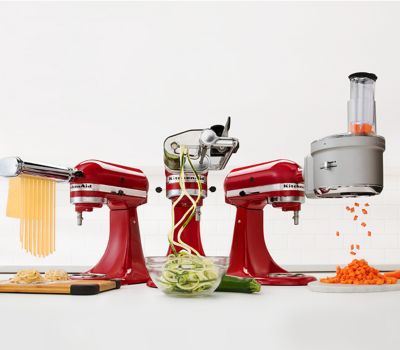 For Everything You Want To Make™
Turn your stand mixer into the culinary center of your kitchen. With over 10 different attachments, you can make everything from fresh pasta to burgers, veggie noodles and more.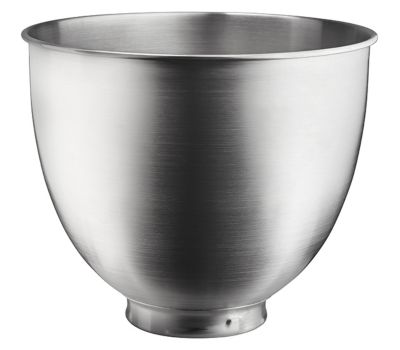 3.5 Quart Brushed Stainless Steel Bowl
Enough capacity to mix up to 5 dozen cookies, a loaf of bread, a batch of guacamole, pulled pork and more.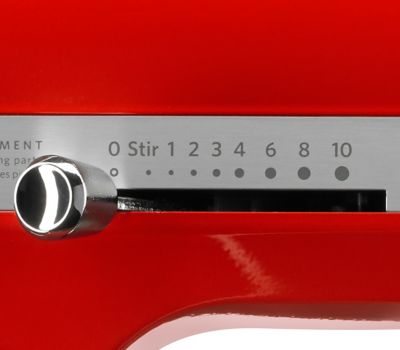 10 Optimized Speeds
Powerful enough for nearly any task or recipe, whether you're stirring wet and dry ingredients together, kneading bread dough or whipping cream.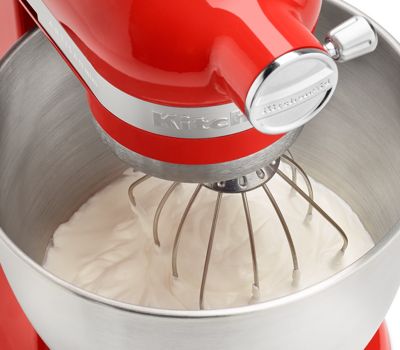 Soft Start®
Helps to avoid ingredient splash and flour puff by starting at a lower speed.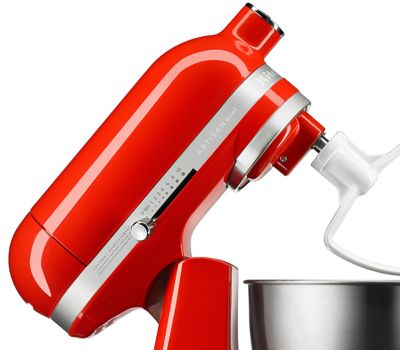 Tilt-Head Design
Allows clear access to the bowl and attached beater or accessory so you can easily add ingredients for a recipe. Locking the head into place during operation keeps the beater-to-bowl contact close and efficient.

Model KSM3311 includes
(1) Coated Flat Beater, (1) Coated Dough Hook, (1) Wire Whip
Specifications
Configuration and Overview
Design
Bowl Finish
Polished Stainless Steel
Includes
Included Accessories
6 Wire Whip, C - Nylon Coated Dough Hook, Nylon Coated Flat Beater
Show More Specifications
Reviews
Rated 5 out of 5
by
Uncleroy
from
3.5 Artisan Mini Quart Tilt-Head Stand Mixer
I bought a refurbished and there was a problem with it. I called KitchenAid and they are sending me a replacement. Used it once and it worked fine. Second time using it I had a problem with it stopping. If you can't afford a new one get a replacement one.
Date published: 2018-02-19
Rated 5 out of 5
by
hershey
from
Efficient, powerful, fast, compact size
I bought this beautiful Mixer as christmas gift for myself. It works very well doing its job very Sturdy and fast. I like the smaller size and the color. It is just right for my kitchen!
Date published: 2018-02-16
Rated 5 out of 5
by
Lovelee
from
Got for Christmas enjoy it very much
No photo I love the red mixer that I got as a gift for Christmas mine I had blow up while I was making candy go Christmas
Date published: 2018-02-16
Rated 5 out of 5
by
soyalba
from
Artisan Mini not just for Artisans!
I bought this as a Christmas gift to myself with thoughts that it would be great for our out of the country move this year. It weighs in so much lighter than our classic 20 year old model. I have used it several times and it has been absolutely perfect. The attachments do fit and it makes me happy that I can have my cake and eat it too! I can easily carry a less than 15 lb unit in our luggage (or ship it if we decide to go that route) as my KitchenAid is a necessity in my kitchen. Thank you, Kitchen Aid for a wonderful product. The tilt head is a feature that isn't on my older model and I love it!!!
Date published: 2018-02-14
Rated 5 out of 5
by
Suzannyc
from
It's magic!
I live in a small NYC apartment and have very little counter space! This mixer is light enough to keep in a lower cabinet and lift out whenever I need it! And I need it often! i love it! It could not be more perfect.
Date published: 2018-02-14
Rated 5 out of 5
by
Sweetbug79
from
Life is so much easier!
I used to hate baking! But now that I have the mini stand mixer, it's so much more enjoyable! Cleanup is a breeze and it fits perfect on my counter!
Date published: 2018-02-14
Rated 4 out of 5
by
Mable2
from
Handle
Only thing I would like is a handle on bowl.. Bought a few weeks ago.like the size and weight.
Date published: 2018-02-13
Rated 4 out of 5
by
Mrs Huset
from
Great features
I purchased this mixer about a month ago and am happy with it.
Date published: 2018-02-12
Rated 5 out of 5
by
Neubie
from
Excellent for a two person household!
The item weighs only 18 pounds which is easier to pick up and manipulate. The tilt head makes it even easier to use. Love it! The only thing I thought could have been better designed was the paddle attachment: it should have an inner, vertical support to better incorporate ingredients. Also, I missed a recipe book scaled down to the smaller proportions of the mini mixer capacity
Date published: 2018-02-12
Rated 5 out of 5
by
Robbierae
from
LOVE LOVE LOVE!!
I don't know how I did without this all there years, but I'm making up for lost time.
Date published: 2018-02-12