Artisan® Design Series 5 Quart Tilt-Head Stand Mixer with Glass Bowl
Artisan Design Series 5 Quart Tilt-Head Stand Mixer with Glass Bowl is rated out of 5 by 688.
The KitchenAid® Artisan® Design Series 5 Quart Tilt-Head Stand Mixer features a premium metallic finish and elegant glass mixing bowl, adding radiance to any kitchen. It also offers the capacity to make up to 9 dozen cookies in a single batch and 10 speeds to thoroughly mix, knead and whip ingredients quickly and easily. For even more versatility, use the power hub to turn your stand mixer into a culinary center with over 10 optional hub powered attachments, from food grinders to pasta makers and more. SALE OFFER: Limited time offer. Excludes Parts & Accessories. Not valid with any other offers or mail-in rebates.
Sea Glass - KSM155GBSA
Features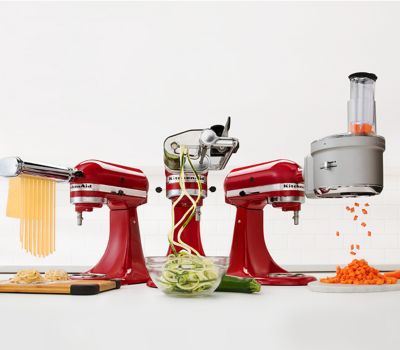 For Everything You Want To Make™
Turn your stand mixer into the culinary center of your kitchen. With over 10 different attachments, you can make everything from fresh pasta to burgers, veggie noodles, ice cream and more.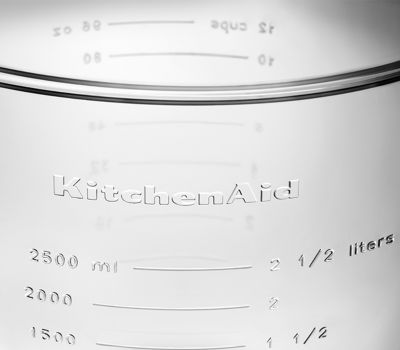 5 Quart Glass Bowl with Measurement Markings
Adds an extra touch of elegance to your kitchen and features a convenient pouring spout.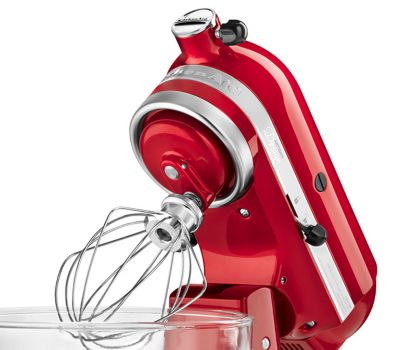 Tilt-Head Design
Clear access to the bowl, so you can easily add ingredients for a recipe. Locking the head into place during operation keeps the beater-to-bowl contact close and efficient.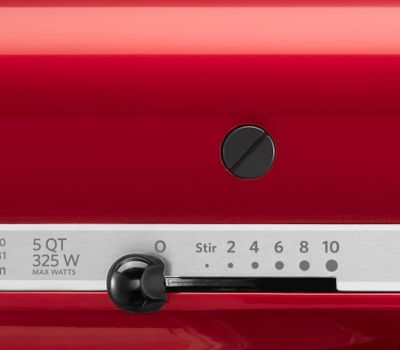 10 Speeds
Whether you're stirring wet and dry ingredients together, kneading bread dough or whipping cream it's powerful enough for everything you do.

Model KSM155GB includes
(1) Burnished Flat Beater, (1) Burnished Dough Hook, (1) 6-Wire Whip
Specifications
Configuration and Overview
Bread Yield -Loaves
4 1/2
Mash Potato Yield - Pounds
7
Design
Bowl Handle
Comfort Handle
Direct Drive Transmission
Yes
Includes
Included Accessories
6 Wire Whip, Burnished Metal Flat Beater, C - Burnished Metal Dough Hook
Show More Specifications
Reviews
Rated 4 out of 5
by
Daisy6570
from
Best addition to a kitchen ever!!!
I have wanted a kitchenaid stand mixer for as long as I can remember. I got a really good deal at a black Friday sale, and now all of my dreams have come true! Not only is it beautiful (so beautiful that it is out on display at all times!), but it fills all of my culinary needs as well!
Date published: 2017-12-10
Rated 4 out of 5
by
Ticia
from
A little unhappy with the bowl
My boyfriend bought this for me for xmas. unfortunately and fortunately for me the way it was shipped I could see that it was a kitchenaid so he gave it to me early:) I used it for the first time last night and when I went to take the bowl off the base, the grey attachment "mount" on the bottom of the bowl that anchors into the stand, was separated from the bowl, so the bowl kept spinning but the grey mount piece was stuck. my boyfriend needed to use a screwdriver to push on the grey piece to allow it free from the stand. It is a unfortunate thing for such an expensive piece of appliance. I was so excited to have this mixer and bowl.
Date published: 2017-12-09
Rated 5 out of 5
by
AH540
from
I Fell in Love with the Color!
I bought this a few weeks ago. I've had a Kitchenaid stand mixer for 25 years that works perfectly. I just wanted a new color and the glass mixing bowl. This was purely a want, not a need. I'm so glad I upgraded to the Artisan sea glass stand mixer. Every time I see it, it makes me smile. I purchased it at a great price on Black Friday. Im keeping my tried and true friend of many years but I just love the new one too and the best part is that all the attachments that I purchased for the old mixer work seamlessly with the new one. A satisfied and loyal Kitchenaid customer!
Date published: 2017-12-09
Rated 5 out of 5
by
Dnyce
from
High Quality Product
Love this mixer. I'll never use another hand mixer again when making cakes.....#KitchenaidRocks!!
Date published: 2017-12-09
Rated 5 out of 5
by
Anonymous
from
I love this mixer!
I've been wanting this mixer for some time now and I finally bought it! It more than meets my expectations and I can't wait to buy a few attachments to tackle some other projects.
Date published: 2017-12-08
Rated 5 out of 5
by
Elba15
from
Just the right size
We had a professional model but found it rather heavy and hard to get in and out. So, we got the Artisan 5 Quart with tilt-head and consider it a better size and easier to use. We like the tilt head.
Date published: 2017-12-08
Rated 4 out of 5
by
Jrod97
from
Awesome
Works great for Christmas cookies and all kinds of bread dough
Date published: 2017-12-08
Rated 4 out of 5
by
Baker76
from
Well Pleased
I ordered this mixer online and when it came I was very excited to open the box and try it out but to my disappointment the main beater piece was missing. So I called CS immediately and they said they would send that piece out right away and to my amazement it arrived in just a couple of days later by FedEx and I thankful for the great customer service. I was able to try out my new mixer and it worked great. In a snap I made a batch of chocolate chip cookies in half the time it normally takes me with my little hand mixer. I'm sure I'll be doing a lot more baking now that I have a good mixer to help cut out some extra work.
Date published: 2017-12-08
Rated 5 out of 5
by
beachbouy
from
Excellent product
Replaced a 1960's Sunbeam of similar design and what a difference! It is nice that there are so many available attachments that we were not able to find for the older mixer.
Date published: 2017-12-07
Rated 5 out of 5
by
cotton11
from
Wonderful
I have been using KitchenAid for over 30 years this is the best machine I was very disappointed that my machine broke but now that I got a new one I love it it's red
Date published: 2017-12-07