4-Quart Multi-Cooker
4-Quart Multi-Cooker is rated out of 5 by 164.
Make great cooking simple with this all -in -one cooking system. Over 10 cooking settings for everyday dishes, one pot wonders, gourmet masterpieces and more. Risotto, rice, sear, sauté, simmer, soup, yogurt , boil/steam, slow cook high and low, keep warm (up to 24 hours). SALE OFFER: Limited time offer. Excludes Parts & Accessories. Not valid with any other offers or mail-in rebates.
Candy Apple Red - KMC4241CA
Features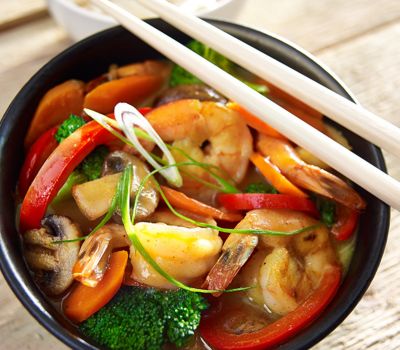 For Cooks of all Levels
With over 10 easy to use settings (4 step-by-step): risotto, rice, sear, sauté, simmer, soup, yogurt , boil/steam, slow cook high and low, keep warm (up to 24 hours).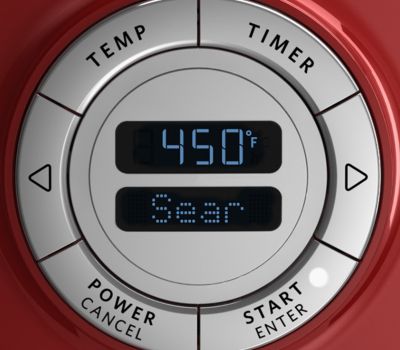 Perfect Results, Every Time
With the precise temperature control and settings, ensuring consistent results for every recipe.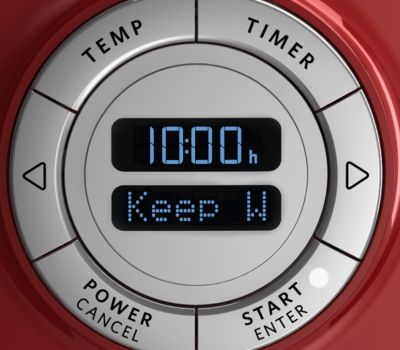 Guided Digital Display
With simple step-by-step instructions for a variety of settings.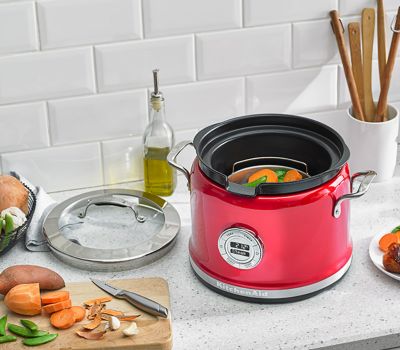 12 Hour Programming
And 24 Hour Keep Warm mode so your recipe is hot and ready just when you need it.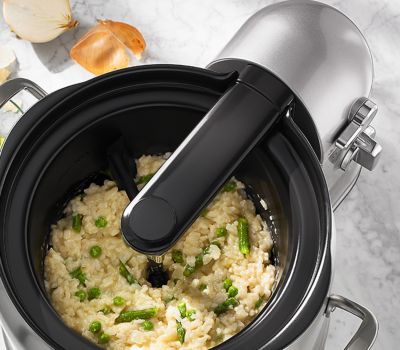 Mix, Flip, Stir and Scrape
Ingredients in your KitchenAid® Multi-Cooker with the optional Stir Tower Accessory (model KST4054, sold separately) for even and thorough cooking.

Model KMC4241 includes
(1) 4-Quart non-stick, ceramic cooking vessel, (1) Glass lid with pour spout, (1) Dual purpose steam basket/roasting rack
Specifications
Configuration and Overview
Number of Temperature Settings
10
Design
Lid
Glass with 3 Positions;Closed, Open, or Strainer
Electronic Temperature Sensor
Yes
Handle
Metal with Soft Touch Grip
Show More Specifications
Reviews
Rated 5 out of 5
by
Tochi73
from
Great
I bought this one year ago and I'm so happy. It's Practical and easy to use
Date published: 2017-10-21
Rated 5 out of 5
by
Charles the runner
from
Great looking and great results!
I bought this recently and have been using it weekly to make meals prior to Shabbat (Jewish holy day every Friday evening through Saturday evening). The multi-cooker cooks stews, soups and other meals to perfection and keeps them warm for us to eat for our Shabbat meals. Love that. During the rest of the week, we're able to use it to make nutritious dinners that are as tasty as they are economical. It's the best appliance purchase we've made since the Kitchen-Aid Stand Mixer!
Date published: 2017-08-19
Rated 5 out of 5
by
Christopher Mehelic
from
Great machine
I bought a month ago and just used it recently it truly is a great invention slow cooker and high temperature cooker all in one
Date published: 2017-08-17
Rated 4 out of 5
by
Love my kitchen
from
Looking good
I love kitchen stuff but I was promised recipes if I registered. I'm still waiting. Looks like a great machine but I want more than just a slow cooker, so please send me something good to try.
Date published: 2017-05-26
Rated 5 out of 5
by
Mangopickle
from
Solved all my slow cooker problems
I have been stymied for years with inconsistant roasts in my slow cookers. All too often the meat was overcooked with no flavor due to the low setting still being too high and essentiall boiling the meat. This slow cooker has solved that problem. I can set it at 200 degrees and 4-6 hours later have a fabulous succulent pot roast. I do not use the sear feature. I have no interest in that as I always sear my meat in a cast iron skillet. My best recipe is beef bourginon.
Date published: 2017-03-29
Rated 3 out of 5
by
John Z
from
Simmer function not adjustable for high altitude
I bought this last year. Works well enough but problem is I live at high altitude 5000ft. The preset simmer function is a rolling boil at 210F. Wish I could adjust down 5 deg or so but customer service says sorry not able to do it. Need to avoid using any preprogrammed modes using simmer.
Date published: 2017-03-26
Rated 5 out of 5
by
Shelby
from
Sleek and functional
I love to cook and when a highly functional tool can make it that much easier count me in
Date published: 2017-03-19
Rated 5 out of 5
by
Jay
from
Love the design
Bought my multi-cooker a couple months ago and love it! Very easy to use and convenient. I have converted some of my stove top recipes to adapt to the multi-cooker.
Date published: 2017-03-05
Rated 5 out of 5
by
Colorado Grandma and Grandpa
from
Love the multi-cooker! Much better than slow cooker!
We rated this as a 5 for the convenience and the easy clean up. The only negative comment is that there are some slight "chips" on the surface of the insert.
Date published: 2017-02-28
Rated 5 out of 5
by
Tinab04
from
Does it all!
I've only had this appliance a little over a week but I'm in love. It is so easy to use and I love the metallic look of it. It's a lot bigger than I anticipated but its super light. I love how after it cooks it will keep your food warm.
Date published: 2017-02-23