Ice Cream Maker
Ice Cream Maker is rated out of 5 by 363.
Make up to 2 quarts of fresh ice cream, sorbet and a variety of other frozen desserts quickly and easily. (Fits all Household Stand Mixers 4.5 Quart and larger).
White - KICA0WH
Features
Ice cream, gelato or sorbet
Makes up to 2.0 quarts of our your favorite frozen treat in 20-30 minutes. Allow your ice cream bowl to freeze at least 24 hours prior to use.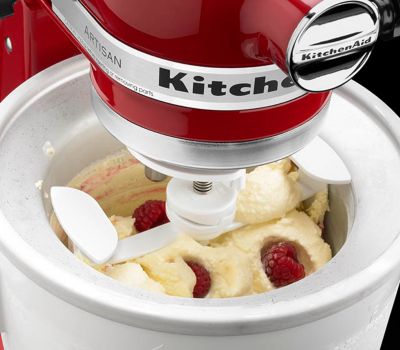 Thorough ingredient incorporation
With the dasher which rotates inside the bowl to spread, scrape and mix.

Easy to Clean
With warm soapy water.
Reviews
Rated 5 out of 5
by
Surfer52
from
Great accessory, No more Breyers.
First attempt and it worked flawlessly. Wife and we're happy with the product so much better than store bought.
Date published: 2017-11-26
Rated 5 out of 5
by
1 Jim G
from
Easy to use
Easy to use This makes ice cream so easily create your own flavors and textures of ice cream in minutes with this tool one of the best ice cream makers I've ever used
Date published: 2017-11-23
Rated 5 out of 5
by
Sjb185
from
Love this gizmo!
I have been using this for past 5 years or so and it makes great ice cream. I bought the Ben & Jerry's ice cream cookbook and they are a great pairing!
Date published: 2017-11-22
Rated 5 out of 5
by
Slice of Bliss
from
Far better than expected
I was a bit hesitant at first, but I got a great deal on it and decided I had to try it for myself. I like the design, no metal to rust out like my old ice cream makers. I am a pastry chef and own 3 different models of Kitchenaid stand mixers spanning over a decade between them and this fits them all perfectly. From the tilt up model I first bought in 2000 to the 6qt professional model I got in early 2017. I personally would prefer a model that plugs in to chill, but I know this isn't likely possible, so the self cooling option that this offers is still amazing. All the ice and salt I've wasted over the years, which inevitably damages the equipment and forces me to buy more has always annoyed me. I've had nothing leak on me thus far, but I will remain on watch for that. As for the actual operation, simple. It makes ice cream. Reliable and simple, I've no need to worry over temperature or leave it sitting outdoors or in a bathtub like traditional ice cream makers. The best thing I can offer is the same advice I give to the newer cooks in my kitchen. Treat your equipment with respect and it will last.
Date published: 2017-11-18
Rated 1 out of 5
by
Megan B.
from
Leaks Blue Fluid
Very sad about our ice cream maker. We received it as a wedding gift but after only 3 uses, it started to leak the blue fluid. We tried to use it one more time, but we just couldn't control the leaking. 100 dollar price tag and 4 years = very expensive ice cream.
Date published: 2017-11-13
Rated 5 out of 5
by
Diva 2
from
Easy to use!
I bought the ice cream maker attachment and used it to make lemon sorbet which we served at a dinner party. We received only ooooohs and ahhhhhhs for our home made dessert. Looking forward to using it again!
Date published: 2017-11-09
Rated 1 out of 5
by
lisa_vietnam
from
Miserable design
I bought this a few months ago and have been using it since August. I want to make ice cream without sugar, and was very excited to start using this. However, the assembly drive simply does NOT stay put on the mixer. I have had it jump off so many times now - resulting in ice cream mixture being frozen stiff so you no longer can use it - that I am giving up. The assembly drive that I got was round with A and B on it. In every online video that I have watched to see how to correctly assemble this, I notice that they cut the shot exactly when the drive is being put on - that is probably because it CANNOT be put on easily. I notice that another type of assembly drive exists, but I cannot figure out how to buy just that, and not the entire bowl again. In addition, I cannot understand how to pour in the ice cream mixture while the paddle is turning, without the mixture ending up all over the counter. You cannot pause the machine for a second, as it then freezes the mixture as described above (paddle no longer turns). The documentation that comes with the machine has almost no information and so that does not offer much help.
Date published: 2017-11-01
Rated 1 out of 5
by
cdw1999
from
can't use
purchased at target, the box doesnt state that there are two types of ice cream attachments . I got the one that doesnt fit my model even though box says it fits the artisan mixer and there is an artisan mixer in the picture on the box. I called customer service and they keep sending me the same pieces I already have!.
Date published: 2017-10-26
Rated 3 out of 5
by
saros505
from
rusted broken attachement
I bought this ice cream maker a couple of years ago. i have used it maybe max 10 times. the attachement of the "spatula" has rusted and is now broken. this is very dissapointing.
Date published: 2017-10-23
Rated 1 out of 5
by
hafiya
from
Beware of incompatibility - doesn't FIT all mixers
I purchased one of these bowls last month but was disappointed to receive a drive assembly that does not match the one in the carton and the catalogue. The provided drive assembly is not compatible with my kitchenaid model and this was not notified in the package. I wish they had matched the product with the documentation and provided compatibility information. To add to it the product seems to be used and had visible scratches on it. I cant even take it back because I bought it in the states while on a business trip. Kitchenaid, kindly help me with a return from India.
Date published: 2017-10-16