Pro Line® Series 16-Cup Food Processor with Die Cast Metal Base and Commercial-Style Dicing Kit
Pro Line Series 16-Cup Food Processor with Die Cast Metal Base and Commercial-Style Dicing Kit is rated out of 5 by 26.
Slice, dice, shred, knead, chop and more. This Pro Line® Series 16-Cup Food Processor is our largest capacity and features the first, residential, hands-free, commercial-style dicing kit. It also features the exclusive Exactslice™ System with optimized speeds and an external adjustable slicing lever. The base is die cast metal for added stability and easy cleaning.
Candy Apple Red - KFP1642CA
Features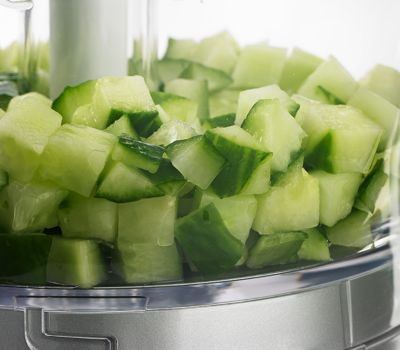 Industry's First Hands-Free Commercial-Style Dicing Kit
Slices then dices soft and hard fruits and vegetables.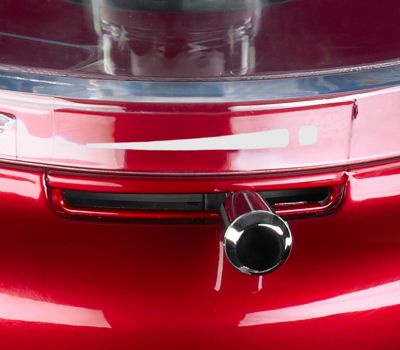 ExactSlice™ System
The ExactSlice™ System features optimized speeds, and an externally adjustable lever that allows you to go from thick to thin with one slide of the external lever.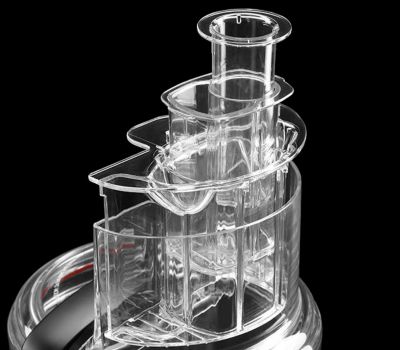 Exclusive 3-in-1 Ultra Wide Mouth™ Feed Tube
Allows for horizontal and vertical slicing and accommodates food of all shapes and sizes, including larger items like tomatoes, cucumbers and potatoes.
16-Cup Work Bowl with UltraTight™ Seal
To process large batches. The bowl features a specially designed locking system with leak-resistant ring that allows you to fill the bowl to capacity.

Model KFP1642 includes
(1) 16-Cup Work Bowl, (1) 10-Cup Work Bowl, (1) 4-Cup Work Bowl with Multipurpose Blade, (1) Dicing Kit, (1) Adjustable Slicing Disc, (1) Reversible Shredding Disc, (1) Multipurpose Blade, (1) Dough Blade, (1) Spatula, (1) Storage Case
Specifications
Includes
Accessories
4 Cup Mini Bowl w/ Mini Blade, Dough Blade, External Adjustable Slicing Disc, Mulitpurpose Blade, Reversible Shredding Disc, Spatula, Storage Case
Accessories Included|Work Bowl (Cups)
16
Features
Feed Tube Type
Wide Mouth
General
Power Cord Length (ft.)
3.0
Show More Specifications
Reviews
Rated 1 out of 5
by
Paxson
from
Big and powerful, visually appealing. Not worth it
Haven't used as much as we thought we would, it is just so heavy and we don't want to leave it up on the counter all the time. Just used it for the second time yesterday (in over a year). Had just as much trouble with the dicing kit as the first time. It is confusing and difficult to assemble. After processing 2 onions, it was jammed up. It took a lot of hand strength (and fear of cutting myself) to open up the dicer assembly, then a ton of time to clean it up. I decide to do the rest of my chopping by hand. Then when I was washing it up, I realized the center part of the lid had a little metal piece fall off, the area that it was attached to melted. I've seen other reviews with issues on melting. Also, the parts holder should have a more detailed diagram...it is not easy to get everything in there and actually close the lid. "Pro Line" equipment should not be this time consuming to prepare to use, to use, and to clean up. Actually, it should be the opposite. I have a Vitamix that I also spent close to $600 on and I can pull that out, use it, wash it and put it away in no time. Not this KitchenAid Pro Line food processor. I would rather do everything by hand. It might take longer, but isn't nearly as stressful and aggrevating. I know KitchenAid has great support and warranty, but it requires a receipt and buying this online...I don't know if I will be able to find the receipt.
Date published: 2017-12-23
Rated 1 out of 5
by
Rick S
from
Horrible dicing kit will rune whole machine
Big and very expensive which is fine except the best feature doesn't work. The dicing kit melts the plastic on the blade at center shaft. This has happened twice. Not worth losing a whole shelf for this large machine and accessories just to have it melt down. Easier and faster to chop by hand. I do love the stand mixer.
Date published: 2017-12-23
Rated 2 out of 5
by
Susan31161
from
Difficult to use
I received this processor as a gift from my husband. I love to cook and he was so excited to replace my 30 year old processor with this professional processor. The good news is that the processor is so quiet and so fast. I really like the outcome. But . . . the blade is so difficult to remove. It gets stuck and I literally have to pull it from the base with all the strength I can muster while holding down the base. It's equally as hard to get on. Very frustrating. And now the shaft on the blade is broken and I have to shell out $ to buy a replacement. Too bad because I really want to love this processor. I'm giving it an average of 3 for ease of use because everything with exception to removing the blade shaft is a 5. Ease of use removing and replacing the blade shaft is less than a 1. Same for features, innovation and performance. If it weren't for that dang blade I would give it a 5 across the board.
Date published: 2017-11-29
Rated 4 out of 5
by
Chefbora
from
Love the versatility!
I love my KitchenAid pro, my only complaint is that for the money it did not come with all the blades it stores in the container. And some are very important, I called to see what they could do for me and basically it was nothing.So for me who uses all KitchenAid small appliances this was the first time I was disappointed in KitchenAid.My other food processor lasted 16 years, and believe me when I say it got a workout, but when I purchased that one it was missing a blade and they sent it to me no charge. So be ready to pay a lot more than just the price of the unit.
Date published: 2017-11-02
Rated 1 out of 5
by
Bear
from
center turning shaft twisted
Bought this a year ago and was very excited about dicing feature. Worked fairly well. If I did too much would pop out the grate and I would just push it back in. As I've used it the attachment had a more difficult time pushing onto the center shaft and removing. Hard to use,
Date published: 2017-10-16
Rated 1 out of 5
by
Christy
from
Very Disappointed
I have had this machine for over a year and found that it poorly performs for slicing (doesn't evenly slice), dicing (does not work at all, jams and inconsistent) and blending (my dips end up grainy regardless of blending time). The 4 cup processing bowl leak and extra bowl leak into the base work, requiring me to wash every piece of the equipment with every use. I strongly recommend not purchasing this expensive piece of equipment!
Date published: 2017-08-12
Rated 2 out of 5
by
Diane
from
Good,but not for the price. Very difficult to dice onions,
Great for chopping firm foods. Dicer was difficult to fit, and almost impossible to dice onions. frequently had to stop and unclog the blade. I finally gave up due to it was too time consuming. I could hand chop faster. My dicer blade broke due to frequently trying to re-fit it into the chopper. Dicer is not nearly as easy to use as they try to present it. There was a kitchen aid demo lady that was helpful at the store, however,it took weeks before she was available. The online demo was not helpful with real problems.
Date published: 2017-07-31
Rated 1 out of 5
by
Anna
from
disappointed
bought the pro line thinking this would be my forever and favorite food processor. I have used it only a handful of times and find the product an extreme disappointment. One of my first uses was to use the dicer - which was messy...- used another time and the bowl melted, could not figure what went wrong, ordered another bowl for $54 and tried again several months later. Again blending banana - so not stressing the machine - the bowl melted and food leaked. I followed directions, didn't overfill... Don't expect this with normal use. Not sure if faulty or bad design...., but a waste of my money to think I was getting a pro line of equipment, expect better outcomes with a discount line. See photo,. Design is bulky which I expected in a pro line, OK to clean. Disappointed that I invested in this and continue to chop by hand.
Date published: 2017-06-03
Rated 2 out of 5
by
Kirti
from
My dicing kit is breaking
I bought this model with expectation of a great quality and the innovativeness I associate Kitchenaid with. I did not mind paying the high price because I believed in the brand. I feel very dissapointed that the dicing kit breaks apart from the top after every use. I have hardly used my machine :(
Date published: 2017-05-24
Rated 1 out of 5
by
Eva
from
Very Disappointed
Having used cheaper food processors over the last 30 years I decided to invest in what I would have considered a more superior and certainly a much more expensive model. Kitchenaid Artisan Processor. I am extremely disappointed in this processor. It is big, heavy and ridiculously difficult to even open and attach the lid...as for the attachments...crazy! If I could return this item I could. If I bought this processor at a similar price to previous ones I still would not be happy with it. I love cooking and I used my previous one several times a week. I would not recommend this model.
Date published: 2017-04-10