39 DBA Dishwasher with Fan-Enabled ProDry™ System and PrintShield™ Finish
39 DBA Dishwasher with Fan-Enabled ProDry System and PrintShield Finish is rated out of 5 by 227.
Enjoy the outstanding performance that only comes from the combination of thoughtful features like a Fan-Enabled ProDry™ System, Third Level Rack and a Bottle Wash with flexible nozzles that can be inserted in deep items to ensure every dish comes out spotless. Plus, the fingerprint and smudge resistant PrintShield™ Finish helps your dishwasher look pristine, too.
PrintShield Stainless - KDTE334GPS
Features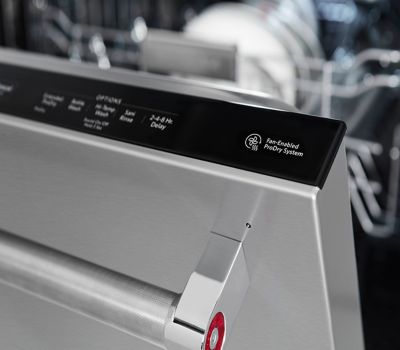 Fan-Enabled ProDry™ System
Delivers the best drying3 performance without rinse aid2 by using a recessed heating element and a fan to draw moisture out of the wash tub when using either the ProDry™ or Extended ProDry™ Options.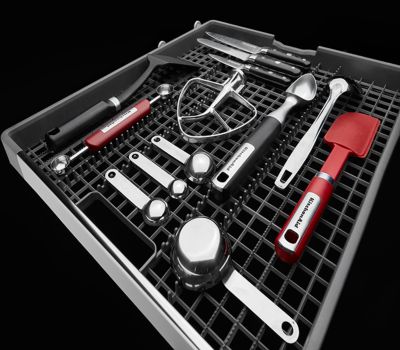 Third Level Rack
Adds 35% more space1 and makes it easier to clean long and flat cooking tools like spatulas and serving utensils, as well as items like food processor blades and mixer beaters, while freeing up space in the lower two racks.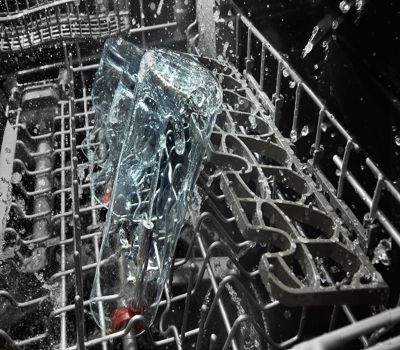 Bottle Wash Option
Provides spray nozzles in the upper rack that can be placed deep inside tall or odd-shaped items like bottles, glasses and vases to thoroughly clean them. Each nozzle is adjustable so it can be positioned to accommodate a wide variety of dishes.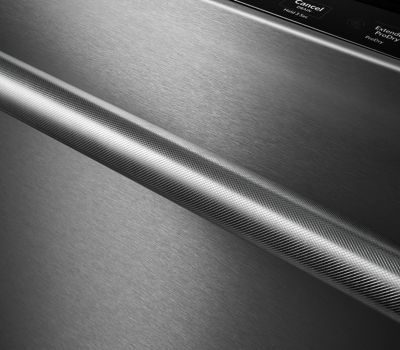 PrintShield™ Finish
Resists smudges and fingerprints. The specialized coating for stainless steel is easy to clean with just water and a soft cloth, so you can spend more time cooking and less time cleaning up the kitchen.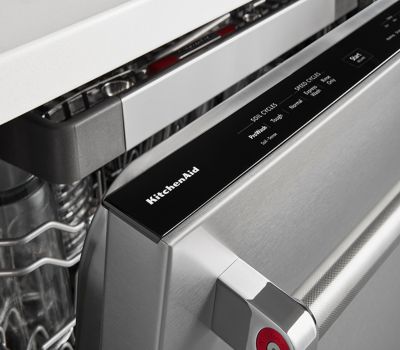 ProWash™ Cycle
Determines the ideal cycle for washing dishes based on soil level and then makes real-time adjustments to achieve the best cleaning performance.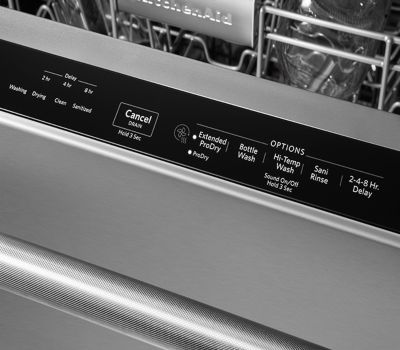 Extended ProDry™ Option
Extends the ProDry™ cycle time for more thorough drying performance.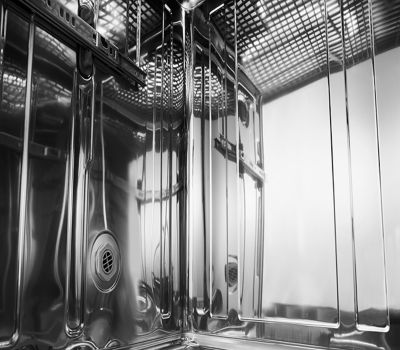 Durable Stainless Steel Interior
Offers the beauty and benefits of stainless steel for the dishwasher interior. It resists streaks, stains and odors while retaining heat to help improve drying performance.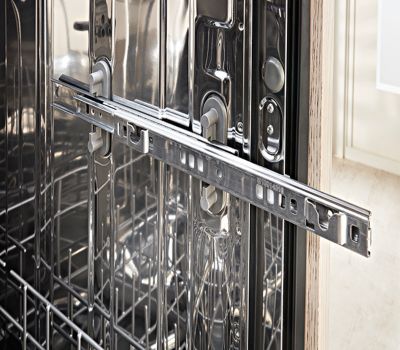 SatinGlide® Max Rails (Upper Rack)
Creates a smooth, premium feeling when pulling out the upper rack, particularly with heavy loads.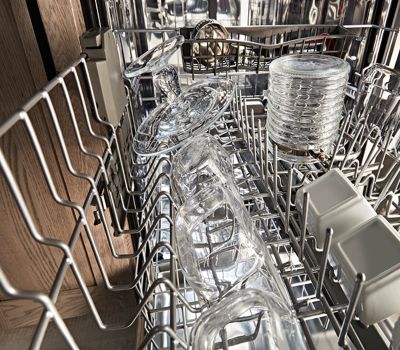 2 Rows Fold-Down Tines in Upper Rack
Adjustable tines can be shifted into one of three positions to accommodate deep or wide dishes.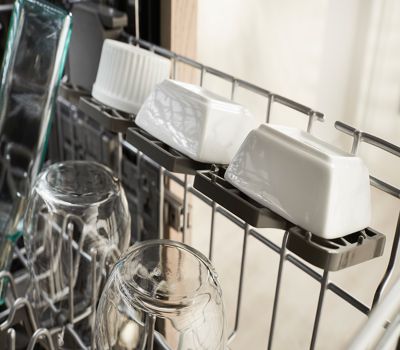 Fold-Down Shelf with Stemware Holder
Provides extra room in the upper rack that's perfect for additional cups, wine glasses, or longer items like utensils and spatulas.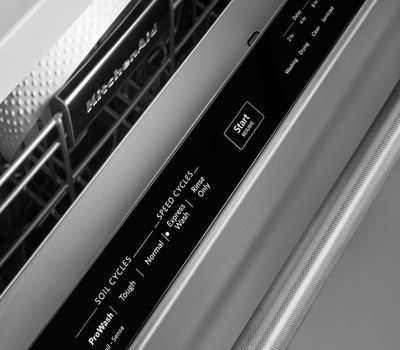 Express Wash Cycle
Quickly and effortlessly handles soiled dishes in less time.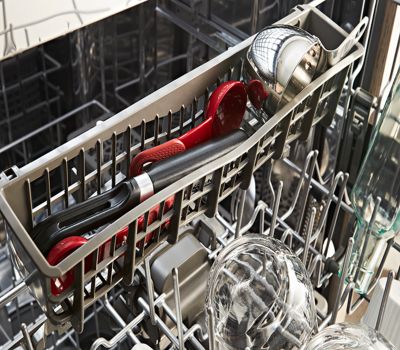 Utility Basket (Upper Rack)
Provides a dedicated space for small items such as small lids and utensils.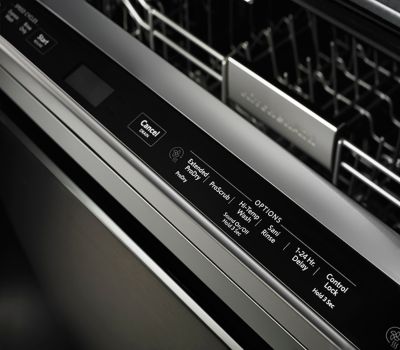 Sani-Rinse Option
Heats the final rinse water to 155°F, eliminating 99.999% of food soil bacteria.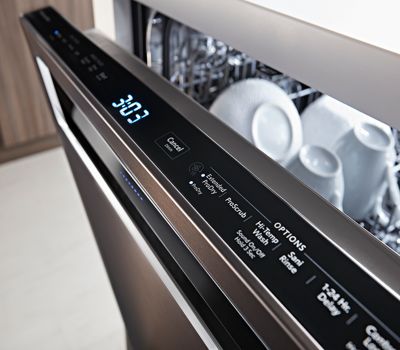 Concealed Controls
Offers tucked away controls on top of the dishwasher door, providing clean, uninterrupted front panel lines that help you match other appliances.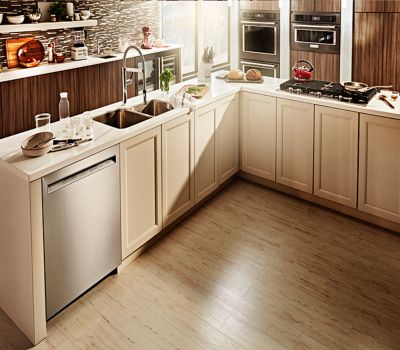 Premium Adjusters in Upper Rack
Raise and lower the upper rack with ease to accommodate tall items.
Filter-Based Wash System
Provides exceptional cleaning and drying, with wash arms designed to send just the right water pressure to key areas of the dishwasher.
Specifications
Configuration and Overview
Energy Star® Qualified
ENERGY STAR® Qualified
Cycle Selections
Express Wash, Normal, ProWash™, Rinse Only, Tough
Option Selections
2-4-8 Hour Delay, BottleWash, Extended Dry, Hi Temp Wash, ProDry™, Sani Rinse®
Water Filtration System
Removable Filter
Extras
1-Plastic Cup Shelf, 4-Stemware Holders
Adjustable Upper Rack
2 Position
Number of Place Settings
14
Controls
Automatic Temperature Controls
Yes
Control Type
Electronic Touch
Exterior Status Light
White
Dimensions
Depth With Door Open 90 Degree
49 1/2
Show More Specifications
Reviews
Rated 5 out of 5
by
LNG4
from
Dishwasher
The dishwasher so quiet! It is perfect for our kitchen!
Date published: 2018-02-16
Rated 5 out of 5
by
wc8966
from
Quiet, quiet, quiet
This dishwasher gets my dishes clean at the noise level of a whisper! I can watch tv at low volumes while the dishwasher runs.
Date published: 2018-02-15
Rated 5 out of 5
by
Scottf42
from
Whisper quiet - Squeeky clean
Excellent job of cleaning all you can throw in it, no matter how dirty. The frosting on the cake is that it does all that whisper quiet. You have to check the light to know that it's running.
Date published: 2018-02-15
Rated 5 out of 5
by
jbootgirl
from
silent and effective
We have had this dishwasher for a month and have been incredibly pleased. The dishwasher is so quiet when it operates, we had to lean our heads close to the machine the first time to convince ourselves it was doing anything. For most of the wash cycle, it's essentially silent; there are a few times when you can hear soft noises from the machine. There is an easy-to-see light which tells you when the machine is washing, drying, and clean. Our dishes come out perfectly clean. As recommended by KitchenAid and Consumer Reports, we have stopped pre-rinsing our dishes and only scrape the scraps prior to loading. Rinsing is supposed to be unnecessary and therefore just wastes water and your time. We have found all of our dishes come out clean with this method. The machine defaults to "extended pro dry" and you have to push the button one more time to get to "pro dry". We have not used "extended pro dry" yet because "pro dry" works perfectly well--we figure no sense in expending a little more electricity if it's not needed. We might have an occasional puddle on the bottom of a tupperware or glass with a dimple or ridge that holds the water from dripping down, but nothing significant. The interior design is great. There is an extra little basket in the back of the top rack, perfects for tiny tupperware tops or scoops. We have used the bottle wash feature a few times and it works well. The top rack would not fit our tallest water bottles. Our tall wine glasses can be leaned to fit and with the bottle wash spout came out perfect. The top rack also can be shifted a couple inches up or down to make room for taller items, but when it is lowered, it reduces the height of the lower rack so some large plates might be bumped by the spinner. We also love the tiny top rack (the third rack) for cooking utensils, to keep those items from taking space from elsewhere. We usually only put 2-3 things in the third rack per wash; it's not tall enough to hold tiny bowls or ladles. The sorted silverware bin is great too--it doesn't take any extra time to use it and all of your utensils come out perfectly clean. Definitely love this dishwasher and are very happy with the purchase. Oh, it looks very sleek and great too!
Date published: 2018-02-15
Rated 5 out of 5
by
dollygail
from
QUIET
great in so many ways-quiet come out clean every time heat dry is good
Date published: 2018-02-15
Rated 4 out of 5
by
PLarson
from
Very quiet
Overall I am pretty happy with it..my favorite feature is how quiet it is. The only draw backs I have thus far is..it doesn't seem to hold as much as our old Maytag did and I'm still trying to figure out the best way to load it..I have also found that the liquid detergent does not seem to work as well the pods.
Date published: 2018-02-15
Rated 5 out of 5
by
ChrisH
from
Great dishwasher!
Excellent performance, so quiet need to make sure it is running. Does a great job on deep tea mugs and silverware.
Date published: 2018-02-14
Rated 5 out of 5
by
KarenK
from
Love it.
Very happy with the clean dishes and is super quiet.
Date published: 2018-02-14
Rated 5 out of 5
by
Jennifer2006
from
Ultra Quite
Purchased a month ago and extremely happy! Ultra quite and easy to use.
Date published: 2018-02-13
Rated 4 out of 5
by
Mainegirl302
from
Can't Beat Kitchenaid Quality
We had our last Kitchenaid for 13 years and used it a minimum of twice a day. Motor finally gave out. No question we would buy another. Super quiet, dries great! My only issue was the price- I little too high of you ask me.
Date published: 2018-02-13
Demos & Guides
guides
Use & Care Guide
Comprehensive information about your new appliance - from getting started to cleaning and maintenance.
Installation Guide
Instructions for unpacking and installing your appliance, including electrical requirements and necessary tools.
Energy Guide
Information about the efficiency of your appliance, including energy consumption and annual costs to operate.
Dimension Guide
Detailed dimensions of your new appliance with space requirements for the area surrounding it.
Warranty Information
A complete description of your warranty coverage, and contact information for service and support.
In order to read a PDF file, you must have Adobe Acrobat reader installed on your computer. You can download the latest version at the Adobe website.
Show More Guides
(3) Among leading premium brands, with rinse aid.
(2) Among leading premium brands; models KD(T/P)M334G, KD(T/P)M354(E/G) & KDTM384E
(1) Compared to KitchenAid® dishwashers without a third level rack.