Siphon Coffee Brewer
Siphon Coffee Brewer is rated out of 5 by 70.
The KitchenAid® Siphon Coffee Brewer delivers the theatrical beauty and precision of traditional full immersion vacuum brewing, yet simplified for the home through automated technology. Easily brew 2-8 cups of a complex and velvety cup of coffee.
Onyx Black - KCM0812OB
The KitchenAid® Siphon Coffee Brewer
The simple science of complex flavor. The KitchenAid® Siphon Brewer automates the manual vacuum brewing process for a complex and velvety cup of coffee.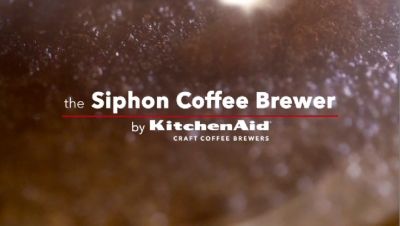 Features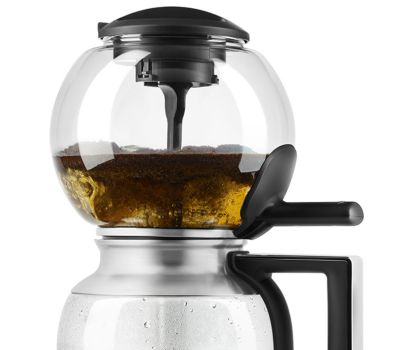 Automated Full Immersion Siphon Brewing
Delivered through precise temperature and vacuum technology for a complex and velvety cup of coffee.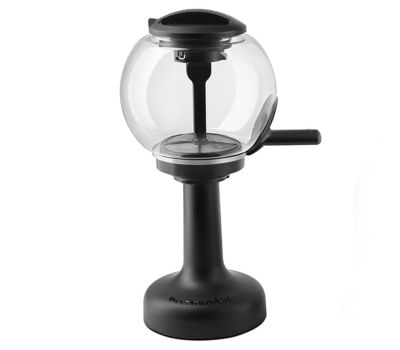 Brew Unit Stand
Securely holds brew unit once brewing is complete.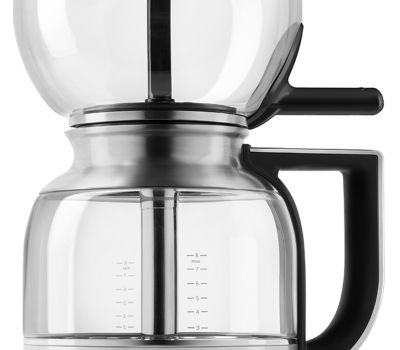 Premium Glass Construction
With stainless steel accents.
Magnetic Locking Seal
Securely fastens the brew unit and carafe together.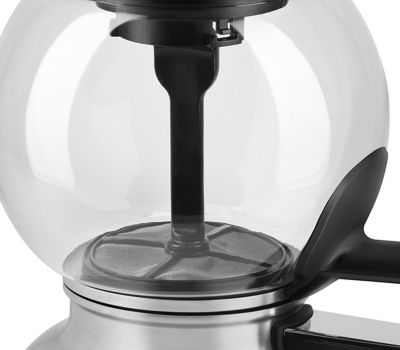 Easy to Clean
With a reusable stainless steel filter and wider carafe neck.

Model KCM0812 includes
(1) Brew unit stand, (1) Removable base, (1) Cleaning brush/coffee scoop, (1) Reusable stainless steel filter, (1) Cloth filter pack
Specifications
Features
Clean Touch Control Pad
No
Cleaning Indicator Light
No
End of Brew/Max Fill Tone
No
Full Dispersion Shower Head
No
Pause and Pour Feature
No
Programmable Brew Timer
No
Time Since Brew Display
No
Show More Specifications
Reviews
Rated 5 out of 5
by
obrsbr6
from
est cup of coffee available
I own one and love it, it is not really fragile for a glass coffee machine
Date published: 2018-01-02
Rated 1 out of 5
by
blackhillsmale
from
Fine quality German glass??
I had this product for less than a month and it was on it's stand and fell off the counter landing on its stand. The glass is barely 1/8" thick
Date published: 2017-12-26
Rated 3 out of 5
by
quietrockfarm
from
Great coffee, fun to watch, but very fragile
First we broke the top part. Kitchenaide replaced it for free! Yay! But then we broke the bottom part. I give up. If anyone wants a spare top part and stand, look on FreeCycle in Frederick MD. Cleaning is not very easy. Be sure to use the stand.
Date published: 2017-12-23
Rated 5 out of 5
by
Ponderosapooh
from
Coolest Coffee Brewer EVER!
Love, love, love this product. I used it first for brewing my loose leaf tea...PERRRRFECT brew!
Date published: 2017-12-14
Rated 5 out of 5
by
Anonymous
from
Fabulous coffee!
Set it up this morning, sans instructions, and had the finest coffee I have ever tasted. That unavoidable tinge of bitterness is gone. Like smoking a Cuban Cigar. Pure silk. And very easy to clean. Thank you.
Date published: 2017-12-07
Rated 2 out of 5
by
wukas3
from
Needs new handle design - second carafe in 4 weeks
I dont know how to rate this product- the coffee is great but the workmanship needs to be improved. We have had 4 weeks- so far 2 pots have had the handle come apart. Leaving you to hold a metal brace- it is also made for small hands. KA I want to keep enjoying my cofee- please redesign the handle.
Date published: 2017-11-29
Rated 5 out of 5
by
Texas A
from
The Best
The best maker of coffee. Make the smoothest best coffee I have ever had in my life
Date published: 2017-11-03
Rated 4 out of 5
by
Jeffixxx
from
Excellent coffe
Best coffee I've made and it looks so good. But it is a bugger to clean without the grounds going down the sink, and there is no keep warm facilty, which, at £159, is a serious omission
Date published: 2017-10-16
Rated 3 out of 5
by
netven
from
Wonderful coffee, But...
I've wanted a siphon coffee brewer for many years and when or coffee maker died it was time to get one. The appearance is great, the coffee it makes is wonderful, but cleaning it is nothing less than arduous. The instructions say you should just dump the brewed coffee grounds into a waste basket and that it may take a gentle tap for the ground release. Well about 65% did come out and the remainder stayed stuck to the brew unit and only released in the washing process.
Date published: 2017-10-11
Rated 5 out of 5
by
FCJHNewYork
from
Yummmmm
For a perfect pot of coffee!!!!!
Date published: 2017-09-29
Demos & Guides
guides
Warranty Information
A complete description of your warranty coverage, and contact information for service and support.
Use & Care Guide
Comprehensive information about your new appliance - from getting started to cleaning and maintenance.
Instruction Sheet
Instruction Sheet