Displaying 1 out of 1 items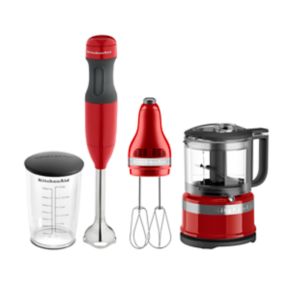 Top Features:

Close

5 Speed Hand Mixer:

With the power and control to slowly stir in chunky ingredients, like nuts or chocolate chips, to whipping egg whites or heavy cream.

Close

3.5 Cup Mini Food Processor:

Offers endless fresh options to quickly chop, mix and puree with 2 speeds and Pulse operation and a drizzle basin, to easily incorporate liquid ingredients while processing.

Close

2 Speed Hand Blender:

8" Blending arm with blade to quickly and easily blend, puree and crush all of your favorite ingredients. The soft grip handle offers a non-slip and comfortable grip while blending.
Displaying 1 out of 1 items